Amazon Smile
Amazon.com shoppers can now go to AmazonSmile to do your online shopping and have up to .5% of eligible purchases automatically donated to Majestic!
If you have an Amazon.com wish list it will work the exact same way it always has, just log in and do your shopping through AmazonSmile instead of through Amazon.com.
To learn more about the AmazonSmile program and to quickly set yourself up to donate please visit About AmazonSmile.
Majestic will receive automatic EFT donations from AmazonSmile on a quarterly basis.
---
Pastel's Heart Troubles
Back when our gander Pastel was rescued this summer, our vet noticed that he had a heart murmur during his routine medical exam. While no treatment was required back then, we were advised to watch for any changes in his breathing or a decrease in his energy level.
As many of you know, those symptoms began to surface in November and during a follow-up vet exam, which included an ultrasound, he was diagnosed with end stage heart failure.
Pastel's Symptoms: Lethargy, labored breathing, dropping suddenly to the ground (legs giving out under him)--especially when stressed, and then not being able to get back up immediately (weakness).
Treatment: Providing an environment that is as stress-free and tranquil as possible, while still being enjoyable.
Medications:
Pastel weighs 12.5 pounds and was prescribed the following heart medications:
Enalapril (lowers blood pressure), 2.5 mg, one tablet, once a day.
Lasix (diuretic, reducing fluid around the heart), 12.5 mg, 1/2 tablet twice daily.
Digoxin (increases the force of heart contractions),.125 mg, 1/2 tablet once daily.
Prognosis: Sadly, Pastel has been given a 1-6 month life expectancy with the likelihood of an eventual heart attack.
Emergency Plan: Our vet gave us a syringe pre-loaded with .25 mgl of Lasix. If we see Pastel in respiratory distress, we can inject it into his pectoral (chest) muscle and it should help him within two minutes. This will give us the opportunity to get him back to the vet for further care.
Instructions: Lasix has to be re-dosed every twelve hours in order to be effective. If he begins to have respiratory trouble again, our vet will increase his dosages to make him comfortable again and give him more time with us.
TIPS: Pastel is receiving his medications in pill form and these pills are very tiny and need to be split in half in some cases. Because a skipped dose can be immediately life threatening we put all of his little pills into one secure gel cap to ensure they all go down properly (then we add some Avi-culture probiotics to fill in the gaps).
A nice, smooth, properly sized gel cap can really make giving pills easy. Now, instead of getting three pills in one sitting, Pastel only needs one (with all his pills loaded inside). This reduces his stress and it leaves us with absolutely no doubt that all those tiny pills have reached their destination.
We ordered Pastel's Size 3, empty gel caps from AmazonSmile. Gel caps come in a large variety of sizes. Before ordering empty gel caps, it's important to figure out exactly which size you need. You can review gel caps sizes by visiting the following external website and clicking on: Gel Cap Size Chart.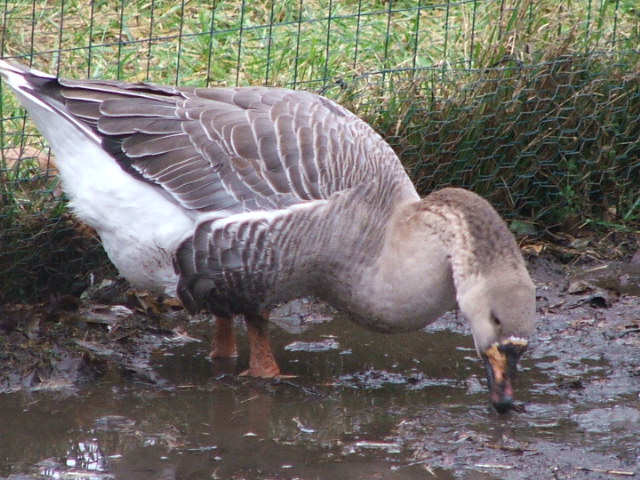 Pastel playing in the mud!
We have retired Pastel to our sanctuary and are doing everything we can to ensure that his remaining time with us is as enriching, relaxing and enjoyable as possible. We are pleased to say that he's doing very well on his new medications. We have seen a nice improvement in his breathing and in his energy level.
---
Oil Gland Infections
We know for a fact that Demi is at least 9 years old. Her rescuers believe she was on the pond she was abandoned to 1-3 years prior to this. Older ducks can be more susceptible to bacterial infections, so when we noticed something awry with Demi's oil gland, we brought her to our vet for immediate treatment.
Our vet took oil samples from her gland and sent them off for culturing while we began an initial regimen of antibiotics until the results came back (34 mg Baytril twice daily).
A few days later we received lab confirmation that she had a bacterial infection in her oil gland, detailing the exact bacterial culprits (Staph) and a list of effective medications to help clear up the issue.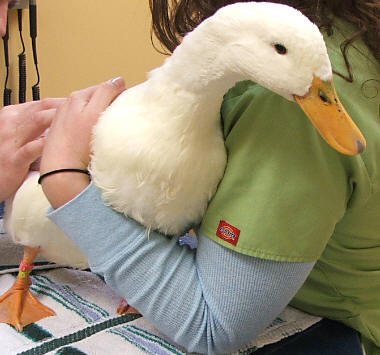 Symptoms: Excessive yellow oil around the oil gland/tail feather region, decrease in the quality of feathers--especially around the oil gland area, excessive shaking of tail feathers (tail wagging), swollen oil gland and redness on and around oil gland.
Medications:
Rimadyl (anti-inflammatory/pain medication), .25 mg, 1/4 tablet once daily for 4 days.
Baytril 68 mg, 1/2 tablet twice daily for an additional 14 days.
Cephapirin Sodium (antimicrobial medication) Our vet placed the tip of the syringe at the opening of Demi's oil gland and painlessly injected some of its salve directly into her oil gland (approximately 2 mls). This was done once a week for three weeks.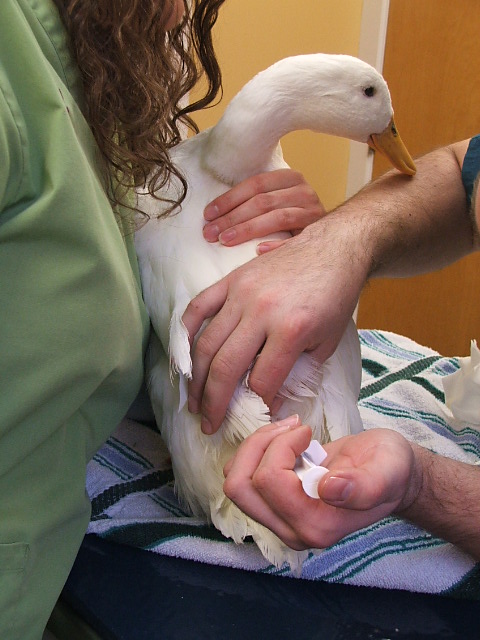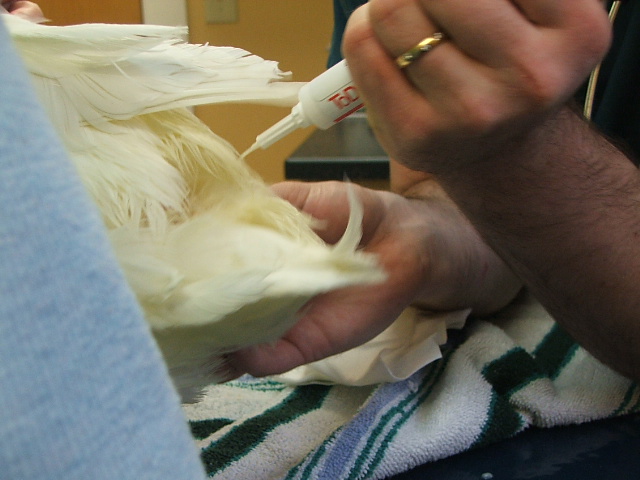 This medication has an unappealing flavor and will make the oil in a duck's oil gland taste less appealing. It is vital that your duck (or goose's) feather quality be monitored during this process. If feather quality decreases your duck may need to be protected from wet/cold conditions until the medication works its way back out of the oil gland.
---
Ducky Hero of the Month!
When someone rescues and then adopts an abandoned duck or goose, they earn the title of, "Ducky Hero of the Month!"
Christine contacted us after rescuing a Rouen female duck who she named Lucy. Lucy had grouped up with a bunch of Mallard ducks near her home and was subsequently left behind when they flew away without her.
Christine built a beautiful and safe pen for Lucy and immediately recognized that her new feathered friend needed a companion.
Soon after, Tom O'Conner, Animal Control Officer/Inspector East Longmeadow Massachusetts contacted us for rescue advice regarding four Pekin ducks and six Khaki Campbell ducks who had been dropped off in his area. We worked out a strategy to help him capture the ten abandoned ducks and offered our assistance if their original rescue attempts were unsuccessful.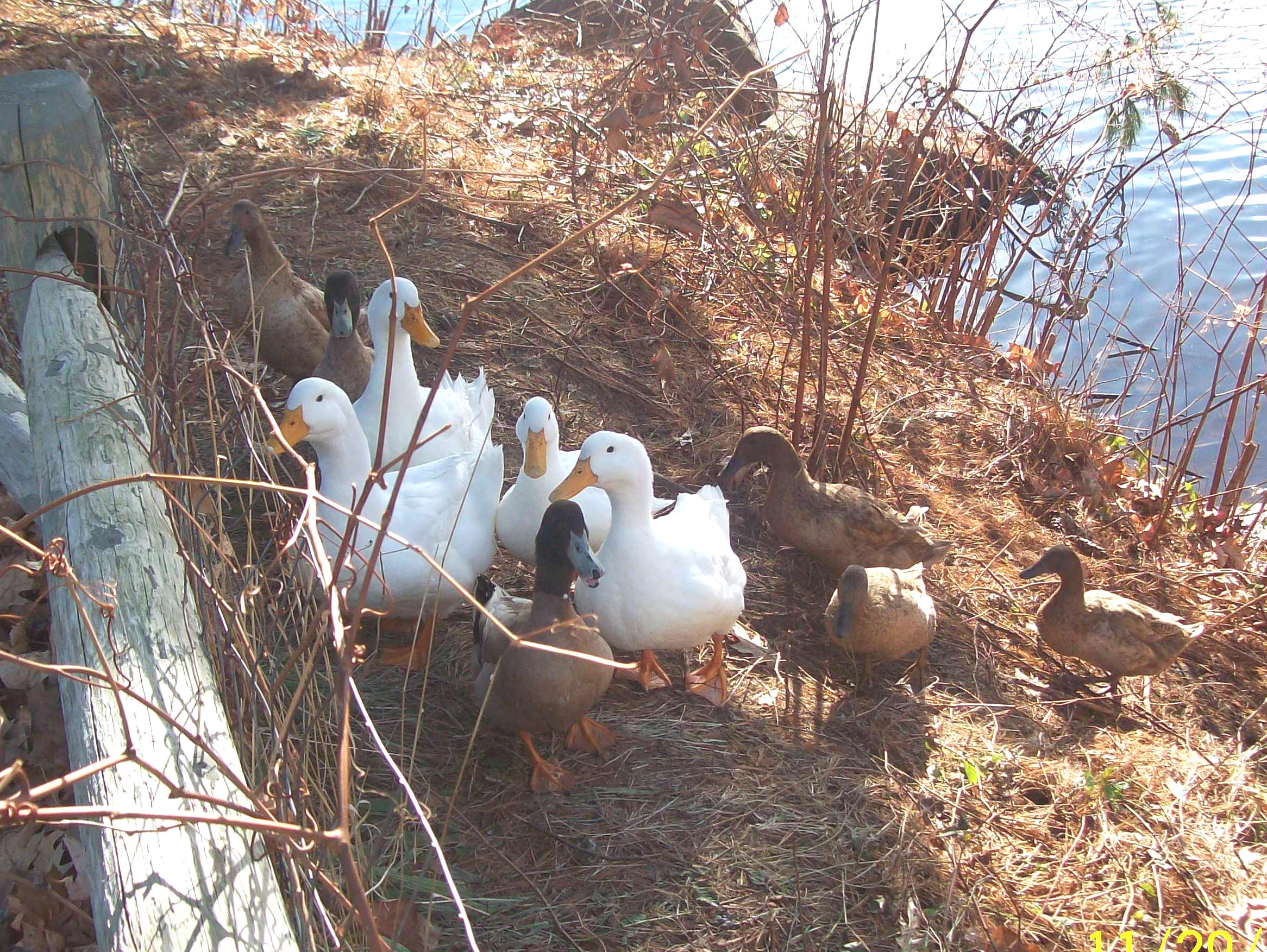 Photo Courtesy of Tom O'Conner
We are pleased to say that thanks to Tom's concern and efforts (Thank you so much for all you do!), all ten ducks were quickly and safely captured and relocated to Nevins Farm MSPCA for adoption!
And thank you, Christine, for welcoming Lucy into your home and giving her a safe place to live, and then contacting us to find a new friend for her. It was wonderful to hear the news that you were standing right there on shore with Animal Control, waiting to embrace Lucy's new friend Lacy!
You and your family are absolutely AMAZING! Thank you!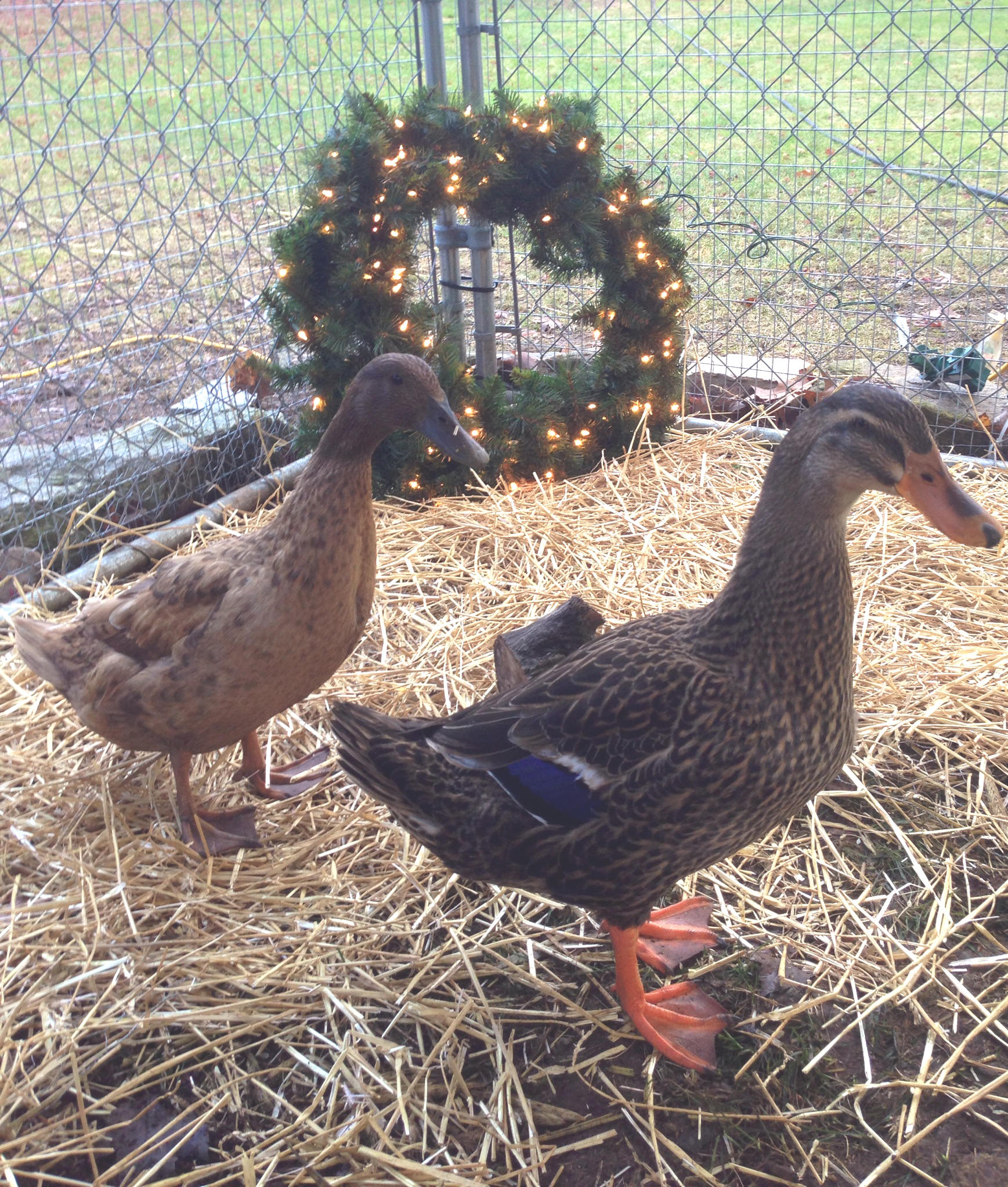 Lacy Khaki Campbell and Lucy Rouen