Become a Majestic Sponsor of Our Ducks and Geese

Sorry... Only Available in the Continental USA

COVID-19 UPDATE:
We are Limiting Our Post Office Exposure
Sorry, we are UNABLE offer a mailed sponsorship gift at this time. This is a temporary measure to ensure our family's safety.
Our Sponsorship Program is important because it helps us provide care and enrichment to all of the homeless ducks and geese residing at our sanctuary.
It also enables us to expand and build further enclosures to make space for those animals still in need of our assistance. Help us help them by becoming a sponsor today!
Caution: Small parts not intended for children under 6 years of age.
Styles & colors may vary from those shown in photos.
Continental USA only!
For only $25.00* you can sponsor a duck or goose for yourself, your family, friends, co-workers or even for your business.
Our sponsor gifts are beautifully packaged in a Gold shipping tube, so they make a great Birthday, Easter or Holiday gift!
Our new custom ducky Sponsorship Certificates are here!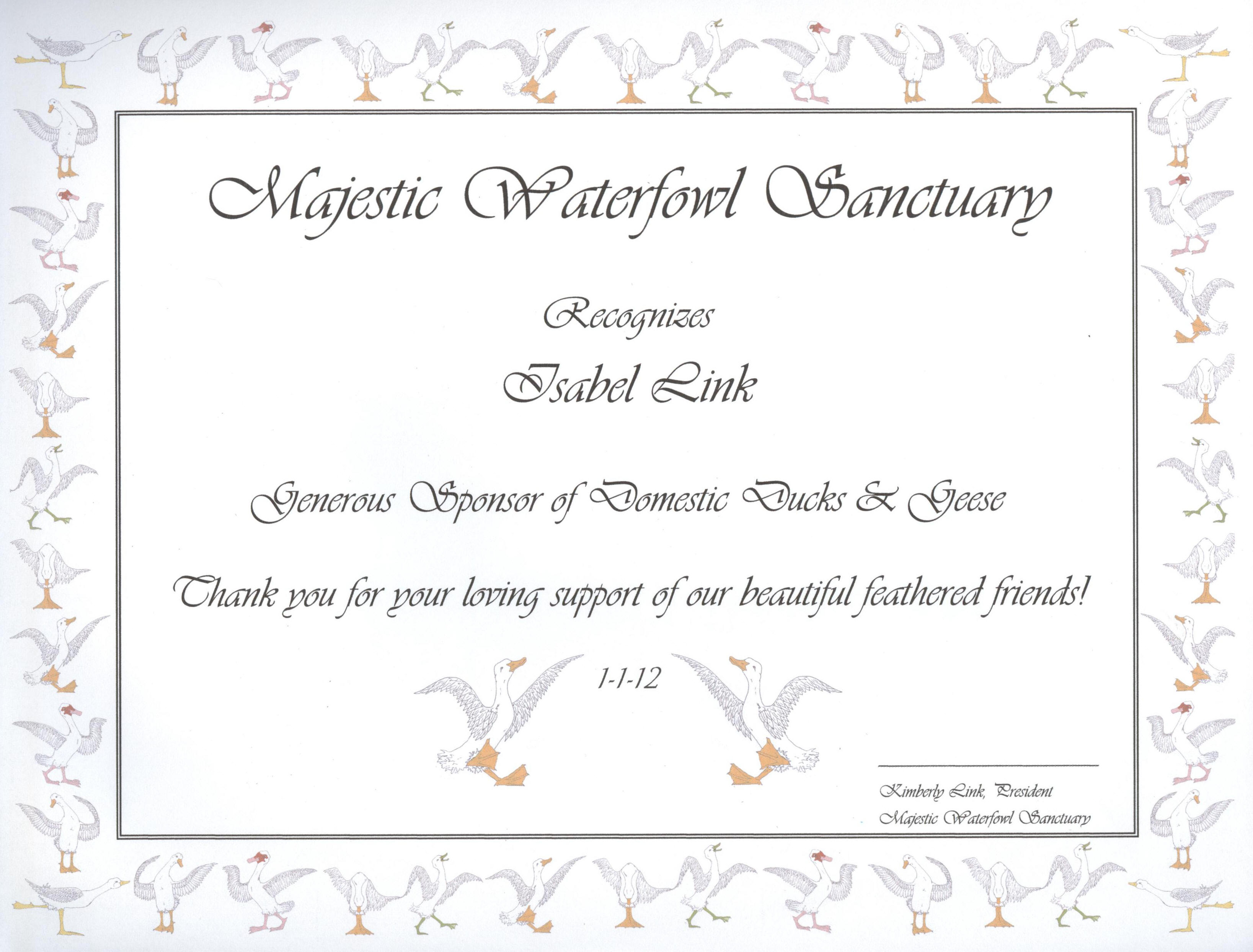 The $25.00* sponsorship gift includes:
| | |
| --- | --- |
| | A personalized fact sheet with a photo of the duck or goose of your choice (On the sponsor form select: "In Support of" and fill in the duck or goose's name OR enter the name of the bird of your choice in the "comments" field) |
| | A personalized certificate of sponsorship |
| | A duck pipe-cleaner craft project |
| | A duck "hedge" toy (sorry, no color choice available) |
| | A Majestic Waterfowl Sanctuary penlight |
| | A duck whistle |
| | A rubber duck keychain (sorry, no color choice available) |
| | A duck paratrooper |
| | A fortune telling fish (Not a duck... but good fun anyway!) |
| | A Sponsor Hall of Fame Listing featuring your name (or gift recipient's name) and personalized message listed on our Sponsor Hall of Fame Page for three months. |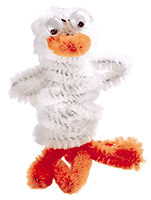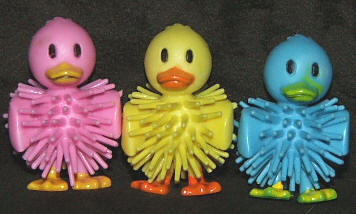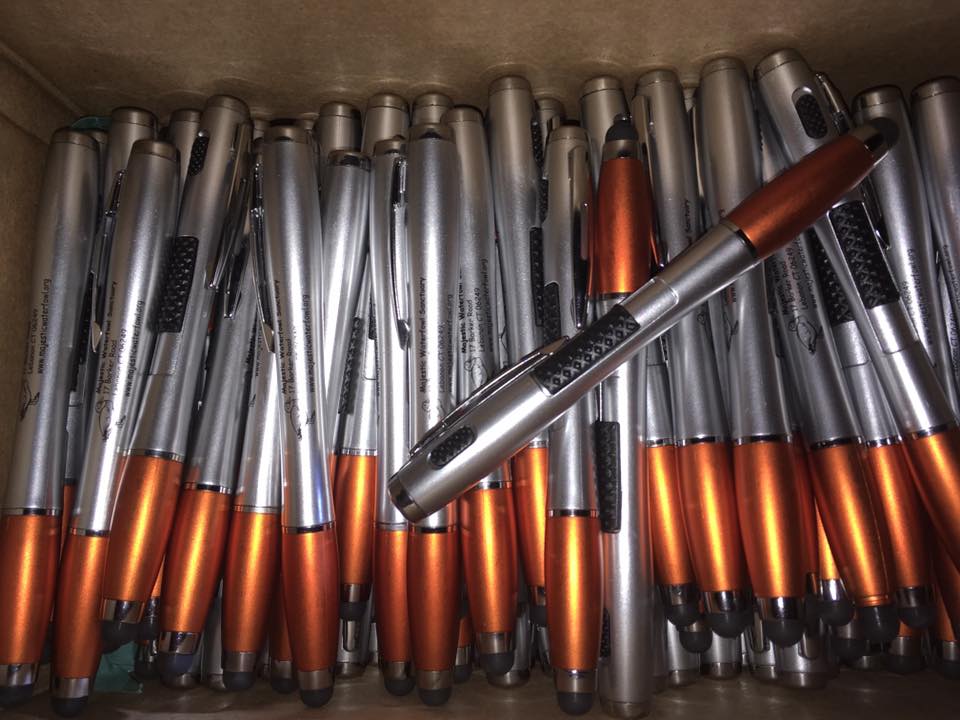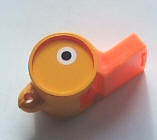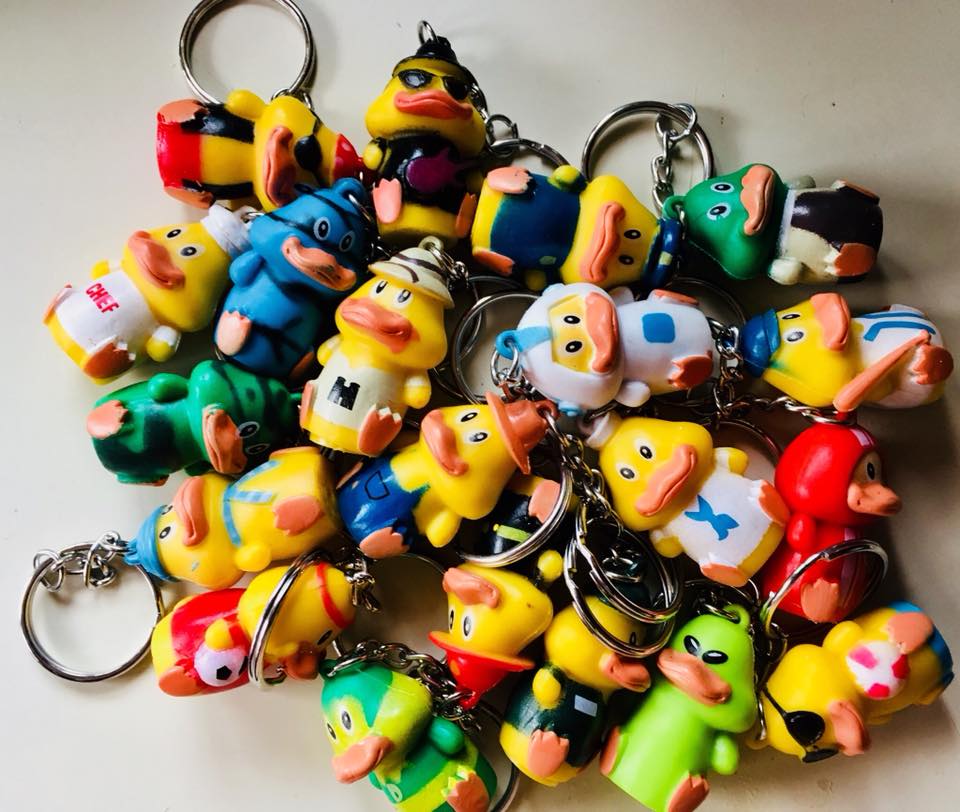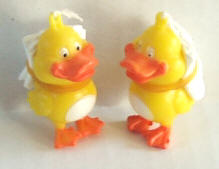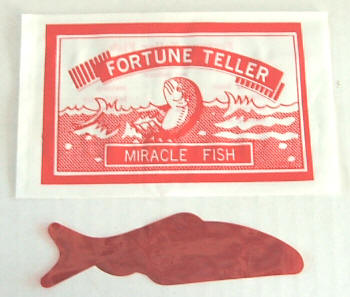 Optional Add:
| | |
| --- | --- |
| | A wind-up duck |
For an extra $5.00, you can add a wind-up duck to your sponsorship package. Ducks measure approx: 3"H x 2.5"W. (Sorry, no color choice available).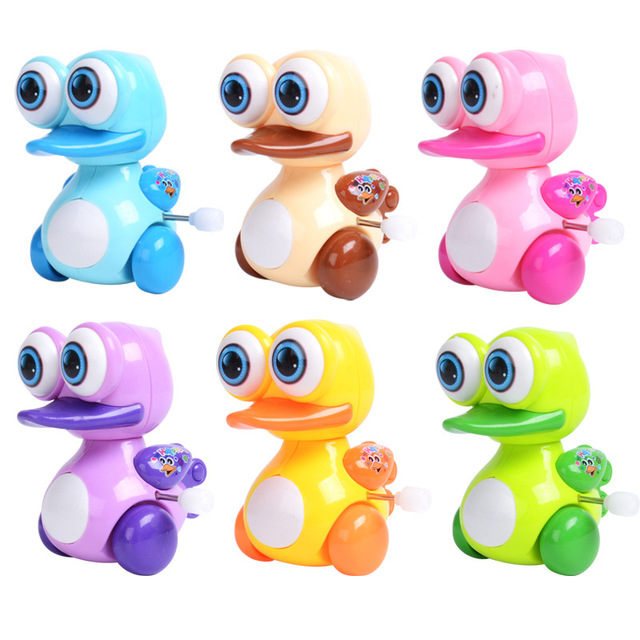 Optional Add:
| | |
| --- | --- |
| | A Luck Bottle! |
For an additional $5.00 you can also add a Luck Bottle (scroll down for more information).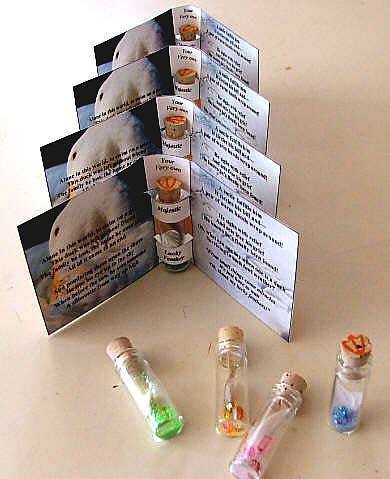 Bonus Gift!
| | |
| --- | --- |
| | A little plush duck! |
If you select the $35.00 sponsorship, which includes BOTH optional adds (the $5.00 luck bottle & the $5.00 wind-up duck) we'll throw in a fun plush duck too! (Sorry, no color choice available).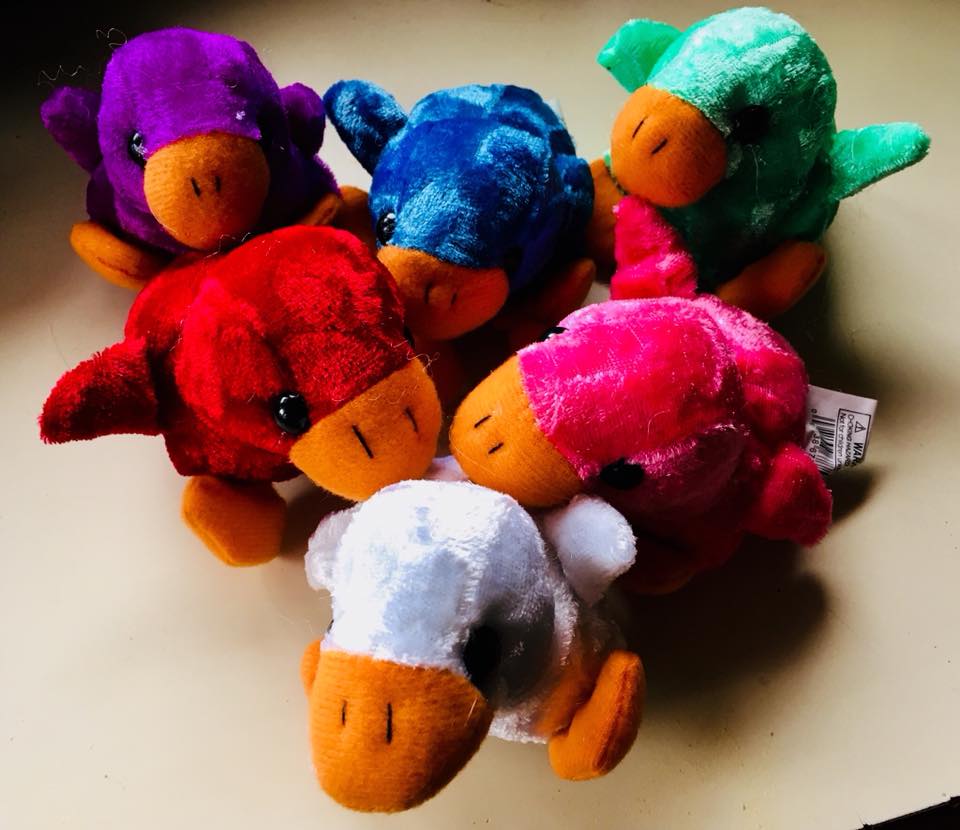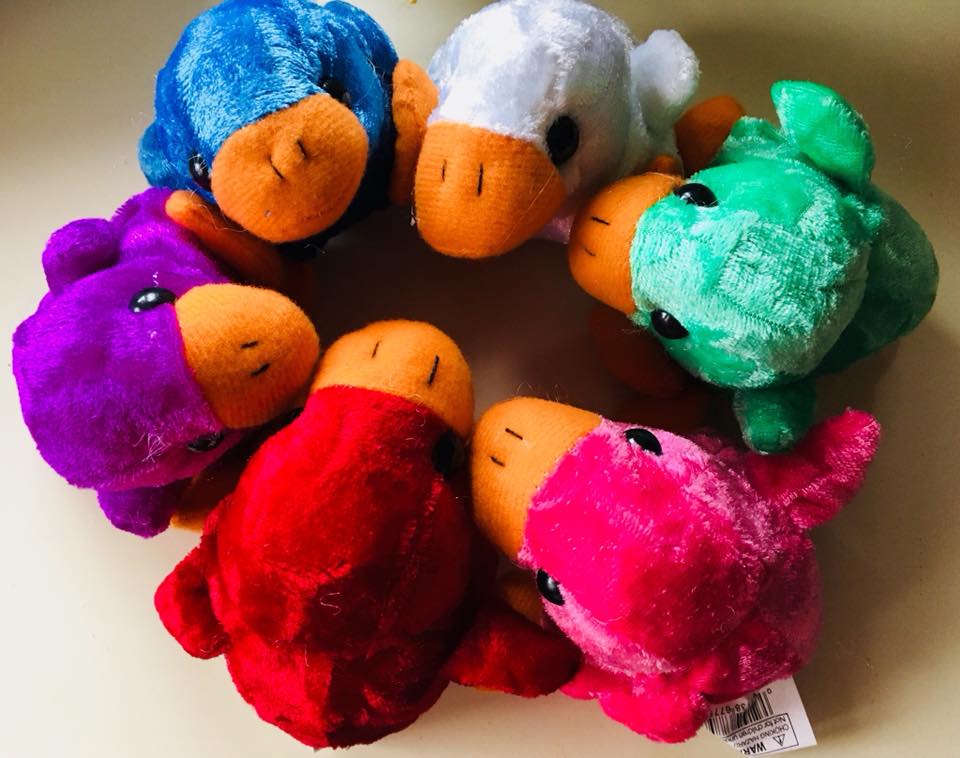 *Sorry... Because of increased shipping expenses, extra post office forms and Customs' annoying tendency to open our Majestic gift tubes and lose plastic toys, our Sponsorships are ONLY available in the Continental USA.
---

Sponsorship EXTRA GIFT!

We've been told that those abandoned ducks who are fortunate enough to find safe haven at our sanctuary are about the luckiest ducks in the world. And where else would that luck come from other than their very own lucky feathers!
Now, for an additional $5.00 you can now add a beautiful bottled Majestic Lucky Feather to your gift package! Each vial is handmade and comes packaged within a glossy poem card.
Just send an extra $5.00 and bullet the "Add a Luck Bottle" on our online form OR include a note with your payment if ordering by mail.
Luck Feathers are collected from our grounds during normal periods of molt.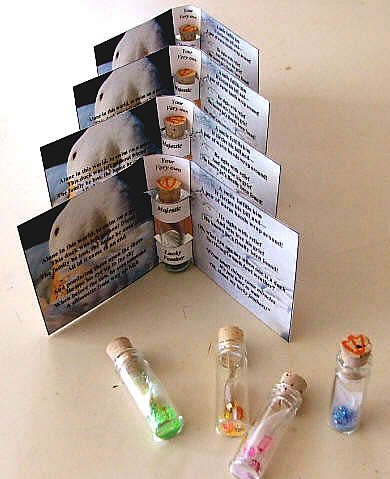 Poem inside reads:
Alone in this world, to swim on a pond
This duck was left without friend
The family he lost, the home he once knew
All of it came to an end
And pondering there upon the shore
He tips his eye up to the sky
When before the sun, he sees someone
A silhouette from way up high
A smile fulfills him
It circles his bill and—
A pair of warm hands wrap around
He sighs with relief
And sets free his grief
Because he knows he's finally been found!
Oh, what can one say when one is a duck
Surviving in such fowl weather?
"From small things come miracles,
we just have to wait--
Oh, thank my lucky feathers!"
*Sorry, due to International Customs Regulations, Sponsorships cannot be shipped outside of the Continental USA.
---
© Majestic Waterfowl Sanctuary 2005, 2015