2014 Annual Blue Ribbon Photo Contest!
The photo fun has begun!
Our 2014 Blue Ribbon Photo Contest is currently underway! Please review our guidelines by clicking Photo Contest Rules. This is a FANTASTIC way to support our rescued ducks & geese while also having some fun of your own!
Contest closes at Midnight EST, June 15th, 2014, but don't wait! Get your photos in now to secure your place in this Blue Ribbon challenge!
Winning photos will be featured in our upcoming July 2014 newsletter and also permanently displayed in our Majestic Winner's Circle!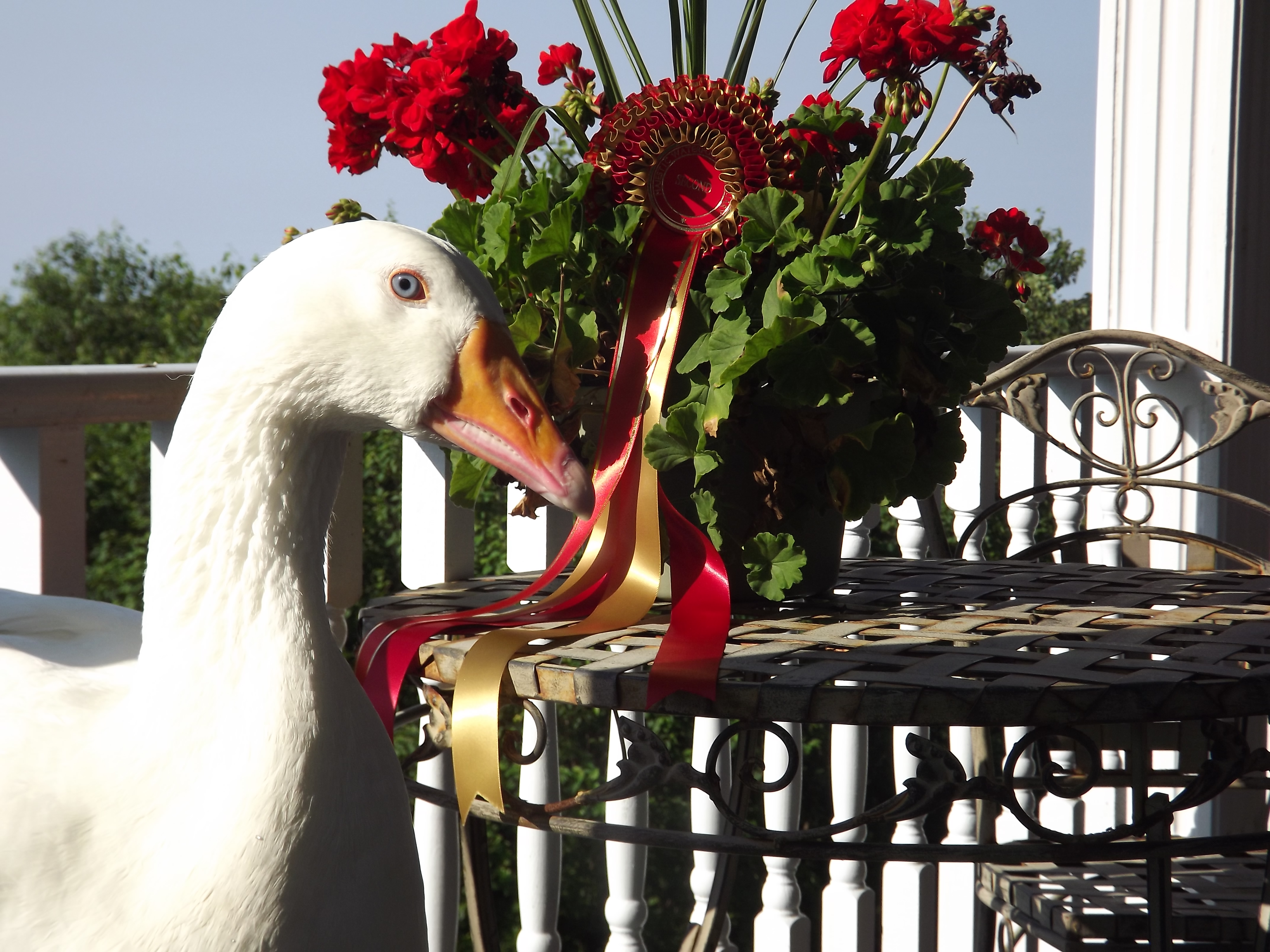 Our 2013 Second Place Most Photogenic Winner "Sweet Pea" poses with her Red Ribbon!
1st, 2nd & 3rd place ribbons will be awarded in each of our three categories: Most Photogenic, Most Comical & Most Mallard! AND... We will be awarding one President's Pick and one Honorable Mention rainbow ribbon! That's ELEVEN gorgeous prize ribbons in all!
---
Ribbon Sponsorships
All of our prize ribbons have been sponsored--thank you to everyone who participated!
If you sponsored a ribbon and have not yet provided your special sponsorship message, please Email Us and let us know how you'd like it to appear. Visit our July 2013 Newsletter for ideas.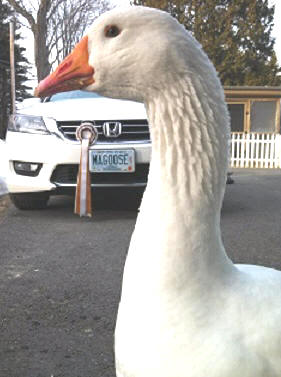 Our 2013 Third Place Most Comical Winner "Lili" poses with her White Ribbon!
---
Newcomer: Murdoch The Duck
Murdoch just arrived to our sanctuary on April 21st. She was pulled from the home of a hoarder where she was seriously neglected and subsequently brought to us for care and placement.
Murdoch's left eye was severely damaged and she is in desperate need of surgery to remove the remaining eye globe and seal off any painful nerve endings. Then, her eye lid will be stitched so that it heals permanently closed, which will prevent risk of future injury or infection.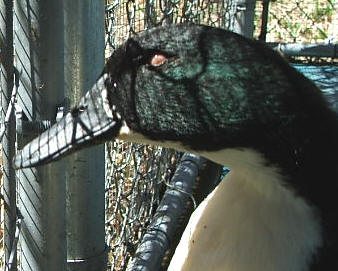 We want to extend an enormous Thank you to everyone who responded to our Facebook requests for donations. Thanks to you, we have raised the full $650.00 needed for her May 8th surgery!
We'll continue to post updates on our Facebook page.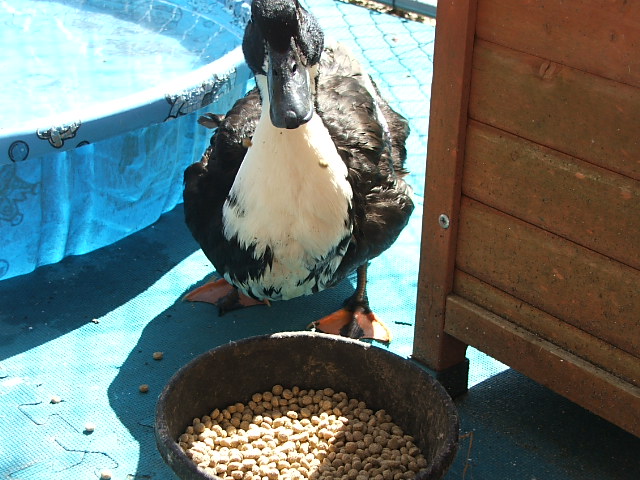 ---
Seizures
It's not uncommon for us to receive emails about ducks or geese who are experiencing seizures.
Lifelong seizures are often the result of neurological disorders, which can be genetic, but are more likely the result of a brain or spinal accident that occurred while they were still inside their egg, or the result of an early life injury caused by mishandling (children who hold on too tight), dropping or falling.
The sudden onslaught of seizures in adult ducks and geese is most commonly the result of some kind of poisoning (see our June 2013 Newsletter for detailed information), but other causes may include: injury, tumors, cancer, malnutrition, heatstroke, organ failure and contagious disease.
If your duck or goose is experiencing seizures it's vital that they receive immediate vet care.
To keep your pet's strength up until you arrive at your vet's office, you can give adult birds that weigh more than 3 pounds a 6 ml dose of Karo syrup immediately following each seizure, but remember, this is not a cure. You and your vet will need to determine the cause of the seizures and the appropriate treatment regime.
---
Puzzle Mats
We were recently asked about our puzzle mat flooring in our West Wing quarantine pen. Good question!
This kind of flooring works well inside barns or sheds where you can lay them down on their own or beneath a layer of hay or straw. You can also use them in splashy play areas or other ideal areas in their pen.
These soft, lightweight, interlocking square pieces are easy to clean and quick to put together or take apart. You just measure the area you want to cover and then purchase the appropriate number of 2' x 2' edge pieces, center pieces and corner pieces.
We purchased ours from Mat Depot (Item # FM28). Quality mats cost about $9.00 each, are stain, mold and germ resistant and should last your ducks a lifetime. Unless supervised, these mats don't work as well with geese who tend to curiously pull things apart.
Keep in mind: Ducks should not be restricted to standing on this type of bare flooring 24/7 for long periods of time (Birds in quarantine at our sanctuary are usually only there for 14 days). Long term exposure to mats can result in foot calluses in more sensitive or heavier waterfowl. This type of flooring works best when utilized in particular areas of your duck or goose's pen, where they only spend part of their time.
<![if !vml]>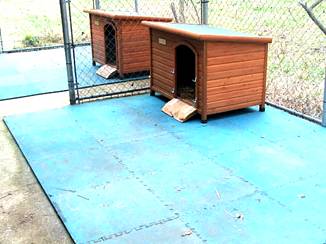 <![endif]> Puzzle mats laid down over concrete