Jabberwocky's Eyes
Last year Jabberwocky developed cataracts that completely covered his left eye, inhibiting his vision on that side. When it comes to age-related cataracts we know from experience that the second eye usually follows suit within a year, so we began to discuss surgical options with our vet, Dr. Otka at Noank-Mystic Veterinary Hospital here in Connecticut.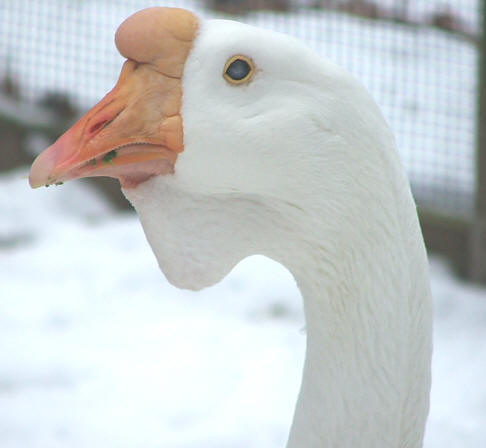 Recently, cataracts began to take hold of Jabberwocky's right eye, so we knew it was time to act. Dr. Otka contacted Dr. Church and Dr. Abrams at Eye Care for Animals in Rhode Island and a plan was quickly laid out for both teams to collaborate on Jabberwocky's surgery.
Dr. Okta and his vet tech Sue both traveled to RI to cover Jabberwocky's anesthesia while Dr. Abrams and Dr. Church took turns operating on his two eyes, one doing his left and the other taking care of his right.
Although we're unsure how old Jabberwocky truly is, we knew age was an issue, so Dr. Otka formulated a special anesthetic formula to ensure his safety. Post-surgically Jabberwocky was very groggy and pretty quiet for the trip home, but the following morning he was up and about and SEEING again! It has been so exciting to see him maneuvering towards enrichment items in his pen and seeing the door that leads out to a grassy playground.
We want to thank Dr. Otka for making the arrangements to restore Jabberwocky's vision and for leaving his practice to travel to RI for the afternoon. We appreciate the extra effort you and your staff put forth that day and the special discounts you always extend to our rescued ducks and geese. Without your support we simply couldn't afford to do everything we're doing for our waterfowl.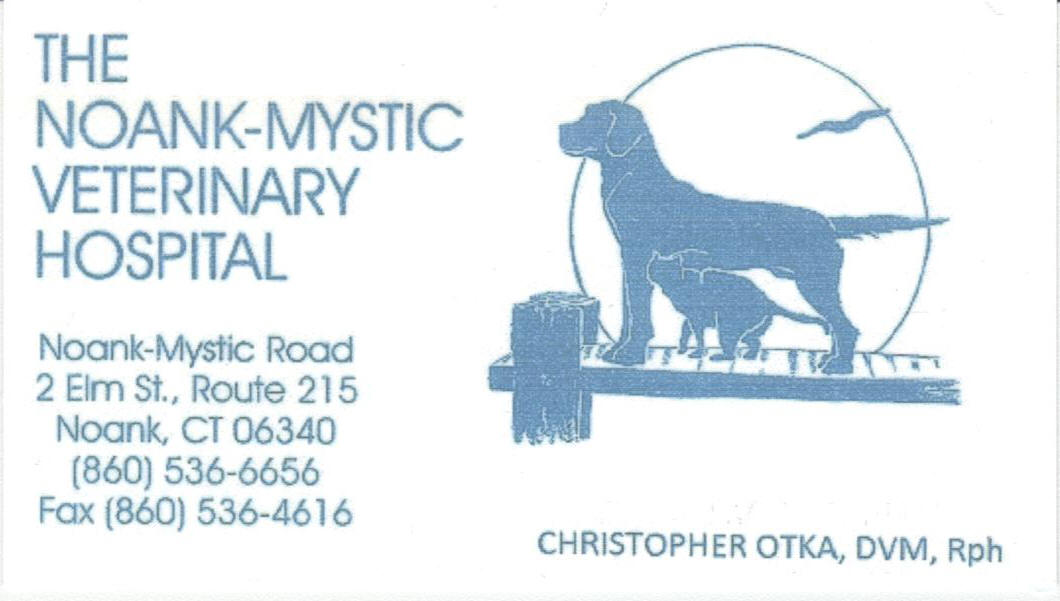 We also want to extend a special thank you to Dr. Church and Dr. Abrams at Eye Care for Animals (along with their staff!) who rolled out the red carpet for our dear boy--performing his surgery and providing his medications pro-bono!
We also want to thank Dr. Abrams for finding a new home for Jabberwocky and Yolanda! Provided Jabberwocky's eye exam goes well on the 7th, the pair will be traveling to their new home on Block Island!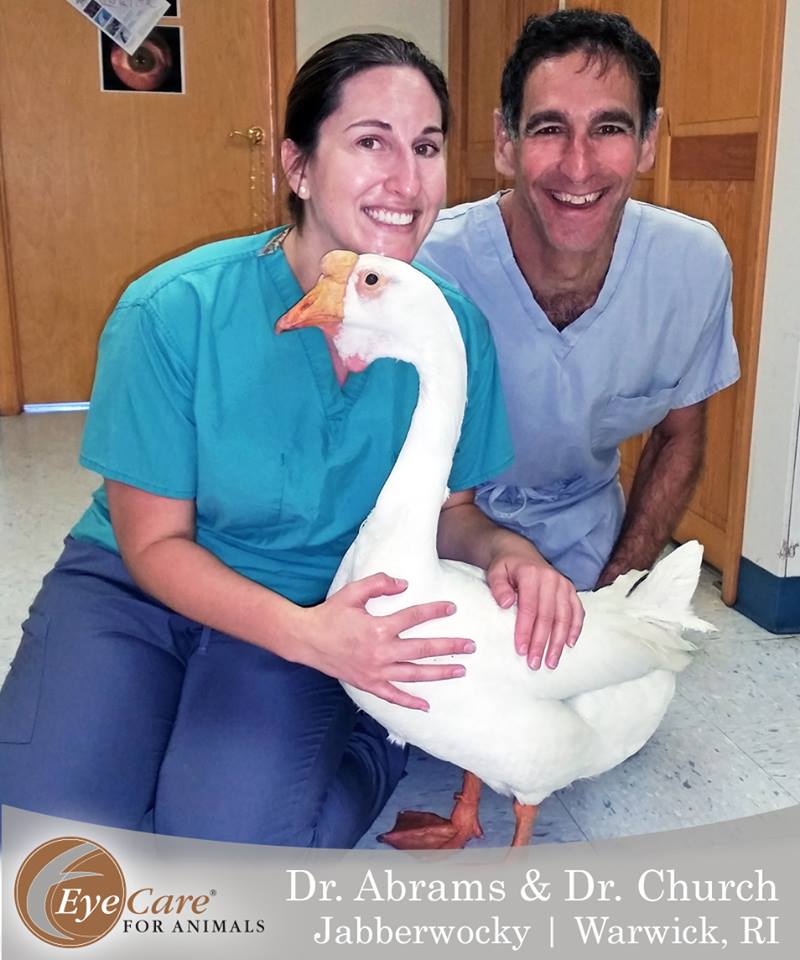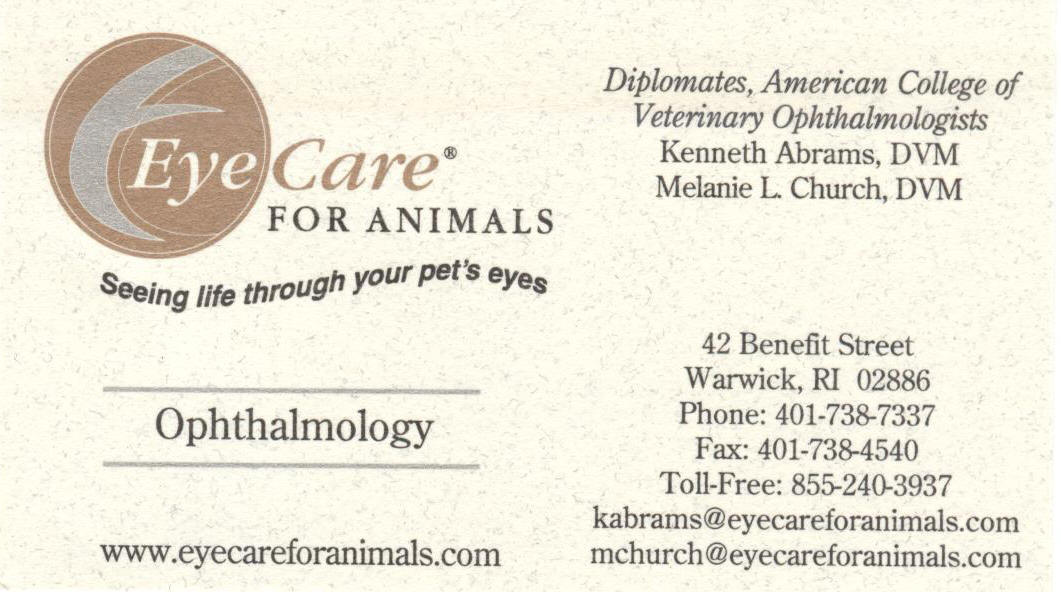 Experienced, caring and qualified vets make all the difference when it comes to the proper care of your pet ducks and geese.
---
Cataract Surgery
Cataract surgery is tricky business when it comes to waterfowl because their eyes are so small. The challenge is keeping their pupil dilated during the surgery while your vet works on them. This is easier said than done unless your duck or goose has some optic atrophy and the pupil is already dilated; in which case, your duck or goose will be a good candidate (as Jabberwocky was).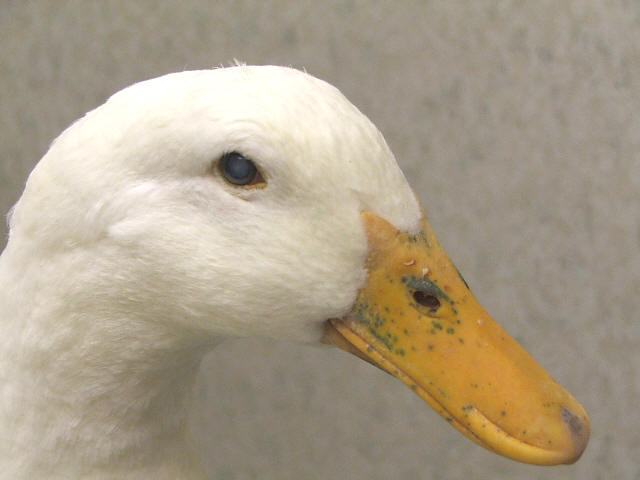 The operation normally lasts about 2-3 hours (less if vision is only being restored in one eye) and they're usually able to return home the same day. Surgery on waterfowl doesn't include the implantation of an artificial lens, so your feathered friend will have slightly blurry or far-sighted vision in their post-operative eye. Objects within 3-4 feet are often hazy, while objects farther away are much clearer.
To prepare your duck or goose for surgery, your vet will most likely prescribe eye drops to reduce any inflammation and help prevent the risk of infection. Pred-G is a common choice. A week before surgery, they'll have you begin administering one drop a day into the eye (or eyes) which will be operated on. Depending on your duck or goose's particular situation you may be able to avoid steroid eye drops and use a non-steroidal drop like Diclofenac Sodium Ophthalmic Solution instead. Ask your vet which type of drops is more appropriate for your duck.
Post-surgically, your vet will increase the frequency of the Pred-G® eye drops to 3-4 times per day for 6-8 weeks. In addition, pain medication is often needed for the first 2-3 days. We find that Torbutrol has the best effect when it comes to keeping our waterfowl comfortable. Anti-inflammatory medications like Rimadyl or Metacam are also required to reduce swelling for the first 3-7 days.
While your duck or goose is recovering you'll need to keep them in sanitary quarters for 6-8 weeks (clean pine shavings are ideal). To further prevent the risk of infection, you'll need to keep them from submersing their eyes completely under water. Your feathered friend should only have a shallow bowl of water for drinking and splash-preening. The bowl should be cleaned (preferably by dishwasher) at least once a day and their water should be refreshed every 2-3 hours.
Provided nothing goes wrong during this initial grace period your vet will usually clear your duck or goose for swimming activities upon their one-week checkup. Swimming is only allowed in freshly drawn tap water—never in a pond. You can either give them some swim time in a clean kiddy pool, or you can let them play in your bathtub as long as you change it out as often as needed in order to keep it as sanitary as possible.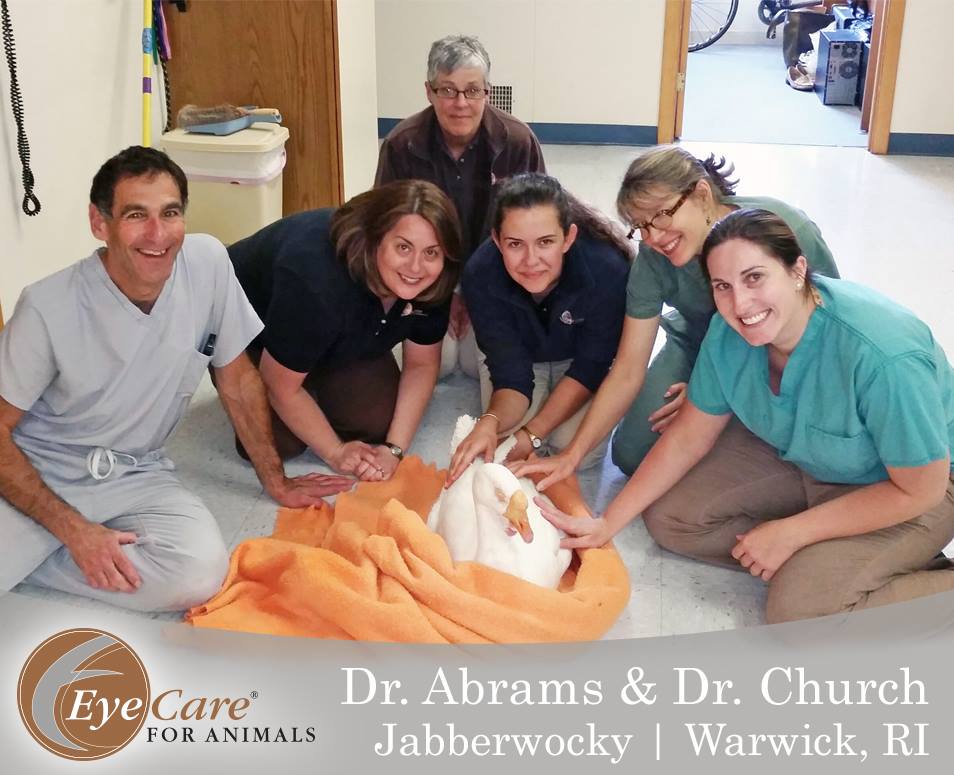 Eye Care for Animals photos used by permission--thank you!
Visit Eye Care for Animals on Facebook!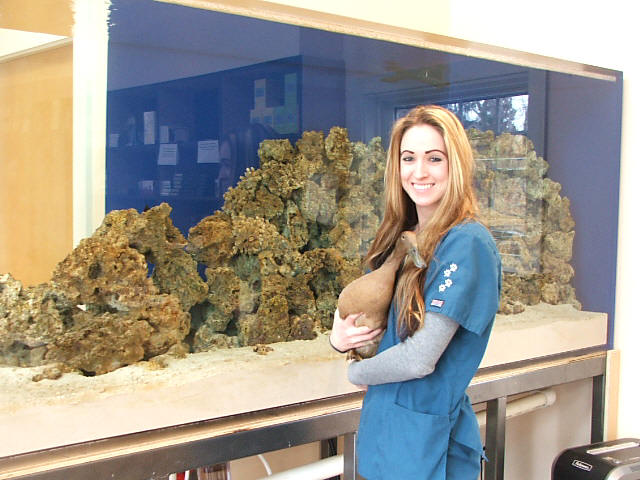 Visit Noank-Mystic Vet Hospital on Facebook!
---
Courtyard Rebuild
Volunteers needed!
We will be breaking down and rebuilding the pond section of our Courtyard pen in a few weeks. The major portion of this work will likely take place over the course of 4 consecutive days.
We need construction volunteers who are comfortable with ladders, hammers, and holding lumber in place. We also need people to net and move our giant goldfish to safe areas and then keep them cool with hoses. If you're interested in helping, please Email Us.
Dates to be determined once our perimeter wire shipment arrives. If you're interested in helping, we'll contact you directly when we have the details.
Lunch, snacks and drinks will be provided to keep you refreshed and energized!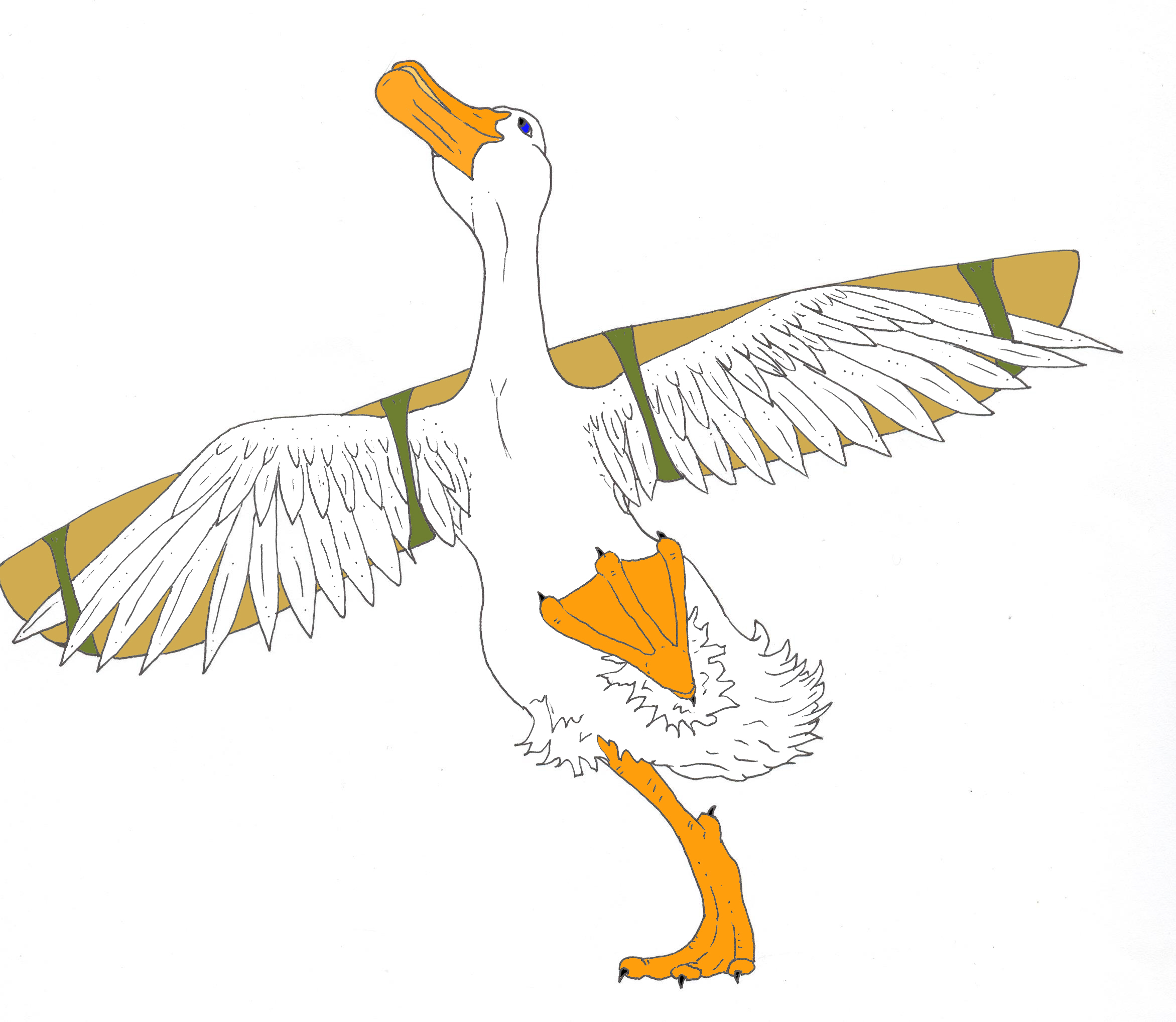 Dream BIG and find a way to soar...