Duck Needs A Home!

Improper Diet & Emaciation

Malnutrition

Goose Photos Wanted!

Get In & WIN!

Outside Farewell...

The Month in Photos!

Majestic Rebuild Update

Majestic Newcomers!

Majestic Gift Shop

Majestic Sponsorships

To Make a Donation, please click here: Donation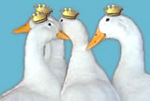 Please... We need your help!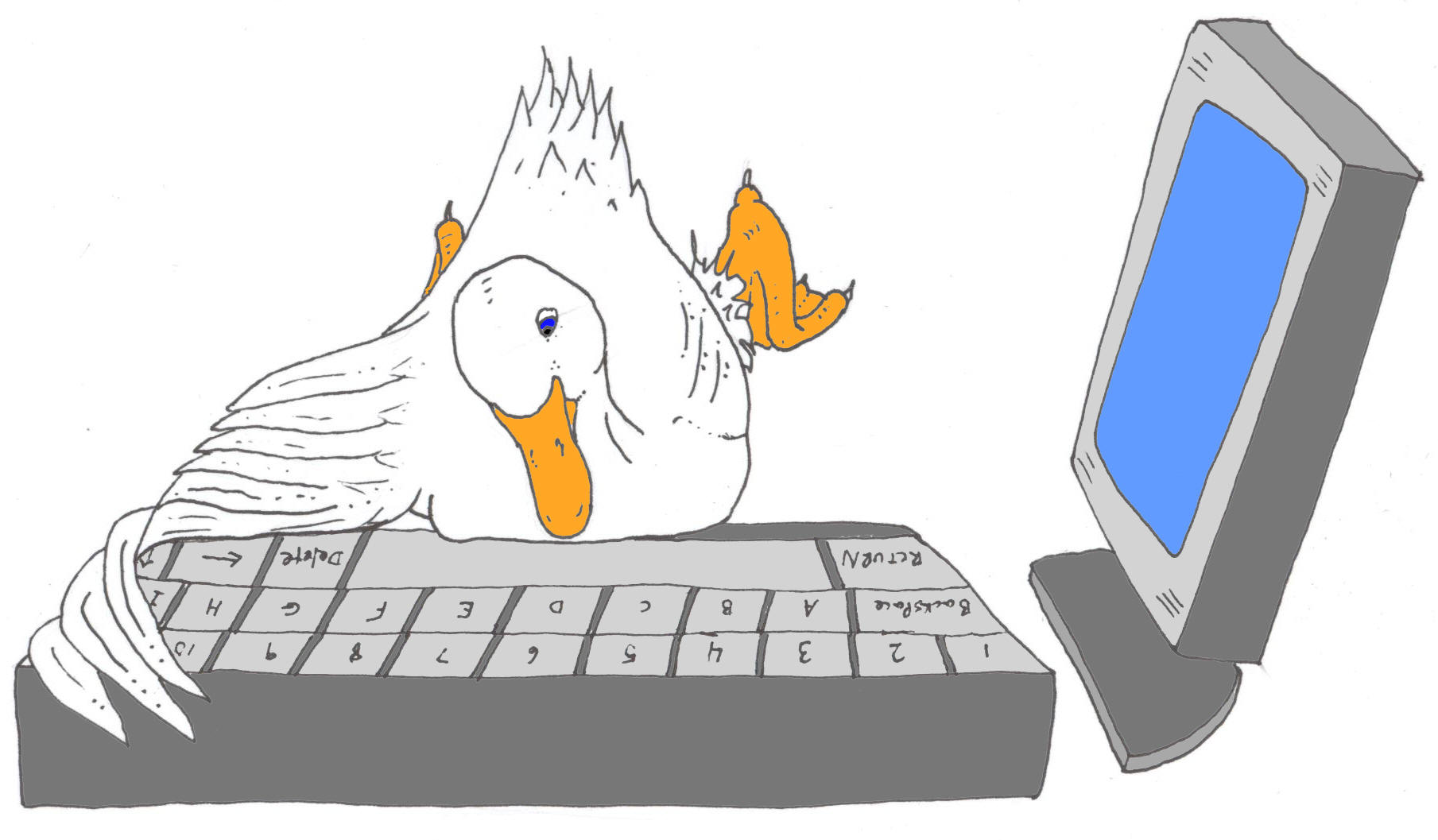 For lots of photos and updates as they happen! This is where you can see and hear all the latest news FIRST!
Outside Farewell...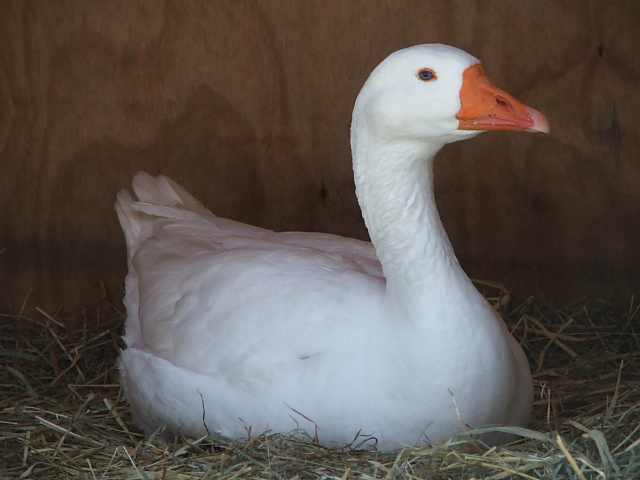 Victor-Victoria, we remember you dearly and are grateful to your adoptive Momma for loving you so long and well over the years...
The Month in Photos!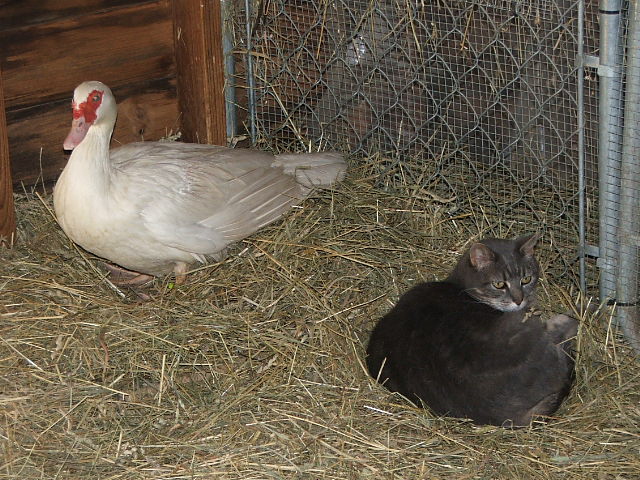 Bella & Timmerlane napping !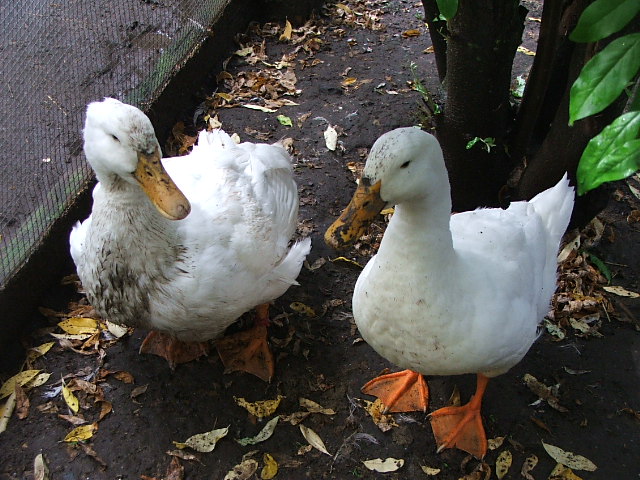 Oh no, a mud pie explosion!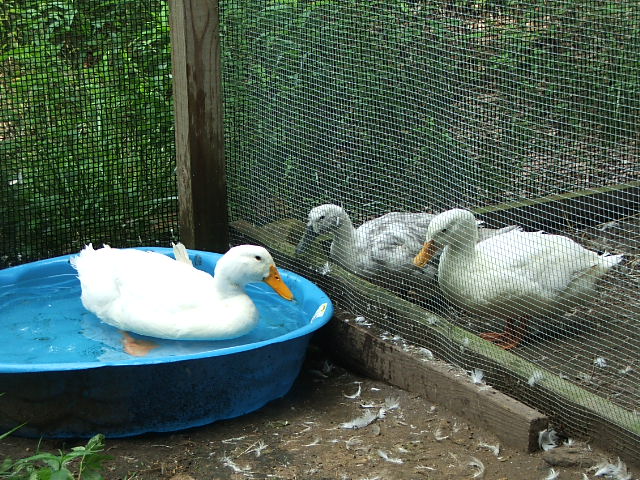 Eeben, WeeBit & Laddy!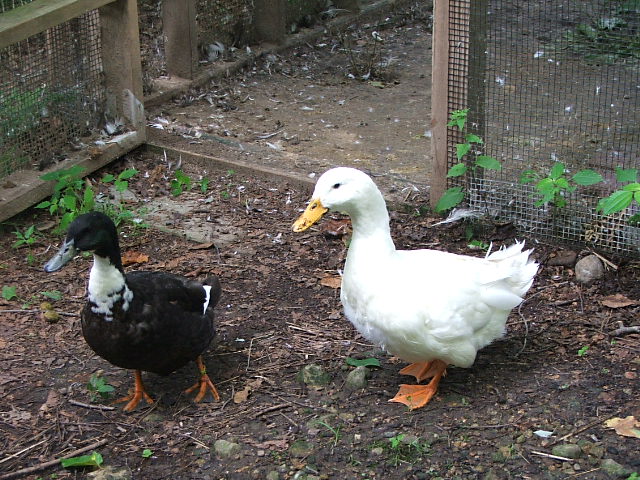 Shorty & Demi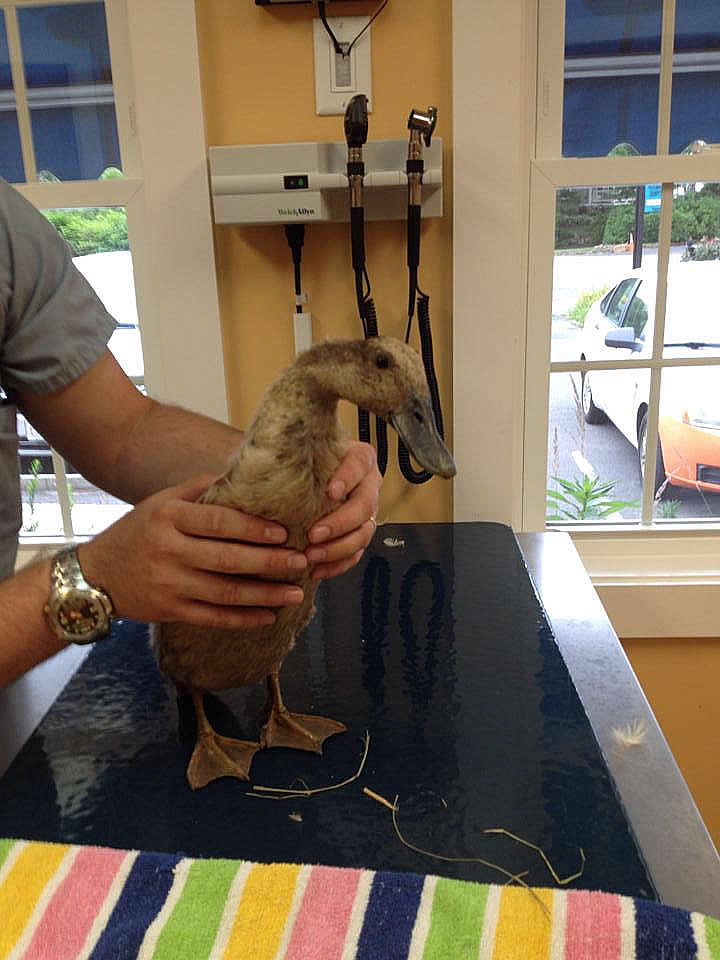 Dolly visits Dr. Otka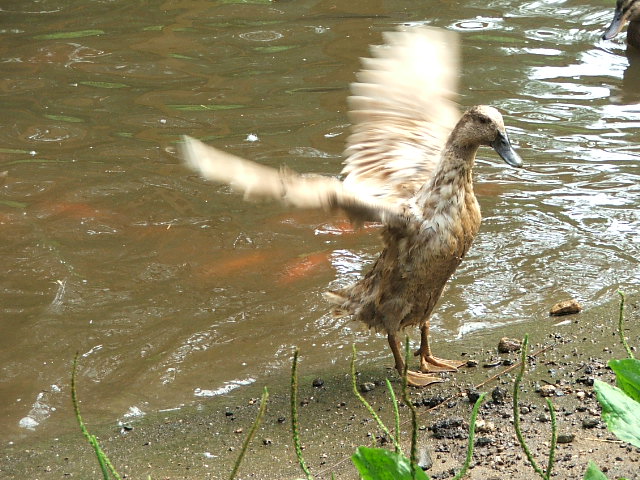 Dolly flaps for joy!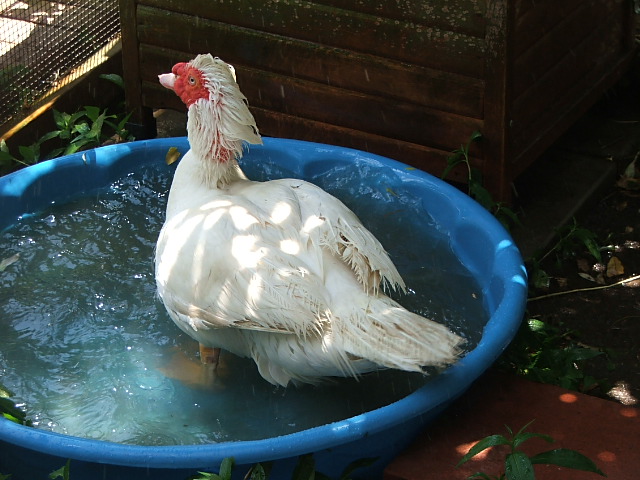 Billy-Cha in his pool!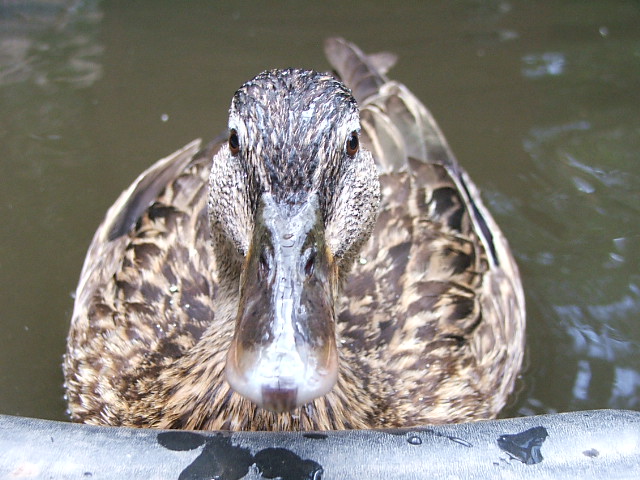 Phoebe wants MORE worms!
Majestic Rebuild Update
We've been working hard out in this summer heat as we rebuild the last three pens of our sanctuary.
The land has been leveled and we're about to dig the trenches for our underground concrete perimeter.
Two cement trucks will need to be brought in on seperate days in order to reach all areas of the pens and donations are needed to cover this building expense.
Remember, the funds Donated for cement today will provide safe pens for ducks and geese for MANY YEARS to come!
Once the cement is poured, building will commence and we will be looking for volunteers to help us get our pens open again as soon as possible. Please volunteer if you can!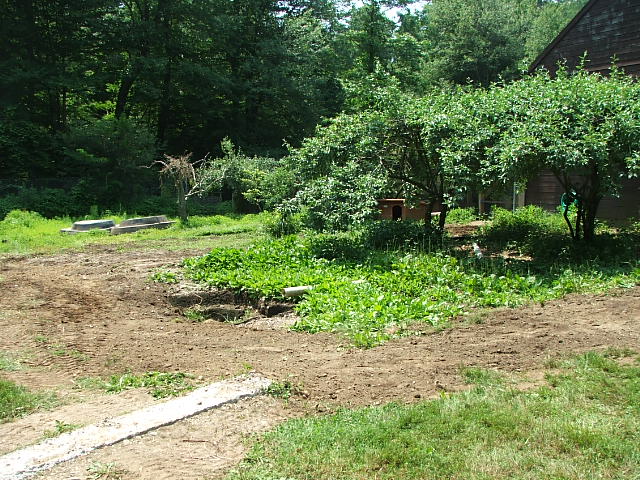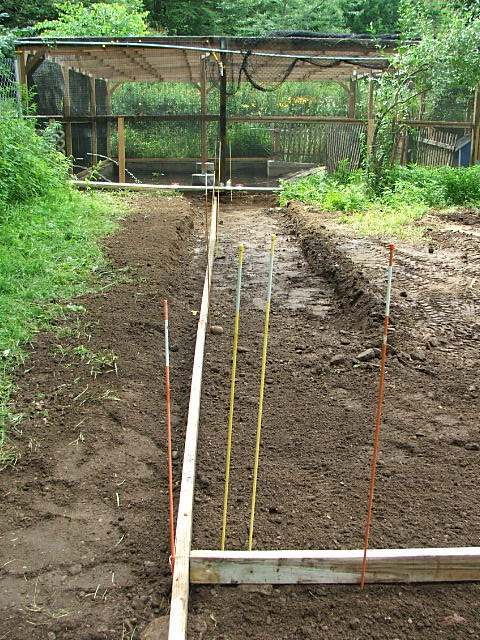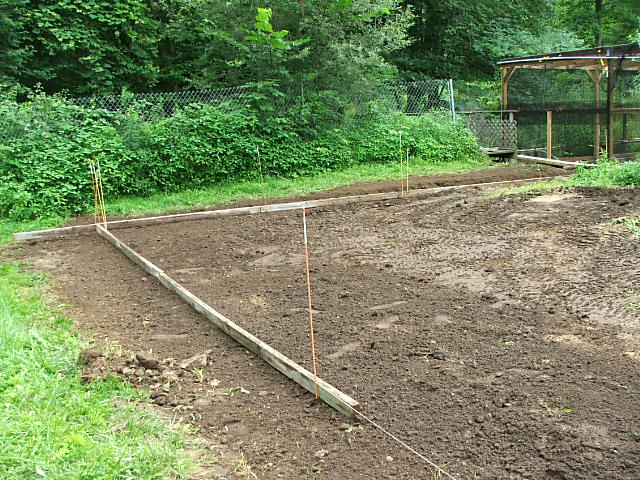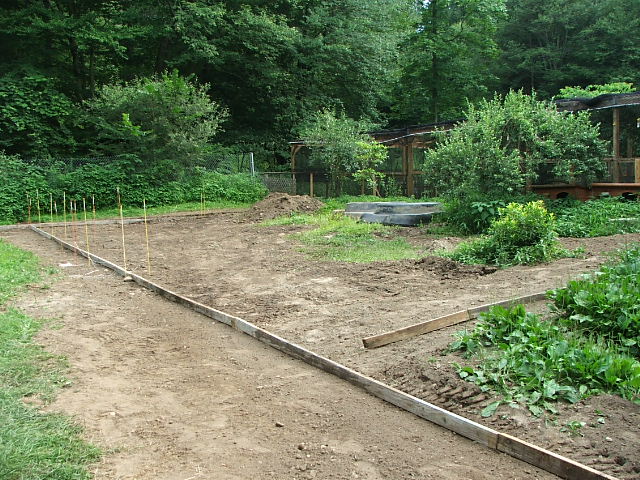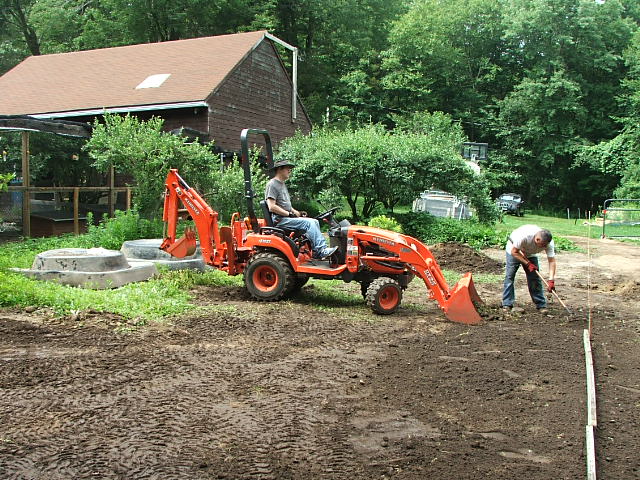 Majestic Newcomers!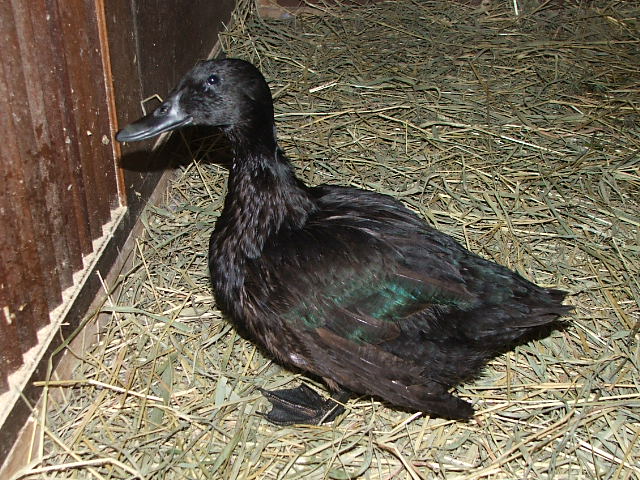 Rowena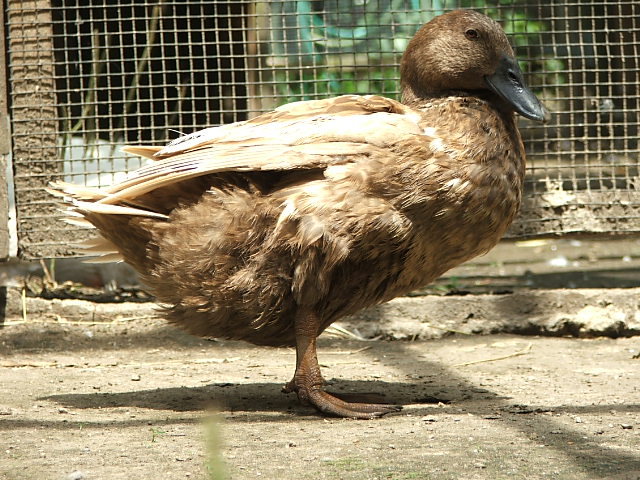 Dolly
Majestic Gift Shop
Visit our Majestic Gift Shop for some fun Majestic items! Proceeds from the shop benefit our sanctuary!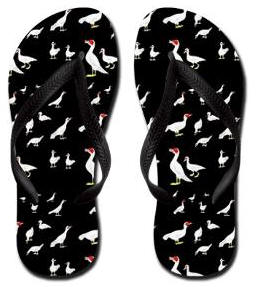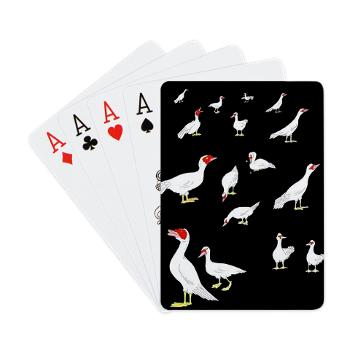 Majestic Sponsorships!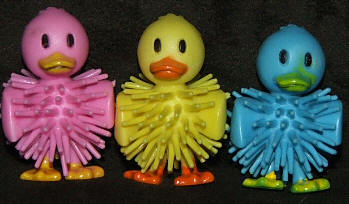 Give the gift that keeps on giving! Please consider sponsoring our rescued ducks and geese. Visit our Sponsorship Page to learn how!
Contact Us
Majestic Waterfowl Sanctuary
17 Barker Road
Lebanon, CT 06249
director@majesticwaterfowl.org
Our Newsletter
The Majestic Monthly is published 12 times per year. Previous issues are available in our Archives.
URGENT! Male Crested Duck Needs a Home!
This little guy was just rescued from a pond where he was abandoned. He is currently in a foster situation, but cannot stay much longer. We need to find a safe and loving home for him FAST.
He is located in Massachusettes. He's young, energetic and CUTE and would do best in a situation where he's not penned with other drakes and at least two female ducks as companions. As in any situation, it's always ideal if your females are equal to or larger than your males, so your girls should be medium-to-large in size.
Please share this information with as many people as you can--post it on your Facebook page. He desperately needs a place to go and we need your help to find him that place.
If you have a predator proof pen and feel you are a good match for this little guy, please email us: director@majesticwaterfowl.org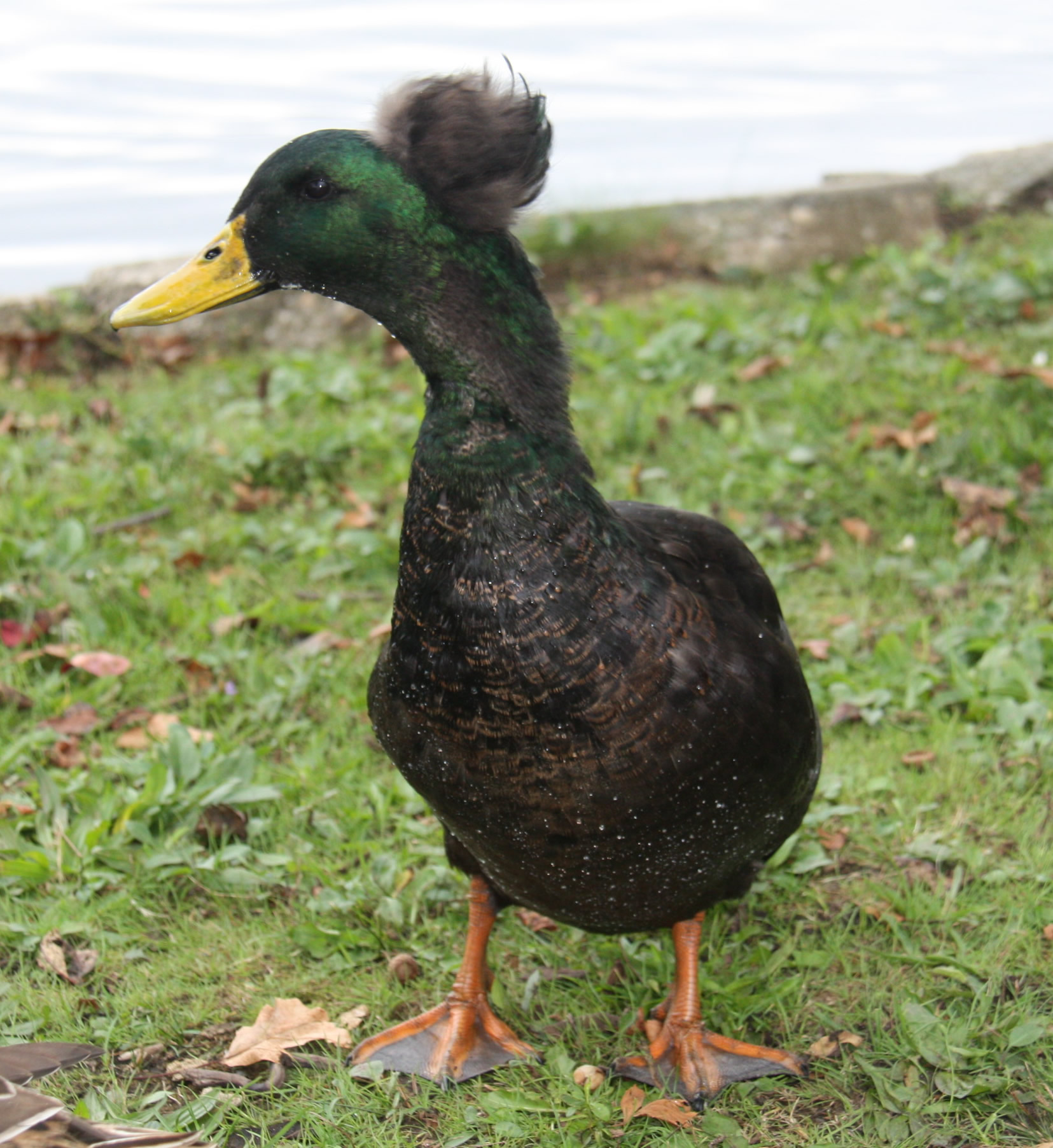 ---
Improper Diet & Emaciation
Rowena spent her entire life indoors, never knowing more than a small bowl of water for bathing and never feeling the sunshine on her face. Making matters worse, her family fed her nothing but spaghetti and watermelon for the past year.
At only a year old, her mate passed away in January, most likely of malnutrition and Rowena was following closely in his footsteps. Because her diet did not include a brand name waterfowl feed, Rowena was diagnosed with a heart murmur, drooped wings, a low white blood cell count and wet feather within 24 hours of her arrival here at our sanctuary.
While a vet-ordered diet of Mazuri Waterfowl feed and exposure to proper swimming water will help remedy some of these issues, her heart troubles and drooped wings will be with her forever.
Rowena has been digging into her new food with relish. She loves being outside and LOVES to swim and is diligently working on turning the quality of her feathers around while also primping for her new neighbor Peter the Mallard. She no longer becomes laden with water when she dives in and she's looking fabulous and getting into all kinds of fun trouble--what an amazing little duck!
Rowena Before: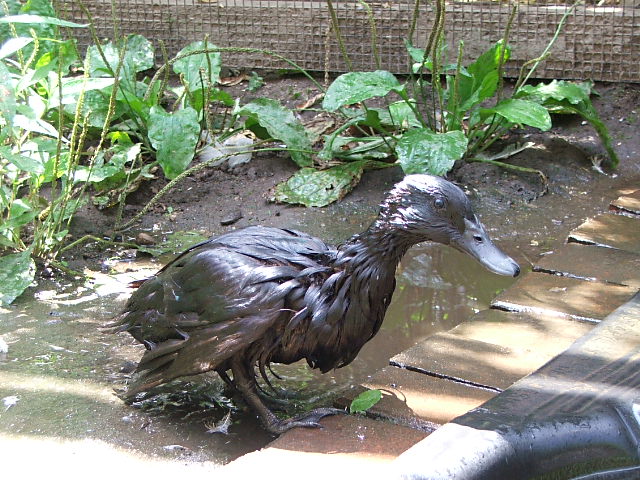 Rowena After: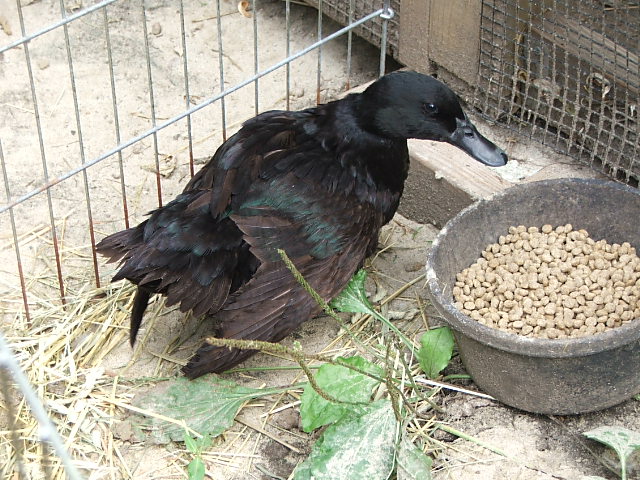 Dolly was recently removed from a pond where she was slowly starving to death. Her situation was so dire, we brought her straight from the hands of her rescuers directly to our vet. Fortunately for Dolly, her hunger troubles did not result in any permanent health issues. Her doctor's orders were simply to eat well and gain some weight!
Since arriving at our sanctuary, Dolly's keel bone has vanished beneath a happy tummy and she's doing a great job tidying up her feathers!
Dolly Before: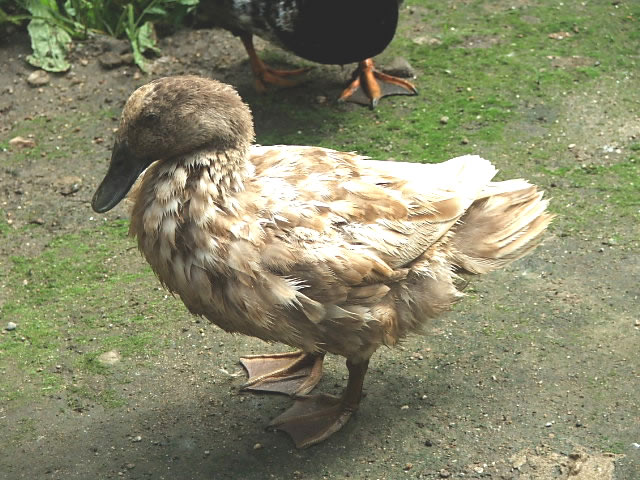 Dolly After: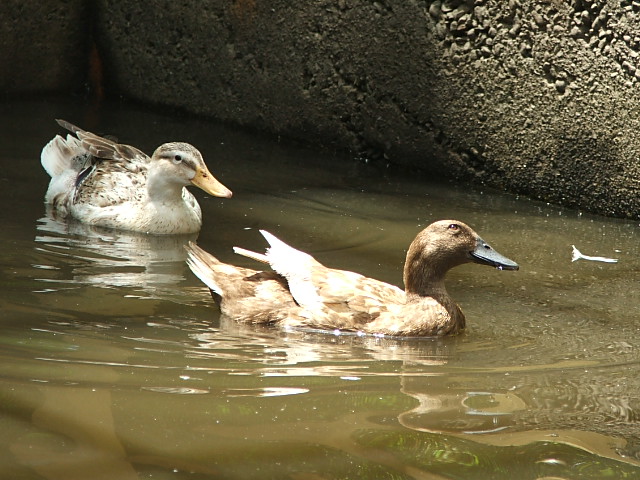 Remember, quality feed is EVERYTHING when it comes to keeping your ducks and geese in great shape. If you want your darlings to be happy and healthy with the best opportunity for life and longevity, then the quality of their food must be taken seriosuly.
Avoid inexpensive, store brands produced in bulk--especially those that are not intended for pet ducks and geese. Many of them do not offer balanced diets and ducklings and goslings in particular often fail on them, succombing to malnutrition, lethargy, lameness and even death.
To learn more about quality feed brand options take a peek at our May 2011 Majestic Newsletter.
As you can imagine, Dolly and Rowena's vet visits don't come for free. If you would like to donate to help alleviate the cost of their care, we can really use your help!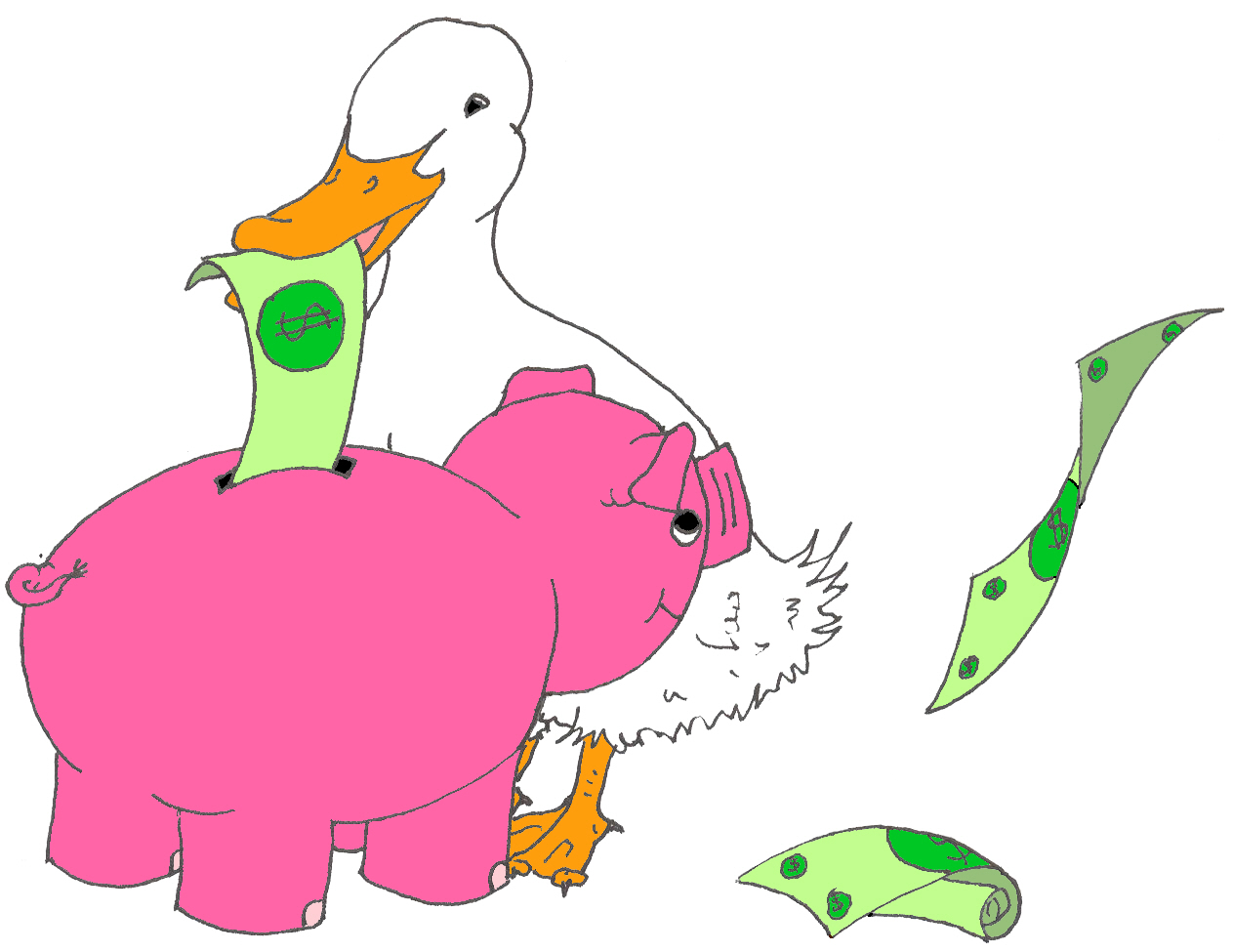 Please follow the link to make a helpful Donation for our rescues!
---
Malnutrition
Malnutrition doesn't simply mean your feathered friend isn't getting enough food; it can also mean that the quality of the feed your serving doesn't contain the right amounts of vitamins and minerals they need to stay healthy.
Some symptoms of malnutrition may include: excessive weight gain (although it may seem counterintuitive, geese who are malnourished often try to eat more food in order to compensate for nutritional deficiency), weight loss, fatigue, poor immunity to disease or parasites, routine healthy complications, seizures (often seen first in leg tremors), angel wing, droop wing and wry tail.
Immediately examine your duck or goose's diet, ensuring that they're on a high-quality and properly-balanced brand-name feed. Make sure you're serving your goose the appropriate feed blend for their age and needs. Ask your vet or a professional at your local grain store if you need further advice. In severe cases, your vet may recommend a temporary regime of vitamin supplementation, being mindful of safe dosages.
--Excerpt from The Ultimate Pet Duck Guidebook, 2nd Edition
---
Goose Photos Wanted
Kim is currently working on the 2nd edition of her Ultimate Pet Goose Guidebook and is looking for some donated DOMESTIC goose photos (no wild geese please).
Your goose could be a STAR! Check the list and if you have any photos she can use, please email them to us.Please be sure that any photos you send are bright, clear and sharp while also being aware of a nice background whenever possible, so they will represent nicely in print.
If your photo will work in the final layout, she'll email you a photo release and then you could see your feathered friend in print as soon as this fall!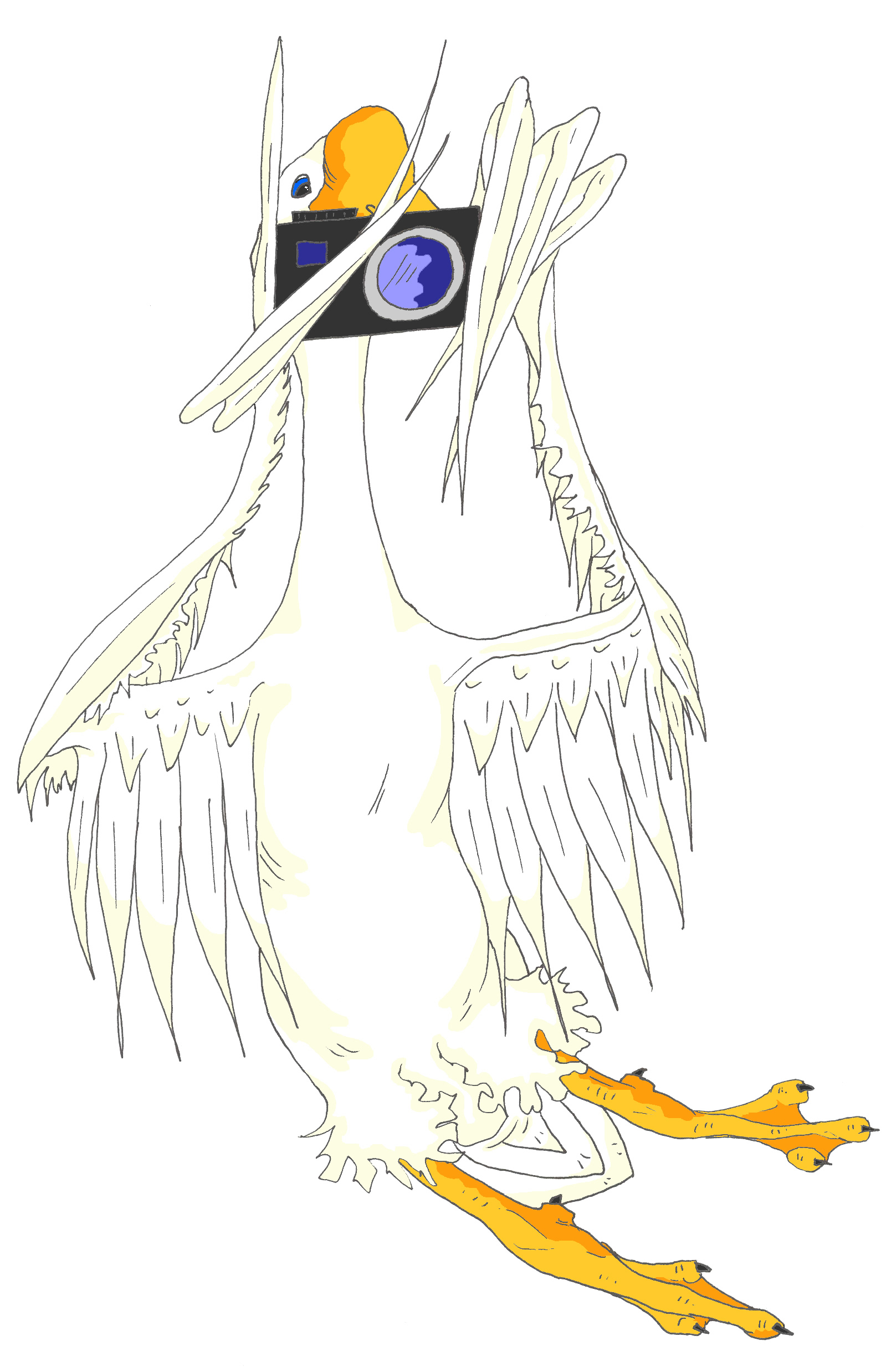 These photos need to show your goose or gosling's FULL BODY:
1. A pair of adult male & female Pilgrim geese (in the same photo if possible)
2. Embden gander
3. Embden gosling
4. American Saddleback, Grey Back adult
5. American Saddleback, Buff Back gosling
6. Pomeranian adult (TRUE Pomeranians with pink bills and legs)
7. Pomeranian gosling
8. American Buff adult
9. American Buff gosling
10. White Chinese gosling
11. Grey Chinese gosling
12. White African adult
13. White African gosling
14. Grey African adult
15. Grey African gosling
CLOSE-UP Medical photos wanted:
1. Goose with GENETIC bill deformities
2. Goose with frostbite on feet
3. Goose with damaged feathers (close up feather photos)
4. Goose with foot deformity
5. Goose with torn webbing or holes in webbing
In addition, she's also looking for these photos:
1. Sebastopol goose in a fancy diaper harness and frilly/lacy dress!
2. Goose (or geese) all cozy under a nice shade tree
3. Goose snuggling with a child
4. Goose posing with a calendar
5. Goose sleeping... all tucked in...
6. Goose in a wheelchair/harness
...OR if you have an amazing photo--one that's really cute, funny, or pretty that you think would be a nice addition to the book, go ahead and email it through for consideration. Kim would love to see!
---
Get in and WIN!
Kim is collecting photos of people in the water with their ducks or geese! Photos are being placed into a photo album on her Facebook page, which will be opened up for voting (one vote per person) on August 12th-20th.
The WINNER of the most popular vote receives a FREE copy of Kim's Ultimate Pet Duck Guidebook, 2nd Edition (color version) shipped anywhere in the Continental USA. That's a $65.00 value!
To play, visit Kimberly Link (Majestic Waterfowl Sanctuary) on Facebook and IM her your photo. Be sure to include your duck or goose's name and what state you're located in. Good luck!