Surgery for Zelda
For those of you who haven't heard, our little Zelly-Belly managed to slip in the mud and dislocate her knee joint. For some reason she just feels the need to run every place she goes.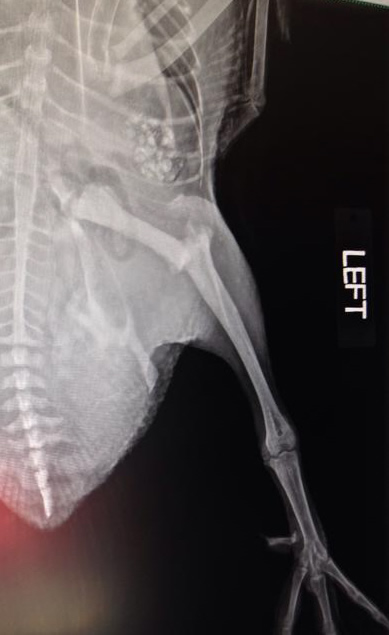 Surgery to repair her dislocated knee is scheduled for Thursday, April 7th.
During the procedure, our vet will drill tiny holes in the ends of her Femur and Tibia to bind the joint together with dissolvable sutures (which will last for 3 months).
Four external pins will hold the two bones in place. Over the course of 3 weeks the tissue around the the bones will encapsulate the joint, securing it back into place.
Two longer wires will hold the four pins in place, so that we don't have to worry about her friend Lil Ms. Bee advising her to pull them out!
We need to raise $400.00 for Zelda's operation. If you can, please send a Majestic Donation to help us get Zelly get back on her feet again.
---
2016 Duck-Duck-Goose Photo Contest!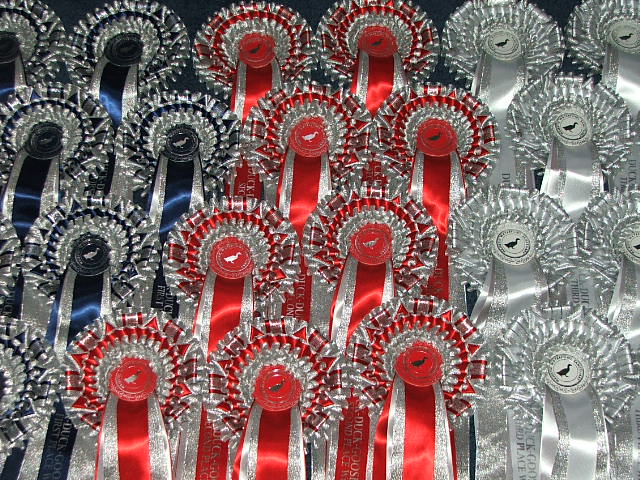 This year's Duck-Duck-Goose blue ribbon photo contest is officially OPEN!
At the close of this annual fundraiser we will be giving away three first place winner certificates and eleven show-stopping prize ribbons over three categories: Most Photogenic, Wild Child and our new category... Best Portrait!
1st, 2nd & 3rd place ribbons will be awarded in each of the following categories:
The Most Photogenic category is for domestic ducks and geese only (this includes Muscovy ducks!). All feathered friends featured in the photo must be domestic.
The Best Mud On Your Face category is for domestic ducks and geese (again, this includes Muscovy ducks). Photos can be literal--actual mud on your duck or goose's face, OR... you can capture any embarrassing/scandalous moment in your duck or goose's day.
The Wild Child category is for wild ducks and geese who have been legally domesticated only. These pets are not to be confused with wild ducks and geese. Multiple "wild child" ducks and geese may appear in the same photo as well as other domestic breeds. This means, if you have a photo of a Mallard and a Pekin (for example) you would enter it in this category.
What? Nine ribbons isn't enough? Okay... In addition we'll be awarding one President's Pick ribbon and one Honorable Mention ribbon!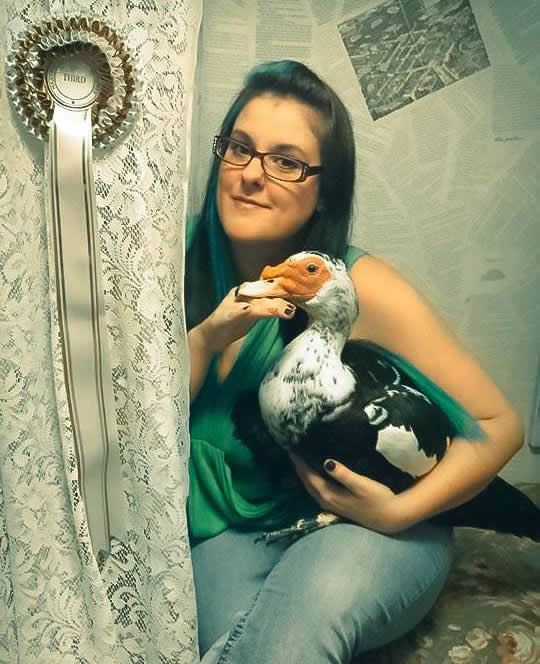 "J" was our 3rd place Most Photogenic winner in 2015
and he has the ribbon to prove it!
1. Photos may NOT be digitally altered in any way (except for cropping, which is allowable).
2. Photos entered must be taken within the last 12 months.
3. Amateur photos only may be entered. No professional or paid photography unless you happen to be a professional photographer.
4. Each photo submission must be accompanied by a $5.00 entry Donation. This is a fundraising event after all!
5. Photos for this year's competition will be accepted from April 1, 2016 through June 15, 2016 12:00 midnight EST. Both photo submissions AND entry donations MUST be received by this deadline in order to be officially entered. No exceptions! Photos that do not fall within these perameters will be disqualified.
6. Contestants may enter as many photos into as many categories as they would like and are encouraged to do so!
7. All contestants grant Majestic Waterfowl Sanctuary full discretion to permanently display any photo submissions on our website, or in any related, not-for-profit media (we will not sell your photos).
8. All ducks and geese photographed must be in safe situations. Please be mindful of your pet's health and stress levels when taking your photos.
For a complete list of entry rules, tips and submission guidelines click here: Photo Contest Rules.
To see prior year winners with their ribbons click here: Ducks & Ribbons!
To see prior year winning photos click here: Winning Photo Submissions!
---
Our Annual Photo Contest Has Gone Worldwide!
For the first time ever since its inception, the Duck-Duck-Goose Blue Ribbon Photo Contest will be OPEN for worldwide submissions this year! A few stipulations have been set in place to improve efficiency and help control expenses: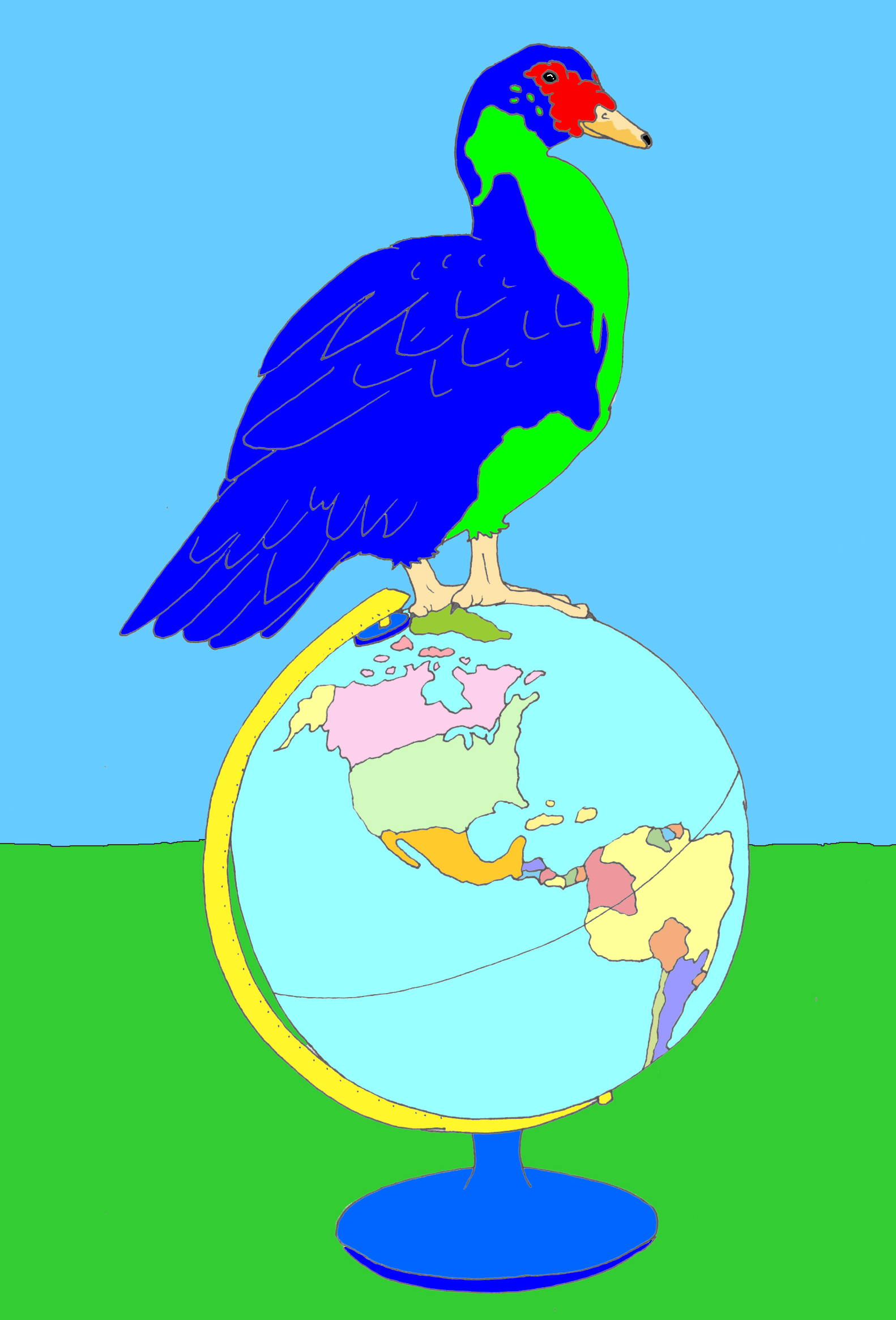 a. Photos entered from OUTSIDE of the Continental USA will ONLY be accepted via email (no snail mail please).
b. All accompanying entry Donations must be made via Paypal in U.S. currency.
b. Should you win 1st place, contestants understand that your award certificate(s) will NOT be framed for you.
c. Should you win a prize ribbon (or ribbons!) contestants agree to cover the added expense of shipping your ribbon(s) outside of the Continental USA. These special arrangements will be made directly with you by email after the contest officially closes and winners are announced. Any additional shipping costs must be made via Paypal in U.S. currency. Your ribbon(s) will NOT be shipped to you until your additional shipping costs have been received in full.
d. Prize ribbons will be considered forfeited to Majestic Waterfowl Sanctuary on August 1st of 2016 if additional shipping costs are not yet received.
---
Ribbon Sponsorships
Don't have a duck or goose, but still want to get in on the fun? We still have a few Ribbon Sponsorships available! Ribbon Sponsors have their name or their business's name associated with a prize ribbon. We can also include a special message and a hyperlink to your website or Facebook page!
Remember... Our panel of unbiased judges have no access to contestant or sponsor information, which means... Contestants can sponsor ribbons too!
2016 Sponsor-A-Ribbon
Most Photogenic Ribbon Sponsors:
1) Blue 1st Place Ribbon: $25.00 (TAKEN!)
2) Red 2nd Place Ribbon: $20.00 (available)
3) White 3rd Place Ribbon: $15.00 (available)
Best Portrait Ribbon Sponsors:
1) Blue 1st Place Ribbon: $25.00 (TAKEN!)
2) Red 2nd Place Ribbon: $20.00 (TAKEN!)
3) White 3rd Place Ribbon: $15.00 (available)
Most Mallard/Wild Child Ribbon Sponsors:
1) Blue 1st Place Ribbon: $25.00 (TAKEN!)
2) Red 2nd Place Ribbon: $20.00 (TAKEN!)
3) White 3rd Place Ribbon: $15.00 (TAKEN!)
Honorable Mention Ribbon Sponsor:
1) Rainbow Prize Ribbon/yellow center: $25.00 (TAKEN!)
President's Pick Ribbon Sponsor:
1) Rainbow Prize Ribbon/orange center: $25.00 (TAKEN!)
To sponsor a ribbon, please Email us first to confirm availability and then send along your Donation!