Broken Bills
We have been contacted on a few occasions for advice on proper care when it comes to damaged or broken bills. If your duck or goose breaks a piece of their bill off, save the piece (if you have it) and seek veterinarian assistance immediately. Bills do bleed when broken, so you may need to use blood coagulant (which should be in your medicine cabinet) to help control the bleeding until you arrive at your vet's office. They will often cauterize the bill to seal things up nicely.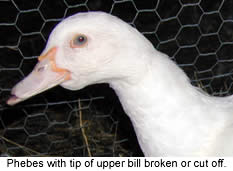 The front tip of Phebes' upper bill was missing when she arrived (we suspect it was cut off at a feather factory to keep her from damaging her own or another duck's feathers), but it may have been lost due to frostbite. In any case, it was completely healed when she arrived, but it caused a slight nuisance with her eating. She did best on small pellets or, better yet, ground waterfowl feed. We kept a water dish next to her food to help her wash her food down. It may take them quite a bit of effort to eat and they may tire of it quickly; if you notice this, just leave their food out at all times. They may do better if they can just help themselves to the buffet multiple times throughout the day, rather than just at one or two daily feedings.
Water should be made available at all times to any waterfowl you have. In the case of an exposed tongue, it is extremely important because the duck or goose needs to keep its exposed tongue moist and comfortable. Remember to use extreme caution in cold weather. An exposed tongue can easily become frostbit. Do not leave ducks or geese with exposed tongues outside during cold weather. They must be locked up in a barn or shed to prevent exposure to the cold and wind.
---
Molting
We also get a lot of questions regarding molting. The most common question is, "when do ducks molt?" In our experience, in our Connecticut climate, the hens go through a wing feather molt in late spring/early summer and the drakes go through theirs in late summer/early Fall.
The whole gang tends to go through a body feather molt in the late fall. However, we have noticed that each duck has its own molting style. Some ducks don't molt "on time"--some ducks molt early and others late. Some ducks molt a lot with feathers scattered everywhere, while others drop only a few feathers.
If your duck or goose has healthy feathers do not worry at all about molting. Just let nature take its course. If you are feeding anything other than Mazuri Waterfowl Maintenance, some sources recommend mixing an un-medicated flying game feed (which you can ask for at your local grain store) into their food during the dropping and re-growing of feathers, but this is not necessary.
Some things to keep in mind:
| | |
| --- | --- |
| | If your duck or goose is not molting and their feathers are in good condition, our vet has advised us not to worry, provided the bird is on a proper diet. |
| | If your duck or goose is not molting and their feathers are in poor condition, the problem is most commonly a nutritional issue. Evaluate your waterfowl's diet: |
Are you feeding your feathered friend food that is not designed for waterfowl?

Are you offering your duck unhealthy snacks?
| | |
| --- | --- |
| | Nutritional deficits are the most common cause of feather problems, so if you answered, "yes" to either of the two questions above, this is most likely the source of the issue. Remedy your duck or goose's diet and you will most likely remedy the problem |
| | Our vet does not recommend any forced-molt tactics for your feathered friends, and we are in agreement. They are unhealthy for your bird and should not be attempted. |
---
Wing Clipping
If you need to clip wings to keep your duck from flying or gliding, it is vital that you learn to do it from a professional. Have your duck-qualified vet or a qualified local waterfowl breeder teach you how to do this. Some feathers have pink centers; these are called blood feathers because there is an artery and a vein inside. If you cut them, your duck can bleed profusely and even die, so it is very important that you learn to clip wings from someone who knows what they are doing.
<![if !vml]>
<![endif]>
Our Muscovy hen "Frankie" shows us her clipped wing
---
Blood Feather
A broken blood feather can be deadly. If a blood feather breaks for any reason it will need to be plucked out. The ENTIRE feather shaft must be removed for the bleeding to stop.
This won't necessarily be an easy task, nor will your duck appreciate it, but it will need to be done. You will need a pair of needle nose pliers to do the plucking and preferably a helper to hold the duck still and the wing steady while keeping it supported. Feel around and find the exact spot where the troubled feather goes into the skin on your duck's wing. You will feel a bump under the skin where the feather ends. Before you pull the feather, you are going to want to apply pressure by pinching the wing right behind this bump, which is the base of the feather.
Pliers need to grip the pinfeather as close to the base as possible, near to the skin. Keep calm, take a deep breath, and give it one firm, smooth pull, being sure to pull the feather STRAIGHT OUT of its hole, in the direction of feather growth. At the same time you pull the feather out with one hand on the pliers, use your other hand to pinch and slide your fingers forward in one steady motion, following the feather as it pulls out.
Once the feather is out, use a small amount of blood coagulant applied with a cotton swab to stop the bleeding. Apply a sterile gauze pad over the wound and apply mild pressure for one minute. If bleeding does not stop, add another layer of gauze over the first and continue to apply pressure and head for your vet's office right away.
Next time you are visiting your waterfowl vet, ask them for a demonstration, so you will be properly prepared for an emergency.
The other alternative is to put blood coagulant right on the feather break to control the bleeding and then rush your duck to a vet to have them pull out the feather.
<![if !vml]>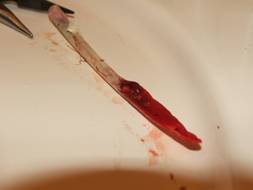 <![endif]>
---
Rescued Geese in Need of Homes
Phipps Country Store and Farm in Pescadero California recently took in 46 adult geese that were rescued from a nearby city park pond. They now need to find suitable homes for them. If you are able to provide a loving home for one or more of these geese, please fill out an online Adoption Application at their website (www.phippscountry.com). There is no charge for the geese but all prospective adopters must fill out an application and meet certain requirements.
Please Note: They are unable to ship geese so you would need to make arrangements to pick them up. Pescadero is located on the coast of California between Half Moon Bay and Santa Cruz off Highway 1.
They have four kinds of geese: Chinese, Embden, Toulouse, and mixed (a combination of two of the previous three breeds).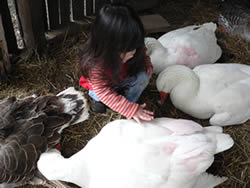 Michelle helping to comfort the rescued geese
The taking in of these geese will result in a lot more feed, cleaning, and maintenance costs for the people at Phipps. How you can help: (1) Make a donation through their website; (2) Purchase items from the Phipps Online Country Store; or (3) Adopt a goose or two from them [information and application].
---