Wry Neck

TinTin's Tubtacular Townhouse

Black Duck Design

Majestic Volunteer Opportunities

Majestic Rooftop Snow Removal Svc

Majestic Farewell...

Outside Farewell...

The Month in Photos!

Majestic Back Again!

Majestic Foster-to-Adopt!

Majestic Newcomer!

Gift Keepsakes for Animal Lovers

Majestic Gift Shop

Majestic Sponsorships

To Make a Donation, please click here: Donation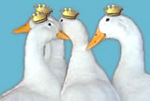 Please Help Today!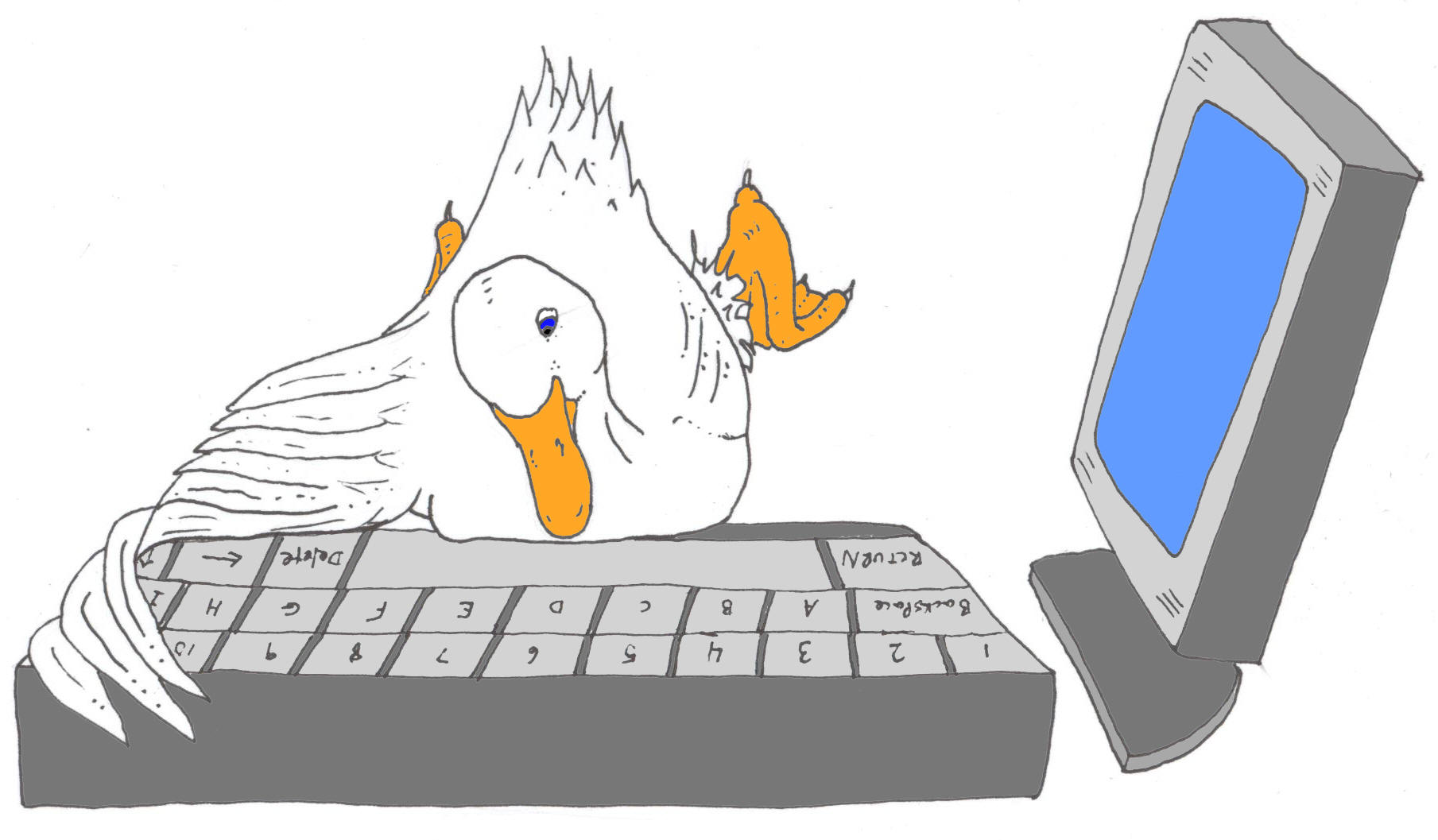 For lots of photos and updates as they happen! This is where you can see and hear all the latest news FIRST!
Majestic Farewell...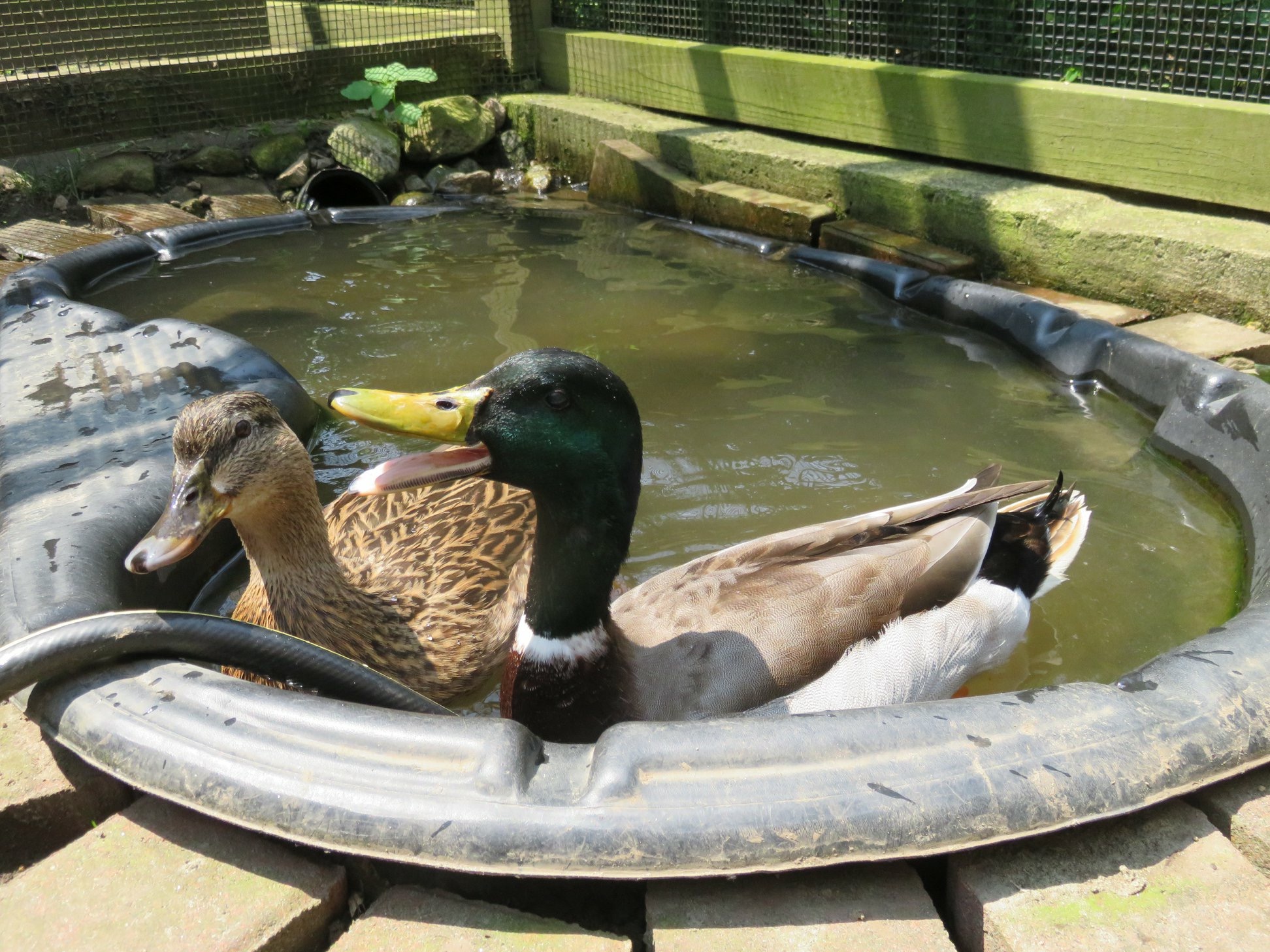 Saying good-bye is even more difficult following 15 years together. Fly into your Poppa Mallard's arms, dear Lewy, and we will take care of your lifemate Phoebe for you...
Outside Farewell...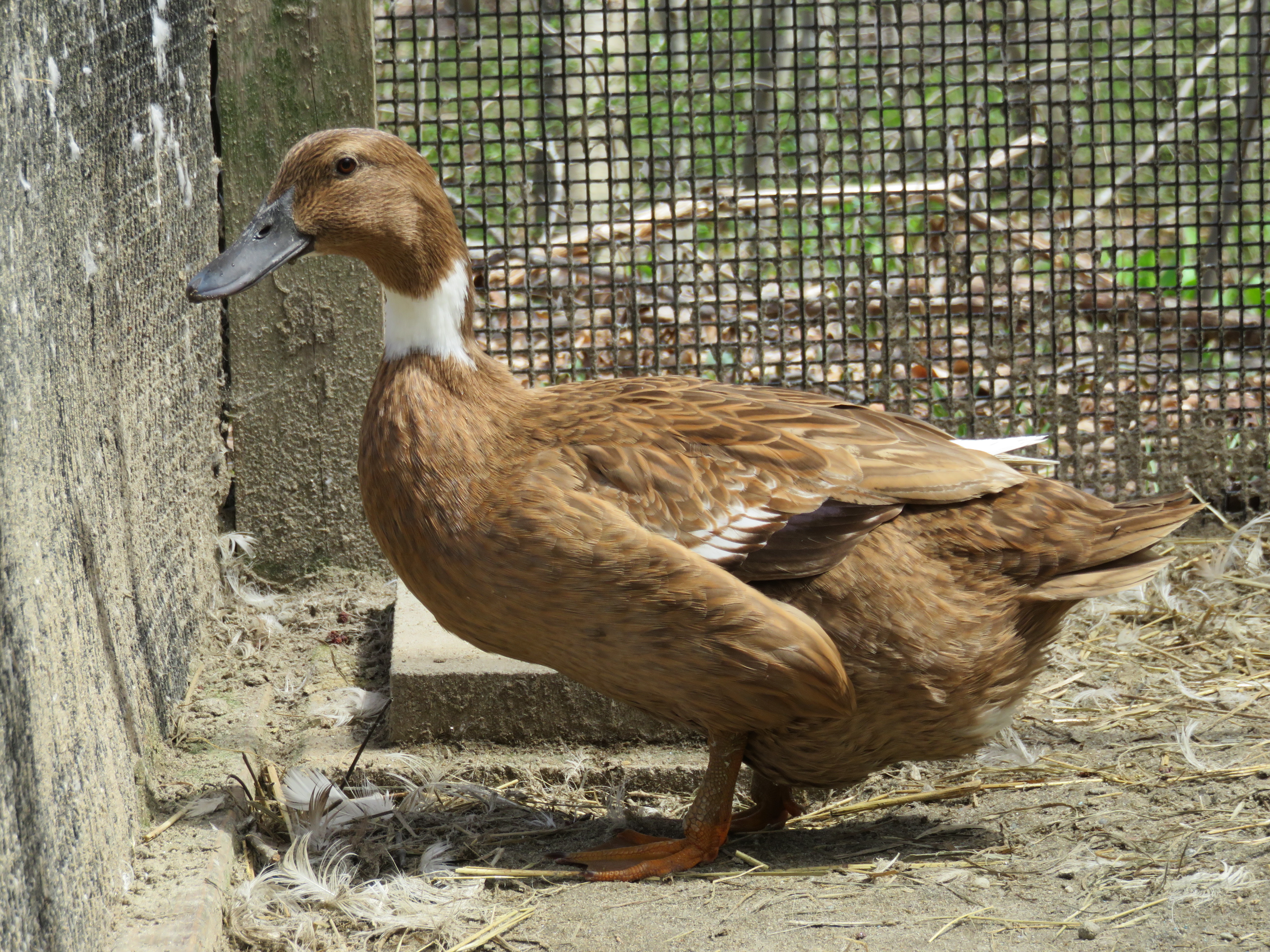 Little Bandit... You had a bad start with less than a duck should ever have... A family who didn't want you anymore because you fell ill. But a new home and a loving new Momma changed all that for you. Sometimes all Momma Ducks can do is offer a few years of joy, but thank goodness for your Momma Duck and those happy years... Rest in peace, little one...
The Month in Photos!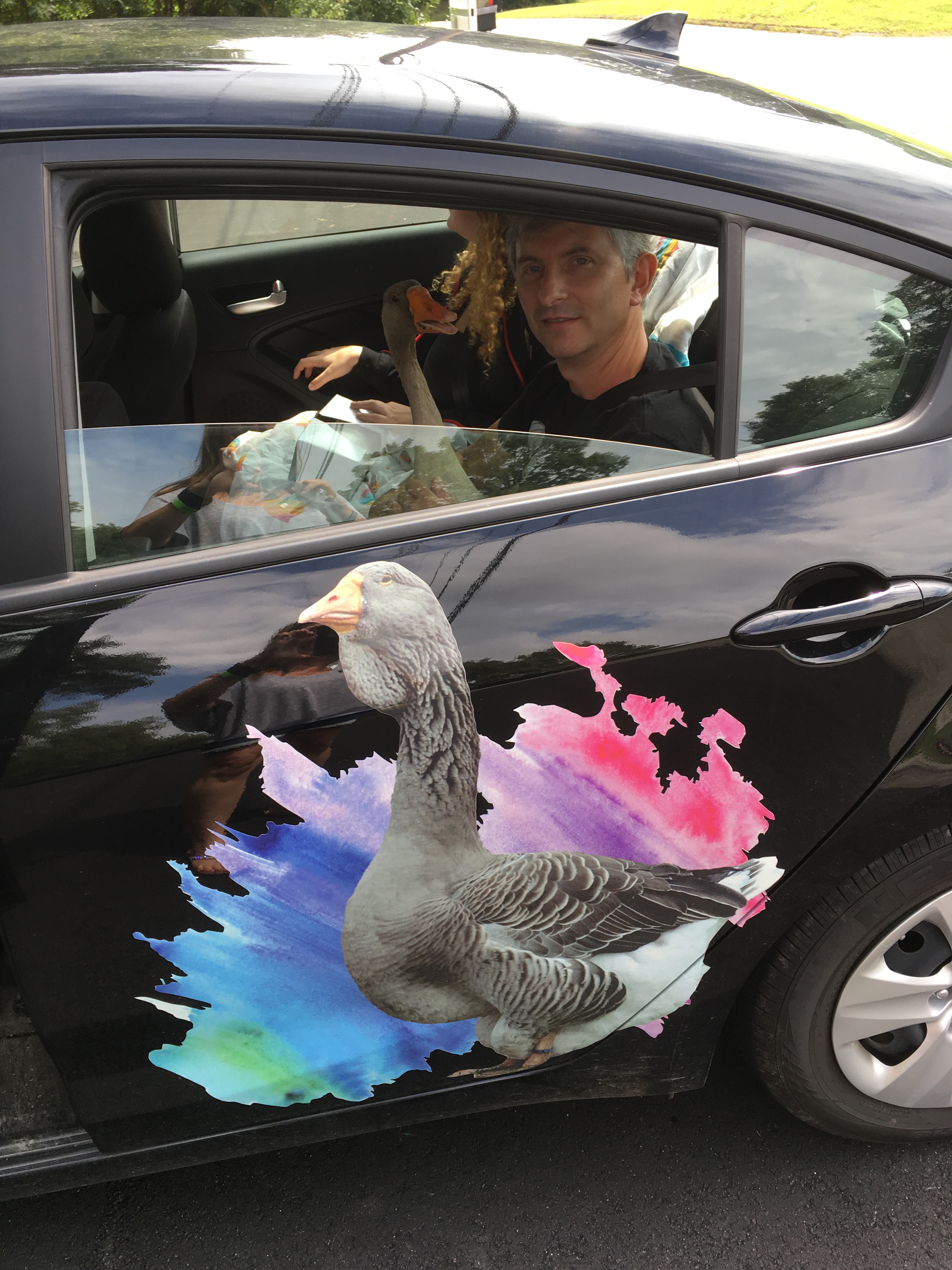 Rescuing Tock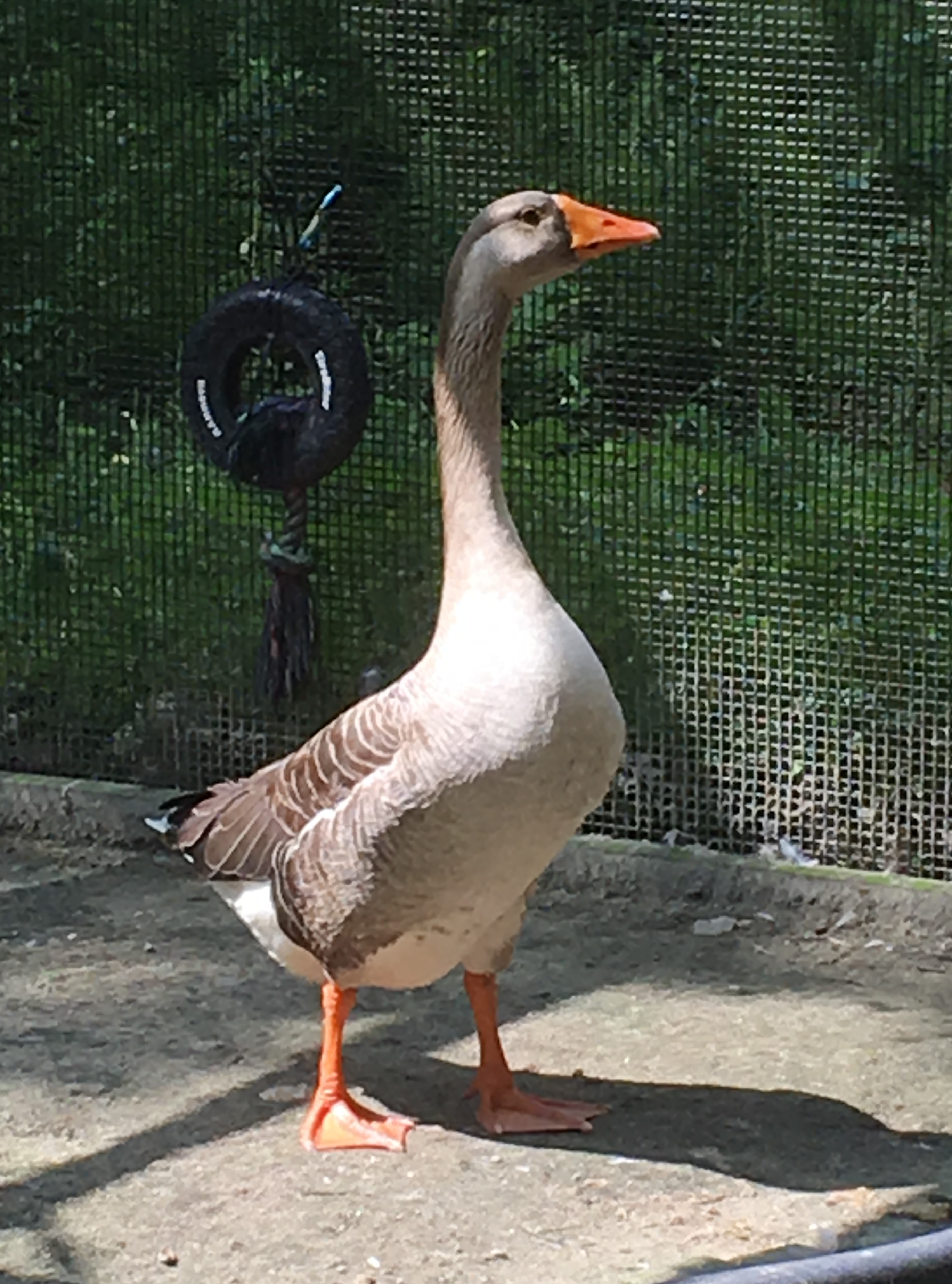 Tock arrives!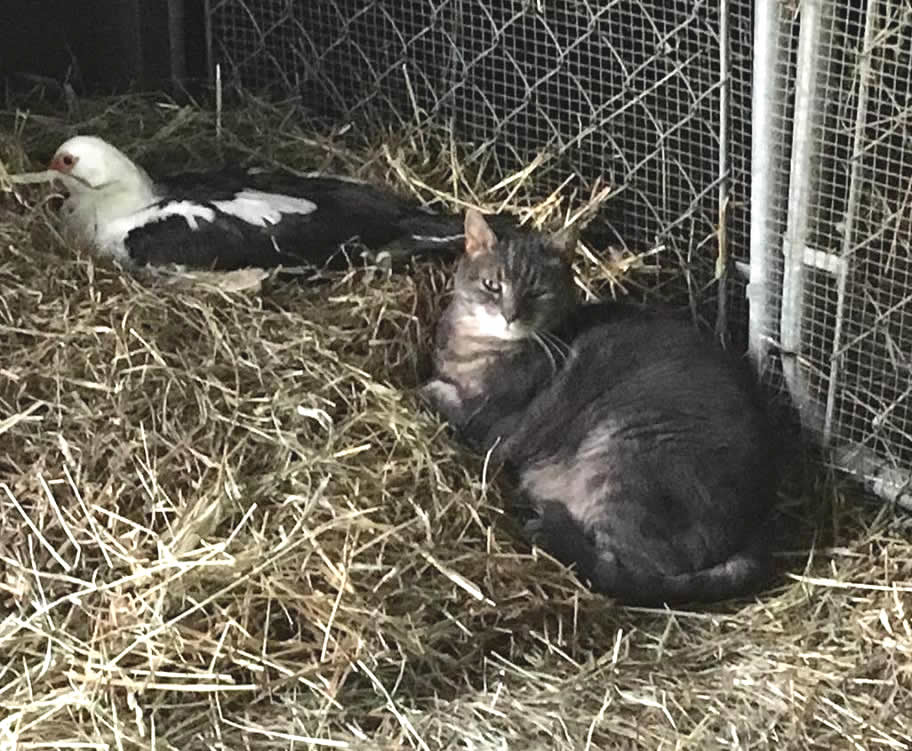 17 cat-napping with Timmerlane!
Majestic Back Again!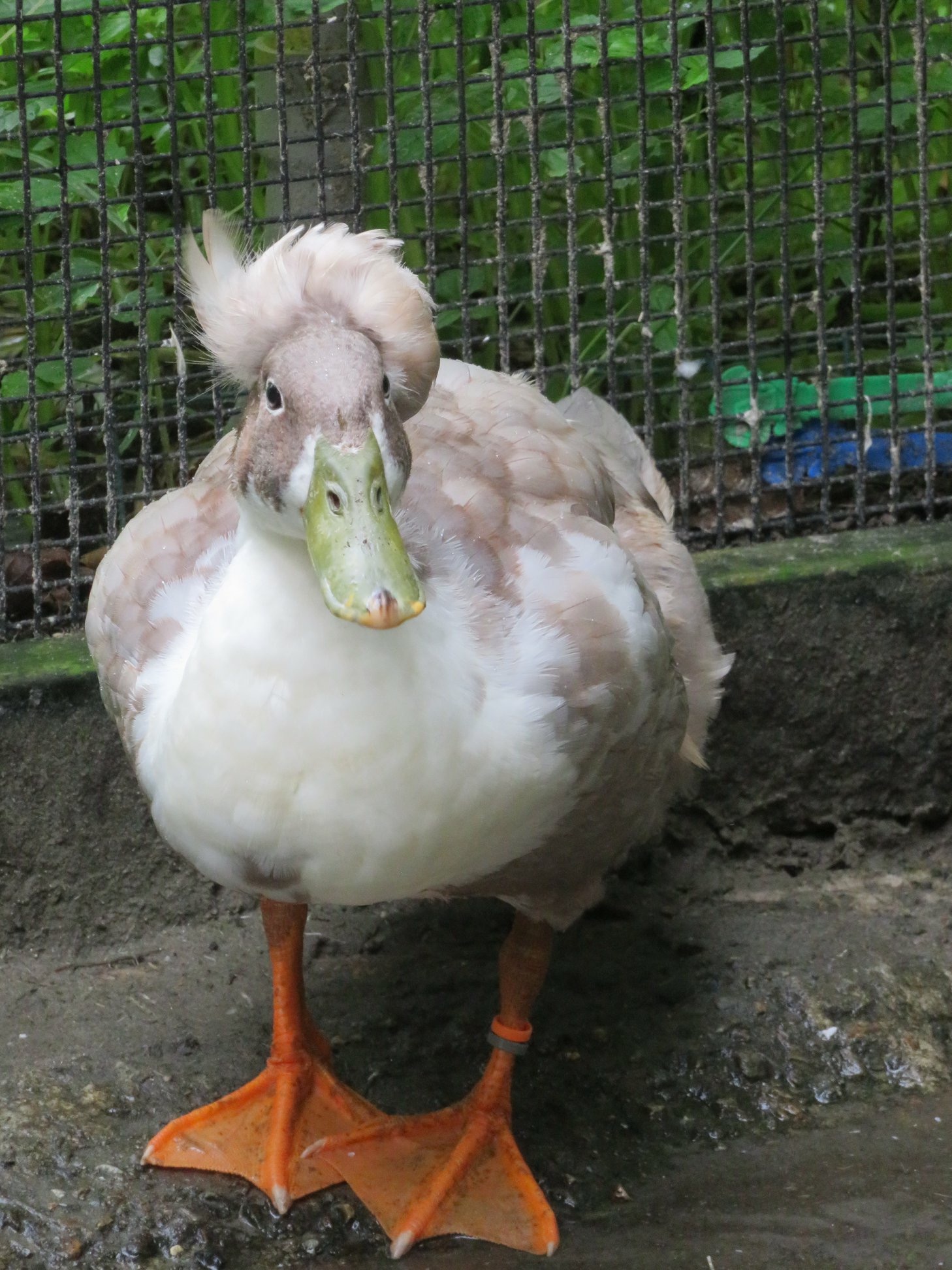 While Chuck (formerly Jopa) behaved very well in his wonderful new home, one of their drakes did not take too kindly to his feathery top hat. Aww... Poor Chuck! But that's why we have a Majestic guaranty--to ensure that our rescues ALWAYS have a safe and loving place to come back to if they ever need sanctuary again.
Majestic Foster-to-Adopt?!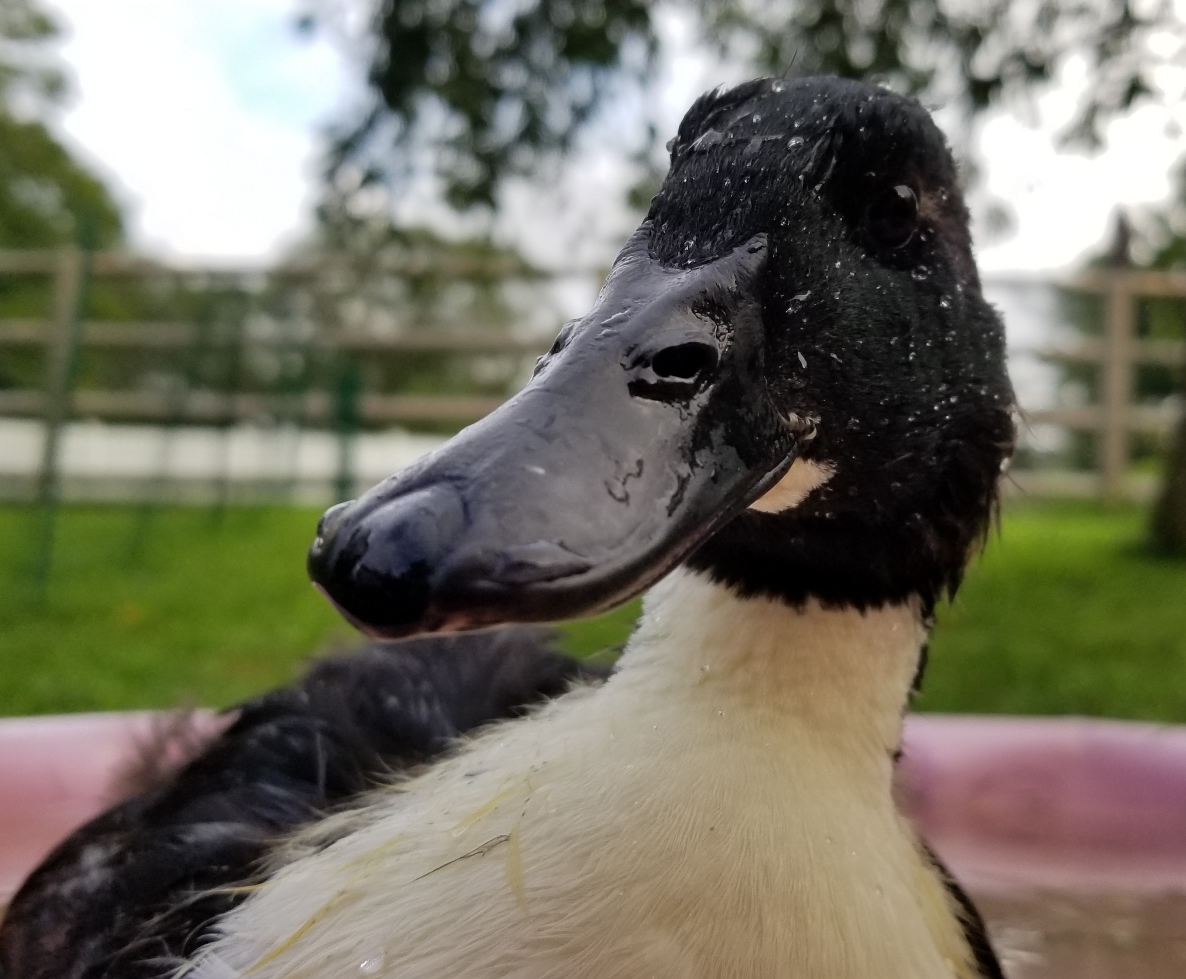 Approved adopters are fostering Marvell to ensure he's a good match for their family. We're pretty sure he won't be going anywhere anytime soon, but we'll see...
Majestic Newcomer!
Natoch "Tock" is a Toulouse gander
Gift Keepsakes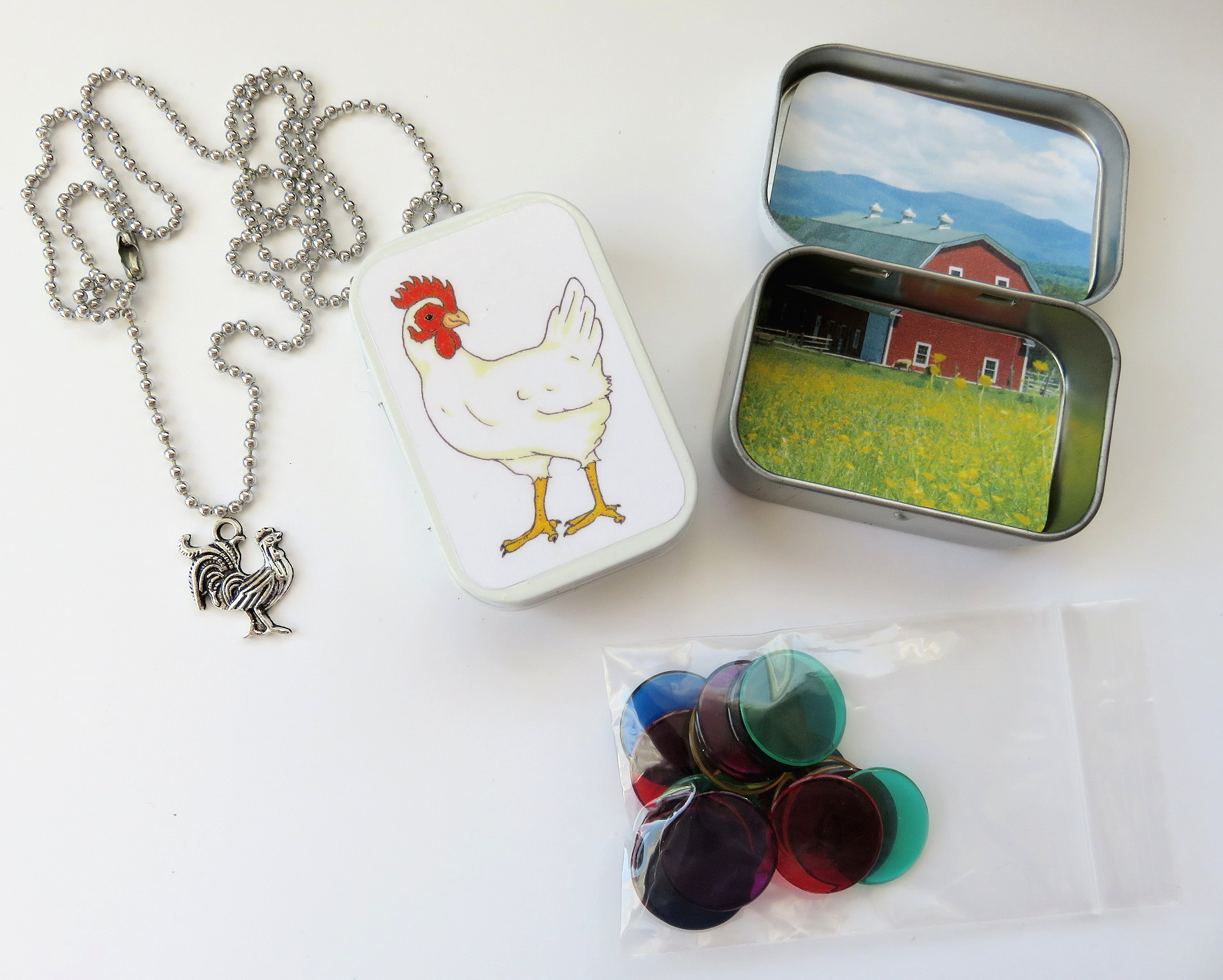 Visit our external website that features photos and descriptions of all of our Pet Keepsakes and Pet Memorial Care Packages.
These gifts are all customizable and are available in various donation levels to suit different budgets.
Please keep in mind, you still need to visit the Pet Memorial page of our own Majestic website in order to donate for yours.
Majestic Gift Shop
Visit our Majestic Gift Shop for some fun Majestic items! Proceeds from the shop benefit our sanctuary!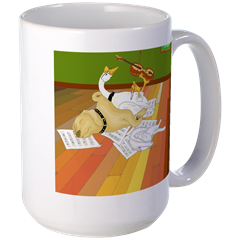 Majestic Sponsorships!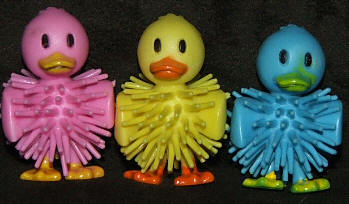 Give the gift that keeps on giving! Please consider sponsoring our rescued ducks and geese. Visit our Sponsorship Page to learn how!
*Sorry... Continental USA only.
Contact Us
Majestic Waterfowl Sanctuary
17 Barker Road
Lebanon, CT 06249
director@majesticwaterfowl.org
Our Newsletter
The Majestic Monthly is published 12 times per year. Previous issues are available in our Archives.
Wry Neck
The term "wry neck" (medical term: torticollis) is used to describe an abnormal twisting of the neck of your pet duck or goose. Wry neck is sometimes confused with limberneck (neck paralysis), which is primarily a symptom of botulism, avain flu or poison consumption.
The onset of wry neck in an adult duck or goose is almost always the result of malnutrition (often deprave of vitamin E and selenium), severe injury, or in rare cases, as a symptom of disease (primarily, Newcastle disease). When wry neck appears in ducklings or goslings it can also be the result of incubation mishaps, or poor genetics, however... malnutrition is still the number one culprit.
Because wry neck can be caused by medicated feed (which can interfere with thiamine absorbtion and should NEVER given to waterfowl), it is seen more often in chickens than in ducks and geese.
Wry neck can be mild or prounounced, slight or dehabilitating--or anywhere in between. In any case, and no matter what the cause, ducks or geese with any kind of neck deformity/injury should be taken to a qualified and experienced waterfowl veterinarian for immediate examination and treatment.
When muscular in nature (confirmed by x-ray, when safe for your pet), vets will normally advise a higher quality Brand-Name Diet specifically designed for waterfowl along with a vitamin additive (Vionate Vitamin Mineral Powder) and/or Brewer's Yeast. When malnutrition is the culprit, improvements are often seen within 24-48 hours of corrective dietary changes and supplimentation.
Provided there aren't any underlying skeletal issues, and in more severe cases, your vet may also advise some physical therapy for your pet. Just be sure the person you choose is experienced with the nuances of waterfowl anatomy and handling before you begin.
When assisting a duck or goose with wry neck, separations will most definitely be in order. This precaution will prevent accidental injury caused by other flock members. Keep in mind, ducks and geese thrive in the company of their friends; which means, it's best to put a divider between them and others for their own safety while also maintaining companionship.
Keeping an afflicted duck or goose separate from others will also allow you to effectively monitor food and water consumption. When wry neck is severe it can interfere with eating and drinking, which will need to be immediately addressed by you and your vet. Syringe and/or tube feedings may be required.
No Swimming! Waterfowl with wry neck should NEVER be allowed in water (or access to water) without direct and hands-on human chaperoning at all times to prevent drowning accidents.
---
TinTin's Tubtacular Townhouse!
A few weeks ago someone donated funds for our sanctuary's new 12' x 16' prefab building! Yep! And the permits were finalized in August! Wooo-hooo!
There is a 5-7 week lead time and then... TinTin's Tubtacular Tubhouse will be delivered to our sanctuary!
Also funded in this donation are some of the interior features including the window A/C unit, playpens, table, wall mount medical cabinet, electrical installment, water system and a ducky rehab tub of course!
Next year we will be building a small 12' x 12' exterior pen off of the south end of this building and this entire new space will act as our official outdoor infirmary and special needs area.
With so many of our rescues aging out here at our sanctuary without ever finding new adoptive homes, TinTin's Tubtacular Tubhouse will help us care for all of them!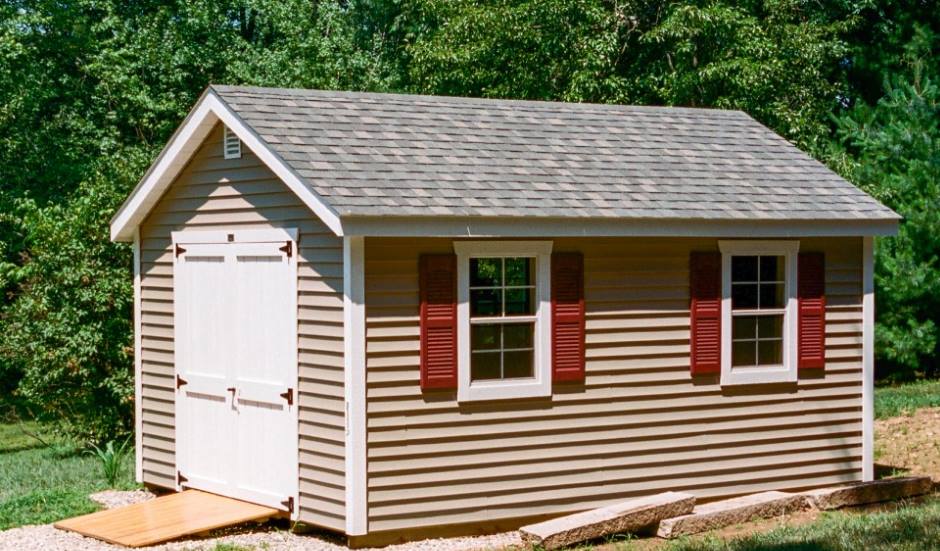 The actual building will match our barn--brown with white trim
---
Black Duck Design Signs!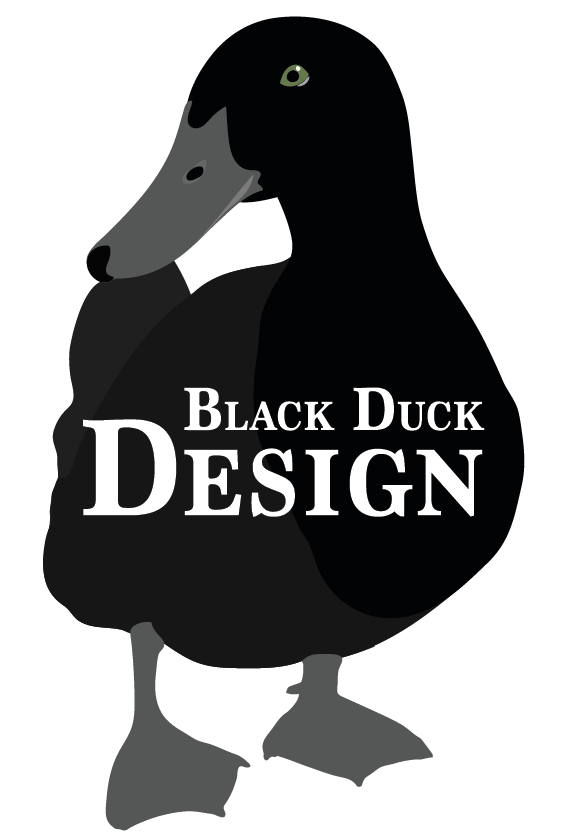 Stephanie at Black Duck Design topped off our entranceway sign with a customized, laser design sign and she can make a great one for you too!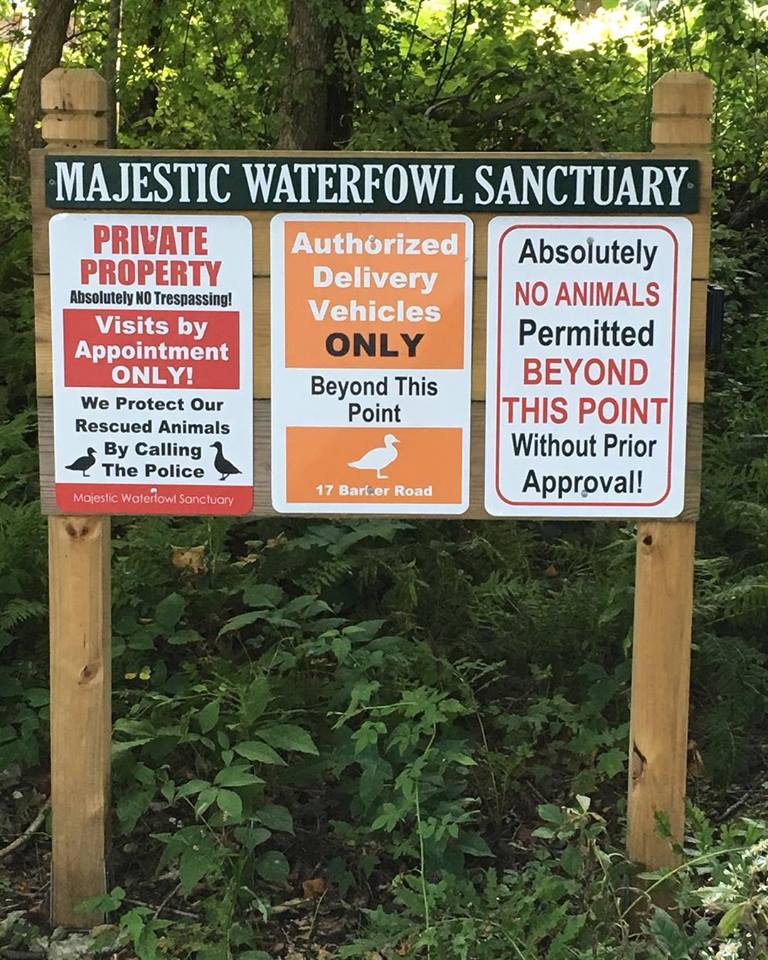 Remember to check out her tumblers, water bottles, window decals, photo encgravings too!
You can visit Black Duck Design's Shop on Facebook!
---
Majestic Volunteer Opportunities
We currently have a few big sanctuary projects underway. We're rebuilding our quarantine pen and painting both the interior and exterior of our barn.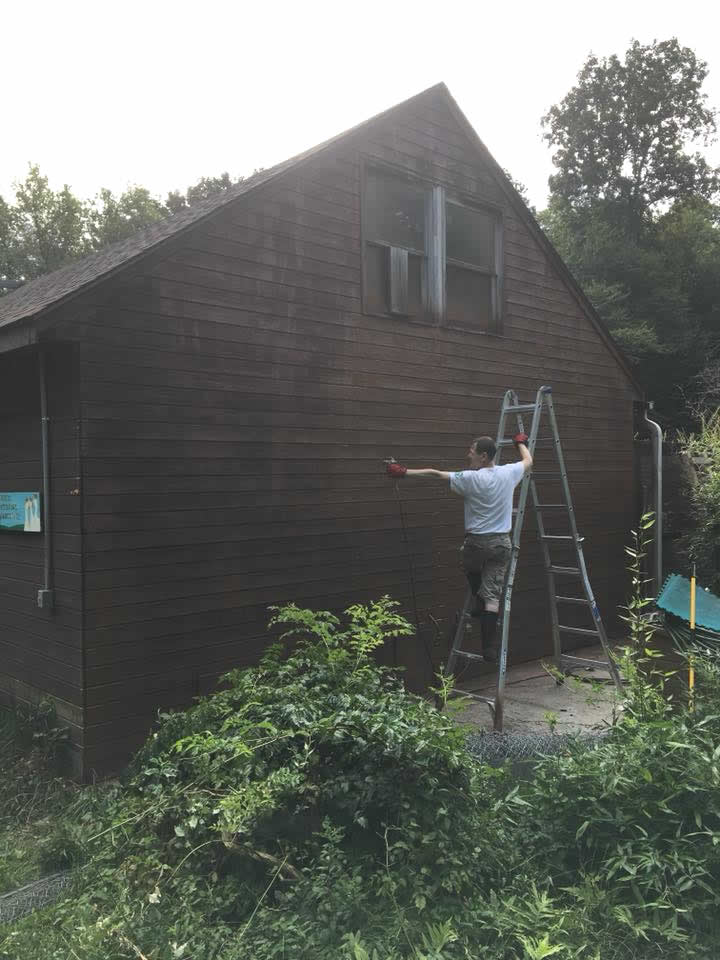 Want to help? Email us (director@majesticwaterfowl.org) and let us know! We work most weekends from 10:00 a.m. - 2:00 p.m. and would love to see you!
---
Majestic Rooftop Snow Removal Service
We can no longer effectively clear snow off of our sanctuary roofs by ourselves. Clearing snow off of pen roofs, pen grounds, clearing paths to our barn, pens and sheds and then clearing our own driveway is just WAY too much snow for us to handle on our own, even with snow-blowers. It's just far too much work for so few people, and if we hurt our backs clearing snow, we're of no use to our feathered babies who rely on our door-to-door services every day.
In light of this, we have selected Zimmerman Construction & Roofing as our local resource for snow removal services this winter--specifically tasked with rooftop clearing (and fully insured for this kind of work). The cost of this service will be $50 per person, per hour and they will come whenever we call. Fortunately, we usually don't require this kind of help very often, but... we never know for sure until the snow actually arrives, so it's good to be prepared.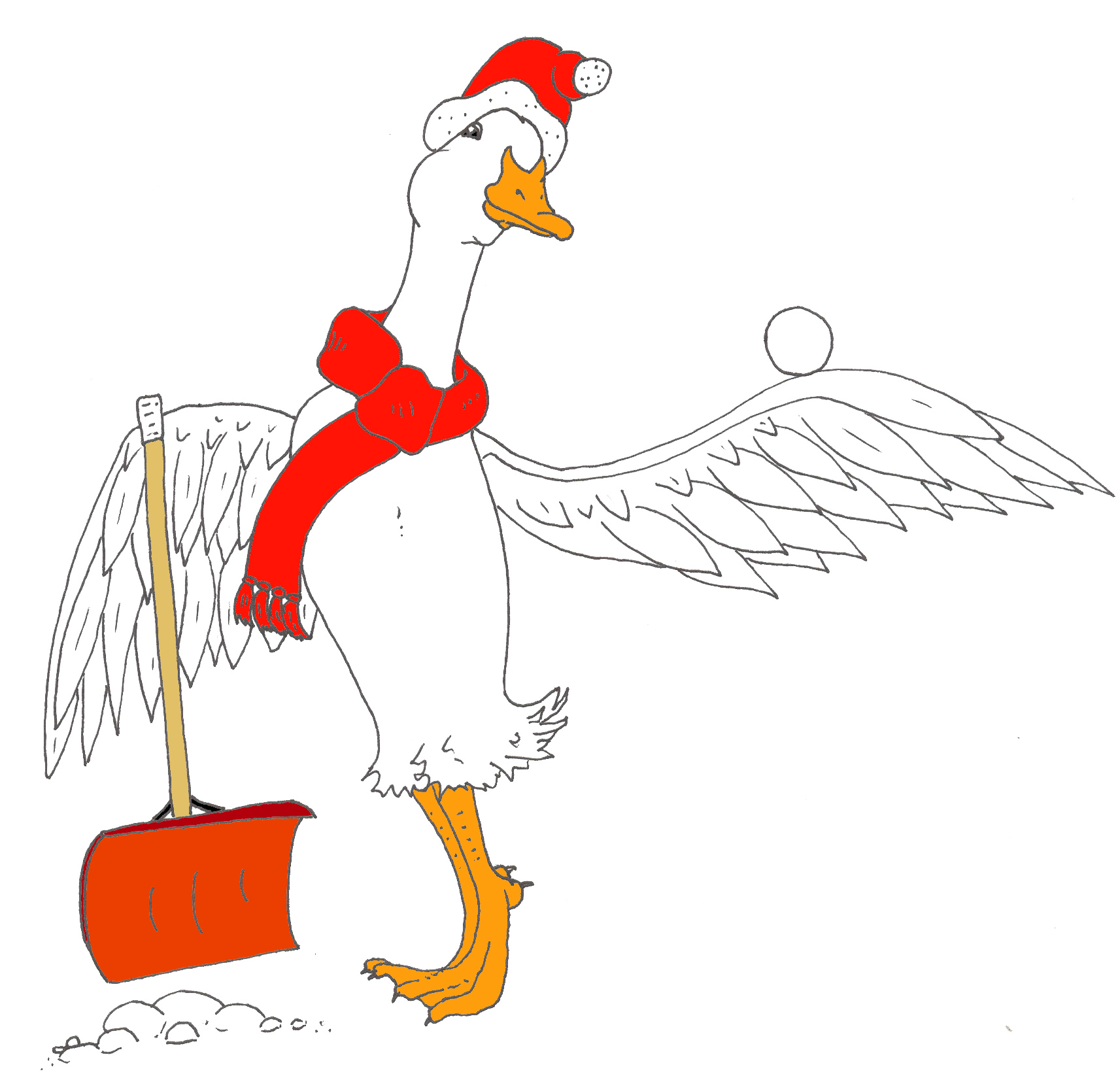 ---