Gifts for Waterfowl Lovers
Vitamin Supplement
For those of you who have emailed and requested us to recommend a vitamin supplement for your waterfowl, here is your answer: Vionate®.
Vionate is a veterinarian-developed formula that contains 21 essential vitamins and minerals to help improve overall health, performance and lifespan. It is the leading vitamin and mineral powder used by zoos, aviaries and private owners. The convenient cornmeal powder is simple to mix with pellets.
To purchase click here: Vionate.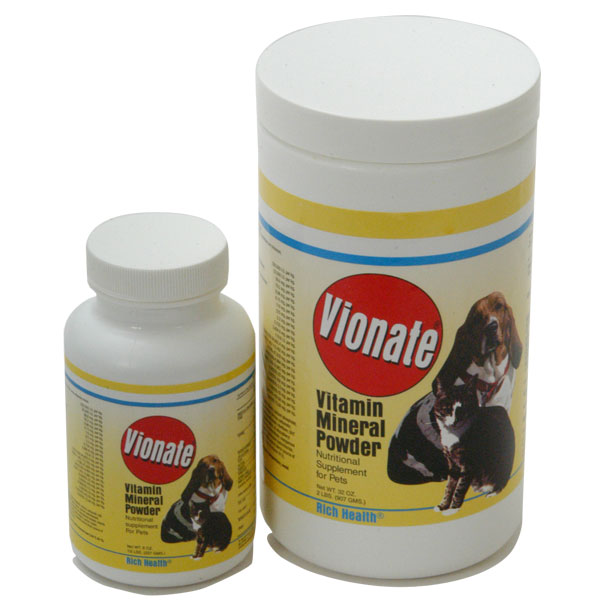 INGREDIENTS:
Degermed corn meal; dibasic calcium phosphate; calcium carbonate; salt (sodium chloride); ferrous carbonate; magnesium oxide; niacin; calcium pantothenate; riboflavin; BHT (butylated hydroxytoluene) as a preservative; di-atocopheryl acetate; vitamin A palmitate; thiamine mononitrate; manganous oxide; cupric sulfate; calcium iodate; pyridoxine hydrochloride; cobalt carbonate; folic acid; D-activated animal sterol (source of vitamin D3); cyanocobalamin (a source of vitamin B12).
Nighttime Predator Protection
The Nite Guard, sold by Oakwood Game Farm, Inc., will help protect your waterfowl from destructive nighttime predators.
The Nite Guard is a maintenance free, flashing unit that receives its power from either direct sun or any kind of daylight. It requires no batteries or electricity. They flash nightly even if you have several weeks of continuous cloudy weather. Once installed, you never have to touch them, unless you want to reposition them. The units are completely sealed, weatherproof, high & low temperature resistant and will last for two years or more.
The red flashing light can deter owls, raccoons, bobcats, opossums, coyotes, muskrats, bears, cougars, wild boars, minks, weasels, fox and many more. To a predator, a flashing light gives the impression of another eye watching them. The predator feels threatened and simply leaves the area. The color red also causes most night creatures to shrink away because it reflects off of their own eyes.
Mounting for protection from owls: The optimum situation is to mount 4 units on a single post 10 to 14 feet in the air. The post should be centered in your yard area and each light should be facing a different direction (to cover north, south, west and east). Owls can see the lights from as far as a half mile away.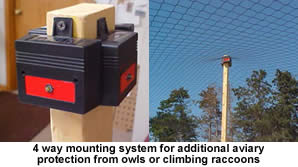 Mounting for protection from ground predators: Mount the units about 10-20 inches off the ground and anywhere from 30 to 50 to 100 feet apart. The lights should be mounted so that they flash away from the area to be protected.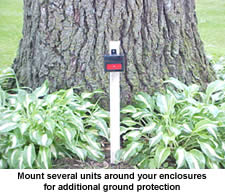 Waterfowl Art
The Maynard Reece Gallery is the premier source of wildlife art by internationally known wildlife artist Maynard Reece. The Maynard Reece Gallery is a family owned business, owned and operated by the Reece family for 26 years. They specialize in limited edition prints, custom framing, Duck Stamp prints and conservation stamp prints. They have most of the older, hard to find Maynard Reece prints, all of the new releases and special editions available nowhere else.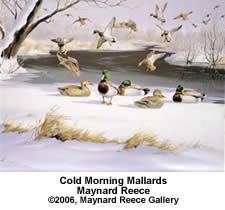 Push Toy Duck Runners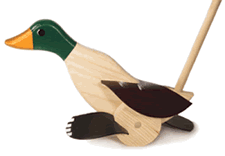 Have you ever been amused by watching a duck waddle or run? Here is a hard-to-find classic push toy duck with a realistic waddle and a unique walking-flapping sound that both fascinates and entertains! Kids of all ages will love this toy!
This handcrafted wood duck toy is a sure hit for any child. No batteries are required and it is easy on the ears. Duck runners come in five color schemes, there is one to delight every youngster. Available from KidEnergy.com.
Life-Like Friends
If someone you know wants a goose of their own, but just doesn't have the space or the time, this gorgeous plush goose could be the answer.
British company Life Like Friends sells a number of life-like plush animals, including swans, ducks, and geese. All of their lifelike cuddly toys are made from beautiful plush fabrics and the quality of detail and endearing faces make them an unusual present at any time of year.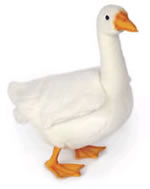 Majestic's Cafe Press Gift Shop
Every purchase you make at our Cafe Press Gift Shop helps generate funds to assist in the care of the waterfowl here in our sanctuary as well as those waiting to come into our shelter. Spoil the waterfowl lover in your life with an original Majestic gift!