"Duck-Duck-Goose" Blue Ribbon Photo Contest!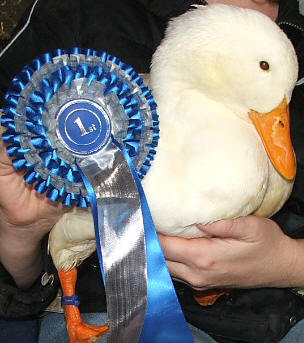 For years Majestic has held an annual photo contest and has always won 1st Place in every category. This year we thought, "Let's open it up to ducks and geese who aren't members of our sanctuary!"
This year we are running a Blue Ribbon photo contest for your feathered friends, so start snapping pictures of your ducks and geese! This will be a fundraising event, so we will be asking for a $5.00 donation with each photo submitted.
There will be two categories and two First Prizes, one for Most Comical & one for Most Photogenic. In addition to being awarded Blue Ribbons, winning photos will also be featured in our Majestic newsletter and on our website.
Visit our Blue Ribbon Photo Rules Page for further details. Have fun and start snapping!
---
Screech Owl Rescue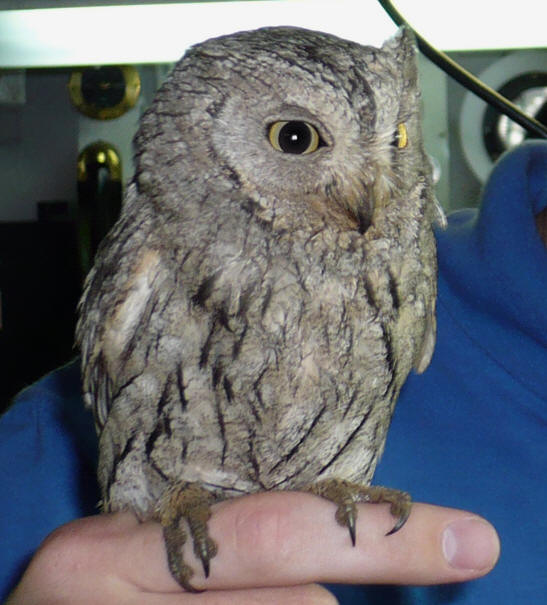 Thank you to Teresa and Michele who helped us out when locals brought a tiny screech owl to our facility this month. The little owl was found on the ground near tree limbs following a severe rain storm. Michele at Livingston Ripley Waterfowl Sanctuary referred us to Teresa at Canton Raptor Care. Teresa took the little owl into her care giving him the best chance possible for survival.
CRC is a 501 c(3) non-profit organization that admits sick and orphaned birds of prey and reconditions them so they can be returned to the wild.
Donations can be sent to: Canton Raptor Care, Attn: Teresa Kramer, 61 Bunker Hill Rd, Canton CT 06019.
---
Holiday Thank You Note!
We would like to extend a very special thank you to everyone who made a holiday donation this year: Melissa, Irene & William, Lew & Sally, Mira, Beth, Linda, Jaslyn, Gini, Mary, Glynis & Eric, the Garey family, the Towne family, Kathy & David, Shyoko & Aryeh, Joyce, Laurie, Alice & Damiana, Caroline, Rob, Julie, Matt & Shannon, Konrad, Gwen, Dolly & Crocodile Stanley, and Lemon & Laura.
We have a wonderful group of ducks and geese at our sanctuary with more scheduled to come in soon. It is thanks to you and all of our supporters that we are able to provide everything these animals could possibly need.
Thank you also to our wonderful adopting families who mean the world to us!
---
Tennessee Rescue
We would like to send an enormous and heartfelt thank you to the Garey family in Tennessee. Together they have worked diligently with other local volunteers to rescue abandoned ducks and geese from a local pond.
Majestic helped organize the rescue by contacting the town's park department and the neighboring property owner to ensure the safe removal of these abandoned domestic ducks and geese, but it was the Garey's who did the hard part.
We are often approached to assist in rescues and we are always thoroughly impressed with individuals willing to participate in the emotionally taxing rescues. As many of our volunteers have learned this year, helping is not easy; if it were, more people would do it. But for those few of you who are willing to go out there and help these animals the reward is unimaginable.
Thank you Garey family and friends for all of your time and devotion. And thank you also for your gracious offer to help with our new Webbed-Cam project!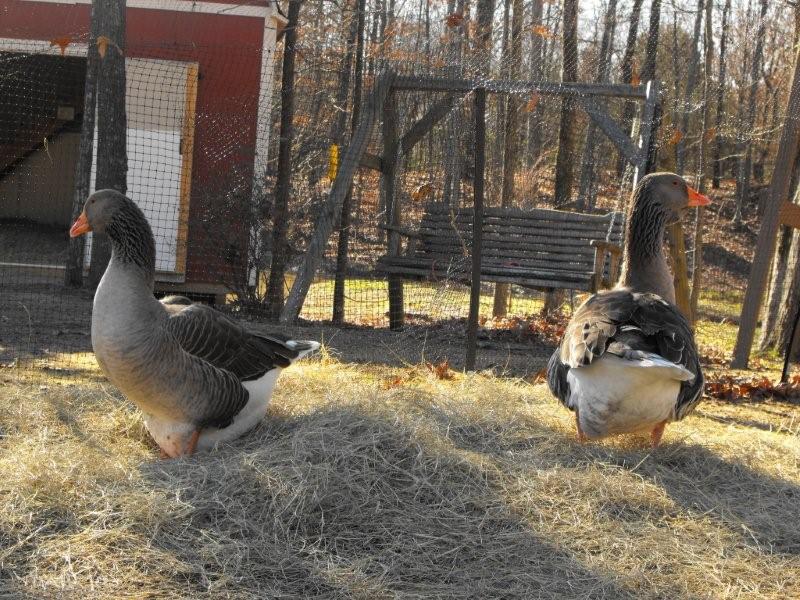 Tennessee's Grampa & Dezzie at the Garey's
We would also like to send a special thanks to our volunteers Glynis and Eric Huffman in Kentucky for their recent assistance with a two goose rescue in their area, and we would like to thank our dear friend Caroline for all of her recent support and encouragement. I can't remember how we first met, but I'm so glad we did. Your devotion is unmatched.
---
Little Miss Miri-Miri
Miri is one of our retired Majestic ducks who has been with us for nearly two years. As some of you may remember, she lost her best friend Glory in August. It wasn't easy for this girl to adapt after she lost her companion of ten years and we spent hours upon hours, and weeks upon weeks, doting over her.
We were relieved when our newcomer Benny mended Miri's heart. The moment she saw him limping along, she went right to his side. His struggles to walk instantly reminded her of her dear lost friend and together they instantly found friendship and became constant companions.
Sadly, we recently discovered a tumor on Miri, and it is cancerous and reaches deep within her. She likely does not have much time left at our sanctuary, perhaps only a week or two. We have been working very closely with our vet to keep Miri comfortable and happy, but know what we are up against. We will be waiting for that look in her eye that lets us know when she is ready for our help to ease her over to the other side where Glory will be waiting for her.
We would like to thank all of dear friends who have inquired about Miri during these last few weeks and offered their support and sympathies.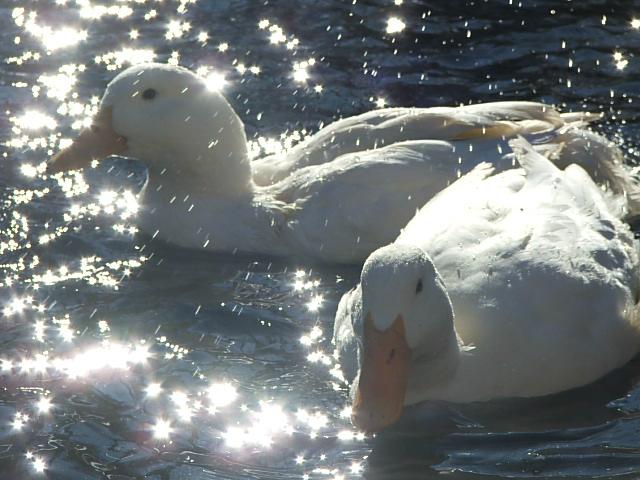 Miri & Benny
---
Recommended Reading*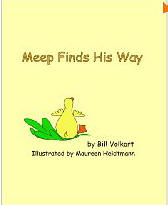 Meep Finds His Way
Product Description
This is the story of a blind, little duckling who finds his way out of loneliness and peril when he arrives in a wonderful new home.
Proceeds to benefit Mt. Holly Duck Sanctuary.
Click here to order.
| | |
| --- | --- |
| * | For our full recommended reading list, click here. If you order from Amazon by way of our website, Majestic receives a portion of the proceeds! |