It All Began In November of 2004...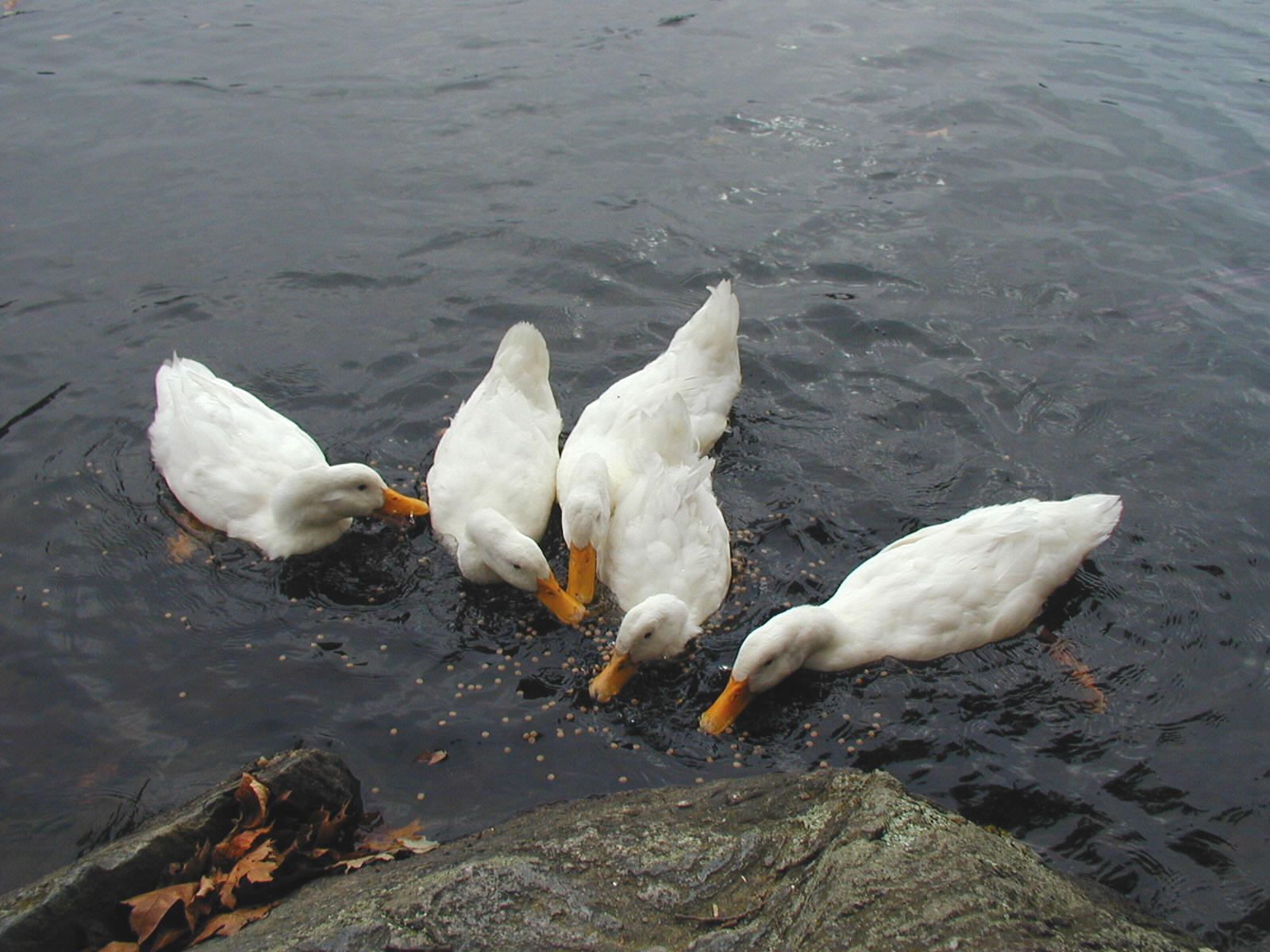 Elijah, Viggo, Tiny Tim, Phoebe & Jonah prior to their rescue, 10/04
And Look Where We Are Today...
150 Ducks:
Young Jeffrey, Young Matthew, Destiny, Jezebel, Vida, Deirdre "Dear Heart," Benny, Joven, Neo, Roberta, Daisy May, Elijah, Glory, Miri, Elfie, Noel, Fiona, Aflac, Phebes, Leona, Dixie, Sharona, Viggo, Liv, Anna, Standish, Miranda, Tiny Tim, Phoebe, Jedina, Dodger, Delia, Doris, Talulah, Joseph, Jonah, Jake the Drake, Lucky, Hewey, Dewey, Lewey, Maltese, Daisy, Donald, John, Abby, Amelia, Franklin, Josie, Annabelle, Tugger, Popcorn, Friday, Pia, Pandora, Amadeus, Frankie, Boots, Sophie, Dasher, Dancer, Prancer, Vixen, Comet, Cupid, Donner, Puddles, Jeru, Lancelot, Hildegarde, Han Solo, Kayla, Echo, Captain Jack, Miss Swan, Joker, Riddles, Merry, Pippin', Crocodile Stanley, Bindy, Tova, Tommy Knocker, Rosella, Winston, Mr. Pearl, Isis, Luna, Domino, Princess, Jelina, Big Boy, Bentley, Spencer, Penny, Gulliver, O'Malley, Matilda, Asaru, Tiwana, Jack Frost, Dutch, Switch, Pickles, Smidge, Haley, Yoo-hoo, Macy Gray, Mariah, Avril, Alanis, Puff Daddy, Bitsy, Barney, Jessie, Pete, Repeat, Twister, Irene, Romy, Michele, Obama, Lil Bo Peep "Lilly," Piper, Mercy, Jocamo, Bean, Hazel, Carmella, Billy, Bella, Salem, Deino, Enyo, Phreda, Jazzy, Laddy, Tricia, Demi, Shorty, Dilly, Bonnie "Bonster," Bee, Rilo, Ranger, Alice, Nell, Jodie, Daphnee and Oh Henry!
32 Geese:
Bowie, China Girl, Salvadore, Bunky, Pretty Girl, Ali, Chan, Tutter, Angelo, Goliath, Fifi, Lewy, Victor-Victoria, Momma Goose, Poppa Goose, Harmony, Melody, Charming, Egor, Mac, Fanny, Jetti, Joop!, Duran Rio, Duran Moon, River, Jabberwocky, Romeo, Jamboree, Yolanda, Juliet and Panchita.
A total of 182 lives changed... In addition to our own...
Thank you to all of our rescuers, supporters and adopters For helping us make a difference every day...
---
Our 2012 Duck-Duck-Goose Blue Ribbon Photo Contest is now OPEN!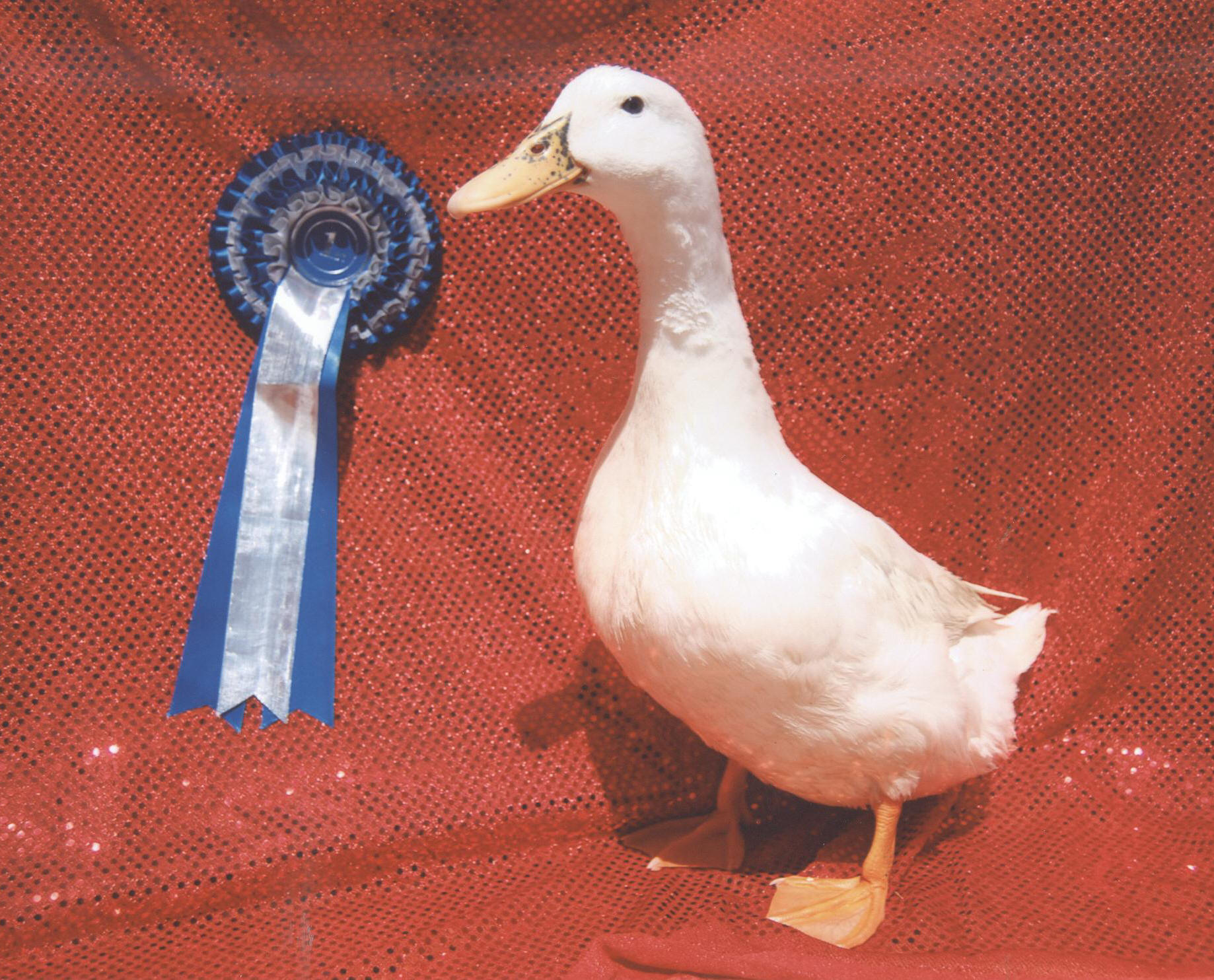 Our 2011 Most Photogenic Winner "Angel" Admires her Award!
This is a Blue Ribbon fundraising event with three categories: Most Photogenic, Most Comical and Most Mallard!

Due to lack of "Most Comical" entries...


This category has been eliminated this year.

Photos for this year's competition will be accepted from April 1, 2012 - June 15, 2012 12:00 midnight EST. Both photographs and full entry donations must be received between these two dates in order to be officially entered. NO EXCEPTIONS! Photos rec'd without payment will be disqualified. Entry donations are non-refundable!
This year in addition to blue ribbons, two trophies will also be awarded!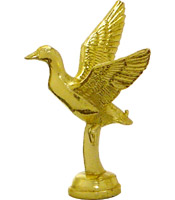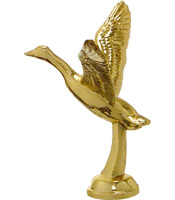 And a winner's certificate too!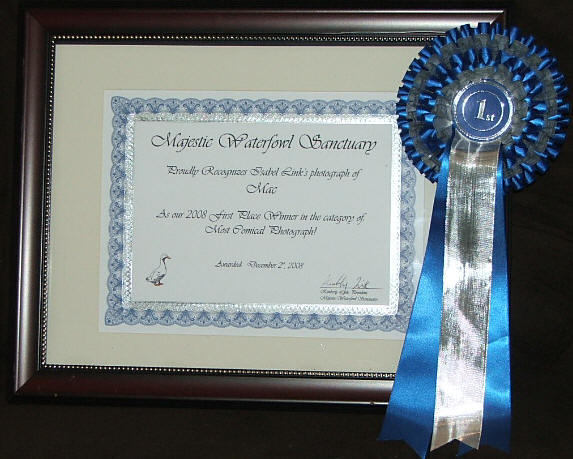 Click here for complete Rules & Submission Guidelines!
Click here to view our Prior Winners!
About our Blue Ribbons:
We will mail each of our lucky winners a gorgeous Metallic Blue and Silver, 4 tier, rosette ribbon with three 30 cm long tails and an imprinted Silver "1st" in the center. Now that's something you and your feathered friend can display proudly!
A framed and personalized Majestic Waterfowl Sanctuary Winner's Certificate will also accompany each Blue Ribbon awarded.
About our 2012 Trophies:
Each winner will also receive a 10", marble tone trophy with a blue & gold round column. Each trophy will be topped with either a duck or goose (depending on who wins!) and engraved with the winner's name:
Majestic Waterfowl Sanctuary
2012 Most Photogenic Duck/Goose
(name)
Majestic Waterfowl Sanctuary
2012 Most Comical Duck/Goose
(name)
Majestic Waterfowl Sanctuary
2012 Most Mallard Duck
(name)
---
Spalding Fly Predators
It's time to purchase your fly predators!
These natural predators of house flies (and a few other species) are environmentally safe. You just sprinkle them around your duck and goose enclosures and let them do the rest. Results are amazing!
Just place your order now and receive your monthly packages until summer is over. Releasing a package of 5000 predators once-a-month handles our sanctuary's needs from April - September. Visit their Website to learn more.