Other Ways of Helping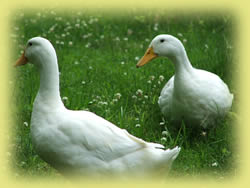 Donations are not the only way you can help ducks and geese. Sometimes an investment of time and energy is worth more than the largest donation.
There are many things you can do. The list below is certainly not exhaustive and we welcome any suggestions or ideas you might have. Talk to us!
| | |
| --- | --- |
| | Speak with the managers of suppliers who sell ducklings. Work with them to post checklists for potential purchasers that will educate them of the responsibilities involved in long-term duck ownership (food, water, bathing water, predator proof enclosures, nighttime "lockdown" shelters, etc). This type of involvement is preventative and does the most good for our cause. |
| | |
| --- | --- |
| | Educate yourself thoroughly before deciding to purchase or adopt waterfowl. Commit yourself to a lifetime of care and enrichment for the animal before you make that final decision. They are depending on you! |
| | |
| --- | --- |
| | Provide us with your waterfowl vet information, so we can add them to our waterfowl vet finder, so that others in your area that need waterfowl vet assistance will have accurate information right at their fingertips. |
| | |
| --- | --- |
| | Let your local animal shelters and veterinarians know about our organization and website. We are a great informational resource for potential adopters of waterfowl that may reside at your local animal shelters. |
| | |
| --- | --- |
| | Educate children about the responsibilities of duckling ownership and why frivolous purchases should be avoided. Teachers in our area can contact us to visit your local Elementary School for a presentation. |
| | |
| --- | --- |
| | Organize a fundraiser in your community or company. |
© Majestic Waterfowl Sanctuary 2005, 2006, 2007, 2008, 2009