Ducks and Geese Adopted
Here are photos of the ducks and geese that we have placed in permanent homes so far. We love to hear from their new families. If you have updated photos of a duck or goose you have adopted from us, or a story to share about them, please email us, so we can update this page for you.
---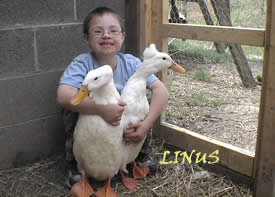 Amadeus (renamed Linus) has joined his new family. His new companion is a Pekin hen named Sally. Sally is a spoiled girl who has a predator proof pen off the side of her family's home. She takes escorted walks through the yard everyday with her family and neighbors. We were thrilled to find such a wonderful home for this cute fellow.
---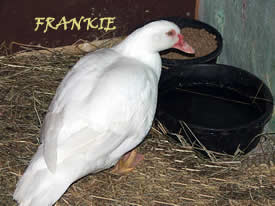 Frankie is a Muscovy hen. A muscovy drake named Kris asked Santa for a girlfriend for Christmas and Santa delivered! The two became fast friends and are living with Talulah in Connecticut.
---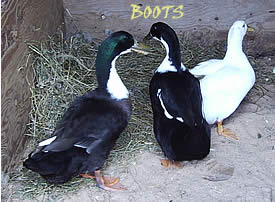 Boots has joined his new family and their Pekin hen Aflac, which was a nice change from all the boys he's been hanging around with lately. He is enjoying an outdoor pen and cozy nights in a barn. New farm friends include goats and chickens.
---
| Go to Ducks and Geese Adopted Page 12 |
© Majestic Waterfowl Sanctuary 2005, 2006, 2007, 2008, 2009