Goliath is a Pilgrim gander whose family moved away and left him behind. Rescuers brought him to our sanctuary upon his discovery. Goliath is a gentle giant who found a new home within weeks of his arrival at Majestic.
Goliath joined his new family, which included a new girlfriend named Lucy and a couple ducks.
---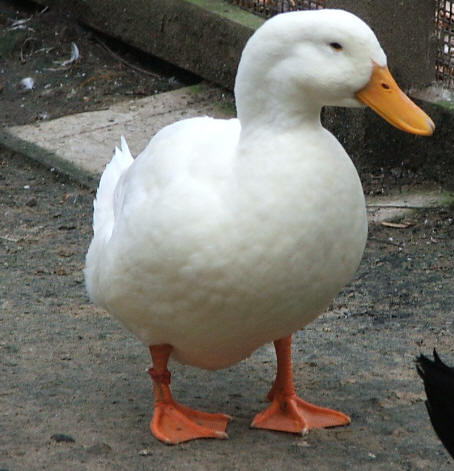 Tommy Knocker was rescued from a pond where abandoned domestic ducks were succumbing to fishing line injuries and predation. Tommy's rescuers gave him his first name, and we added the "knocker" because at first he kept spilling over his food dish. The nickname stuck and it really suits him!
Tommy is a very handsome, BIG boy and spent nearly a year in our bachelor pad before finding a loving new home with a Cayuga hen named Cami who was adopted from another shelter.
Although he a bit shy, we are just smitten with this fellow! He is so darling and he wags his tail feathers whenever we approach his pen sing-songing: "Tommy Knocker, Tommy Knocker, knocking on the door!"
---