Ducks and Geese Adopted
Here are photos of the ducks and geese that we have placed in permanent homes so far. We love to hear from their new families. If you have updated photos of a duck or goose you have adopted from us, or a story to share about them, please email us, so we can update this page for you.
---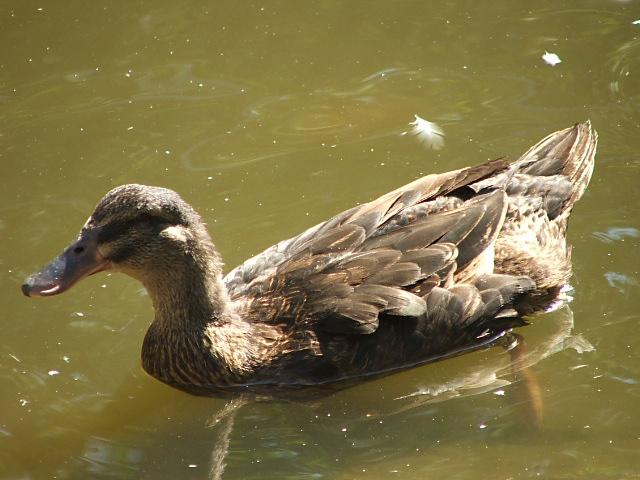 Rosella was a neglected duck who was removed from unsanitary conditions by authorities.
Rosella was an easy fit into the flock of hens at our sanctuary, eager to befriend everyone. She walks with a very noticeable limp and prefers to rest and swim a lot. She is a very happy girl who likes grass, worms and tomatoes! In order to prevent any further injury to her leg, she was adopted to a family with only hens.
Rosella is enjoying her own fenced in pond with plenty of shade trees and a cattail maze to keep her busily occupied!
---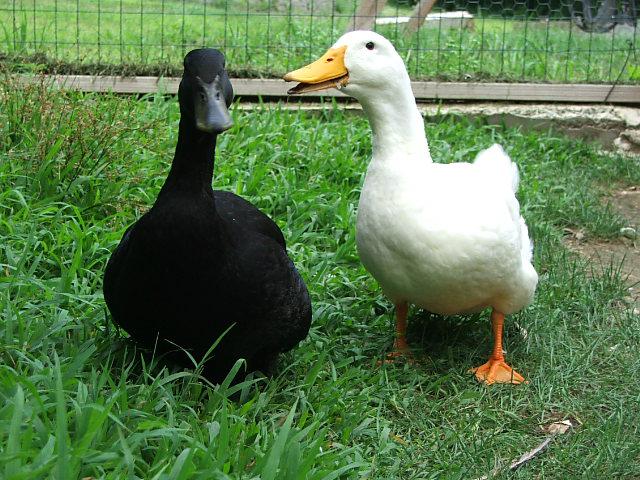 Winston & Mr. Pearl are a bonded pair of drakes, imprinted on humans and very friendly. Winston is a Cayuga and Mr. Pearl is a Pekin. They are very loving and trusting of their family. They have the funniest walk we've ever seen, taking fast little pitter-patter steps that are very endearing and wonderfully comical.

Winston & Mr. Pearl were surrendered to us after being neglected by a pet-sitter who was in charge of the boys after their owners moved out of state. The owners arranged for their surrender from afar. The boys came to us in terrible shape in the middle of the night, but were soon sporting beautiful new feathers.

The boys get along extremely well in the fall and winter, but squabble and sometimes need to be separated by a portable dividing fence during the spring and summer.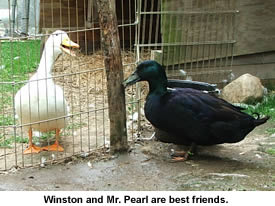 Even during the warmer months when they don't get along perfectly, they can't stand to be out of each other's sight and like to be side by side on opposite sides of a shared fence. Sadly, this one requirement left the boys skipped over by many families for 3 years.
Winston & Mr. Pearl finally found a wonderful new home where their pen sits right along side their retired family's house. This means the boys will get lots of love and attention. Still, because of their time spent with us and their wonderful nature, this was one of our most difficult let-go's ever. We wish these boys lots of quacks and happiness in their new and loving home!
---
© Majestic Waterfowl Sanctuary 2005, 2006, 2007, 2008, 2009