Ducks and Geese Adopted
Here are photos of the ducks and geese that we have placed in permanent homes so far. We love to hear from their new families. If you have updated photos of a duck or goose you have adopted from us, or a story to share about them, please email us, so we can update this page for you.
---
| Go to Ducks and Geese Adopted Page 44|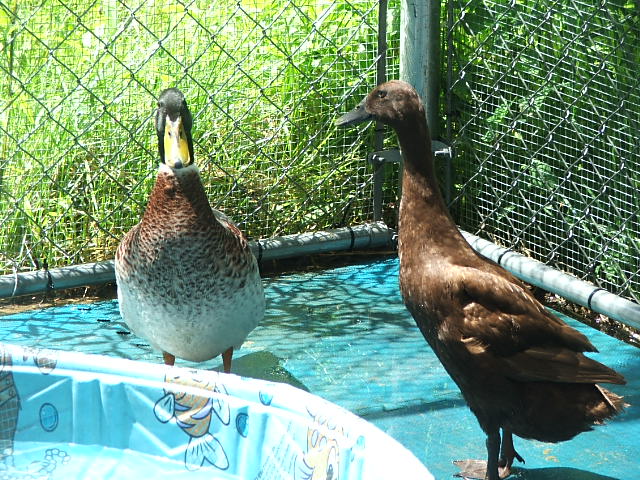 Pharoah "Ro" & Cleopatra "Cleo" are new to our sanctuary. They were dropped off together on a tiny pond infested with raccoons. It's truly a miracle they survived until rescuers could come and pull them safely out.
Ro is a gorgeous Welsh Harlequin drake and Cleo is an amazing dark brown Indian Runner.
While this pair was only with us for just over a month, they became very friendly during that time and we expect Ro to become a "lap duck" in his new home. He loved to chase after us as we walked out of his pen and he is VERY protective of Cleo and will do anything for her.
Both ducks always ran over to us for treats and greeted us with lots of quacks!
---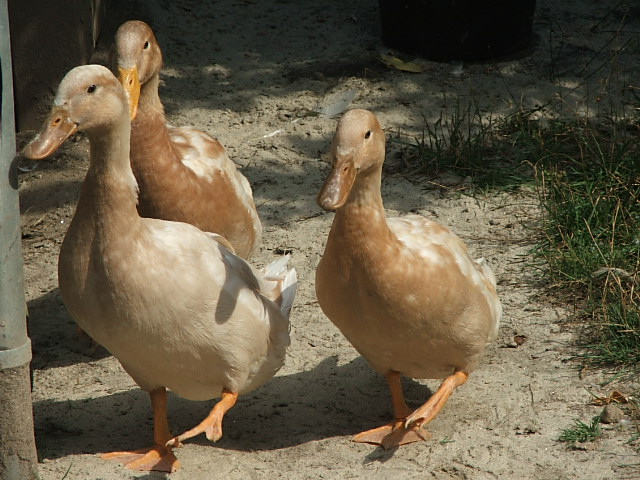 Hazel, Carmella (girls) & Bean (boy) are Buff Orpington ducks who were on the verge of being dumped on a pond by their owner. Rescuers did an intervention with the owner and brought the trio to us.
These are some of the cutest little ducks ever! They are very energetic little investigators who get along very well.
They love to come running over to us for treats--especially Hazel! And no matter how full their food dish is, when it comes time for daily top-offs, Hazel and Carmella come running in for a bite to eat!
The Coffee Ducks left our sanctuary to join the same family who adopted Romy & Michelle last year!
© Majestic Waterfowl Sanctuary 2005, 2006, 2007, 2008, 2009, 2010, 2011