Ducks and Geese Adopted
Here are photos of the ducks and geese that we have placed in permanent homes so far. We love to hear from their new families. If you have updated photos of a duck or goose you have adopted from us, or a story to share about them, please email us, so we can update this page for you.
---
When we look at the before/after photos of Joseph, we can hardly believe he's the same duck. He transformed from a shy creature that did not want to be touched and who could barely walk into a gorgeous lap duck who waddles around with the best of them. Joseph was adopted out with his best pal Jonah and both drakes are happily living with hens Qwaka and Fiona.
---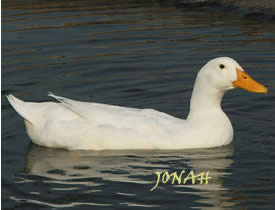 Jonah was one of the first ducks we rescued and he stayed with us the longest, which was fine by us since he is such a sweetie. Jonah loves a good petting and really loved his neighboring hens. Jonah became best friends with our other rescued duck Joseph. The two were inseparable and were adopted out together. Jonah is living with pekin hens Qwaka and Fiona. All four ducks are getting along fabulously on their new farm.
---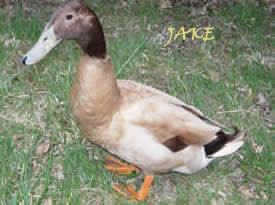 Jake The Drake is a Khaki Campbell duck who was easily coaxed out of the water and into our arms with a bowl of good food. He and hen Lucky have joined their new family.
---
| Go to Ducks and Geese Adopted Page 6 |
© Majestic Waterfowl Sanctuary 2005, 2006, 2007, 2008, 2009