Duck Survival Pouch

Donations for Advice

How Our Advice System Works

Majestic Contest Winners!

Majestic Well Update

The Month in Photos!

Majestic Newcomer!

Majestic Gift Shop

Majestic Sponsorships

To Make a Donation, please click here: Donation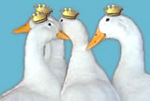 Please Help Today!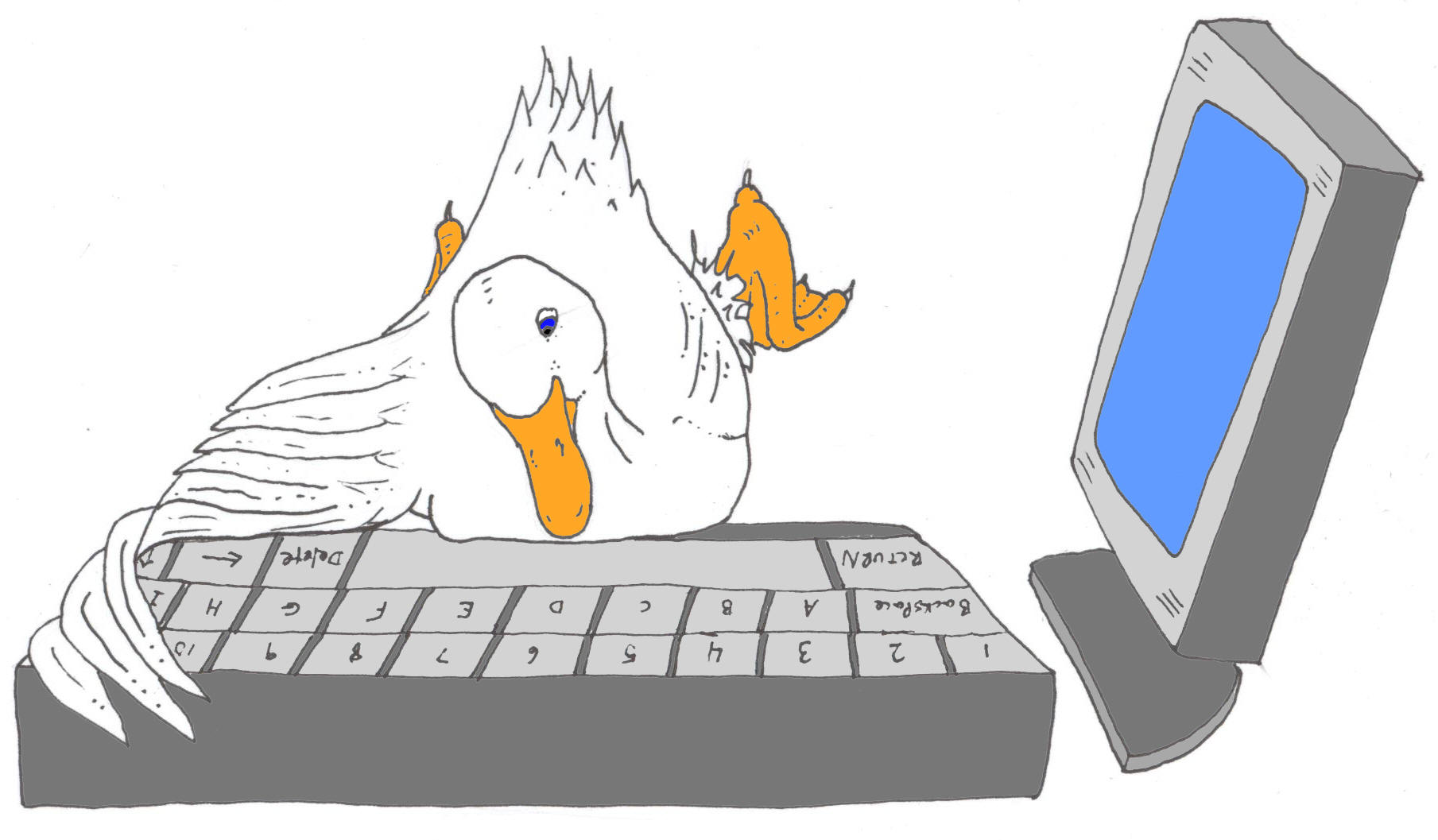 For lots of photos and updates as they happen! This is where you can see and hear all the latest news FIRST!
Majestic Contest Winners!
Congratulations, Jennifer K.!
You were the only one who noticed the contest in our December newsletter! Thanks for reading & playing, and enjoy your set of coloring books!
Kim has been running other giveaway contests on Facebook too, so stay tuned!
Congrats to Jennifer S. who posted a photo of her best dressed duck and subsequently won a mini tin featuring her very own photos of Puff!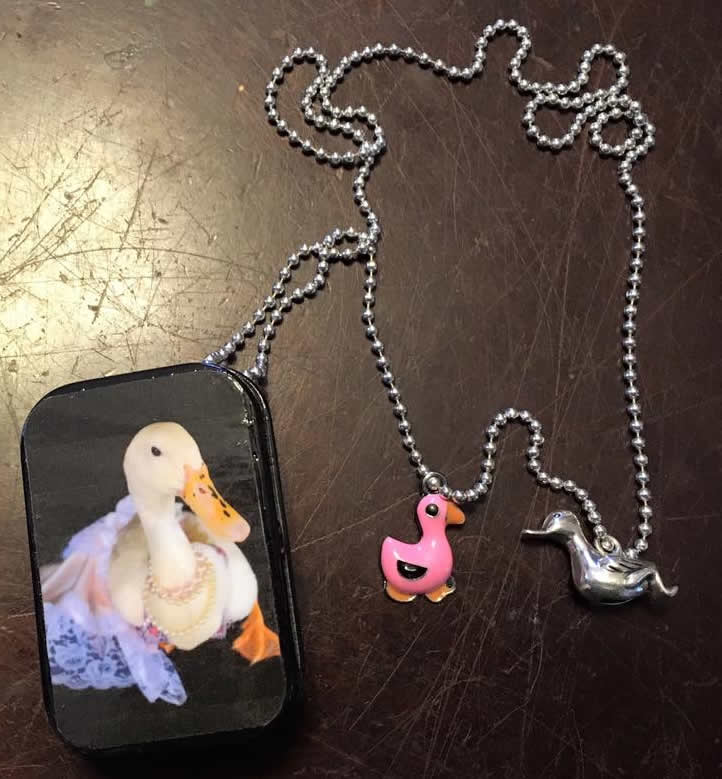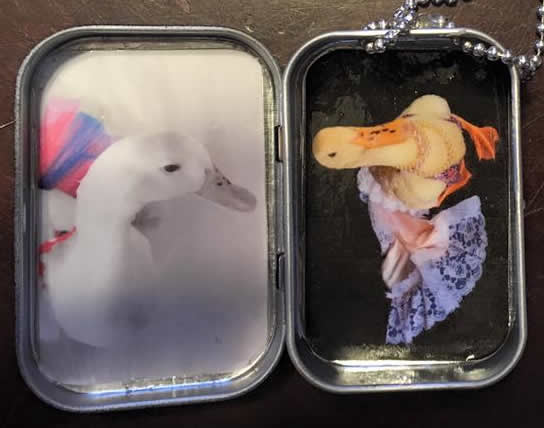 Majestic Well Update!
The well-drilling company came out this week to help us find the best location for our sanctuary's new well. Weather permitting, we could have it drilled by the end of February!
Thank you again to all of our Water Restoration Donors for making this possible and helping us save our sanctuary.
We will continue to keep you posted on our progress!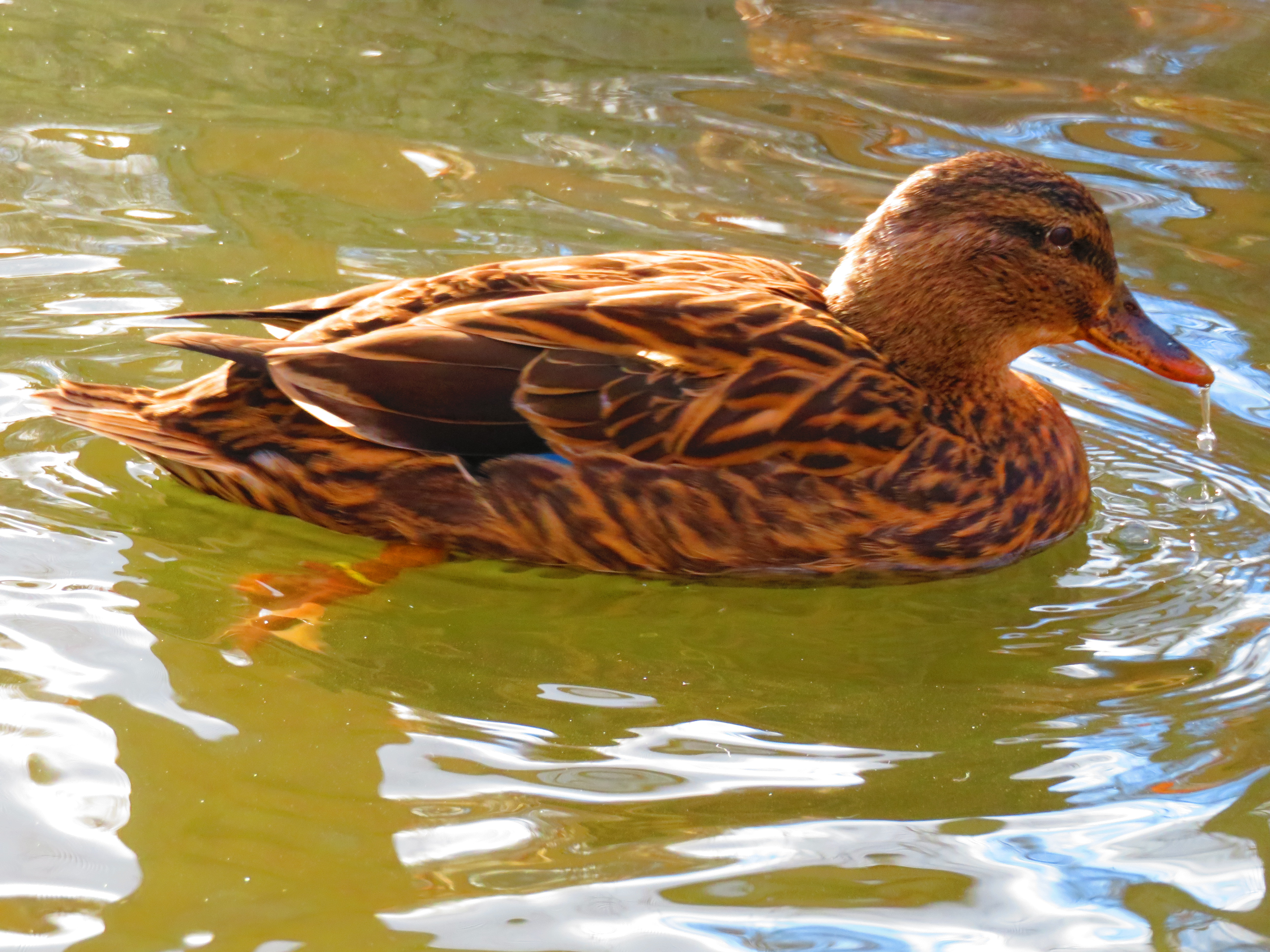 The Month in Photos!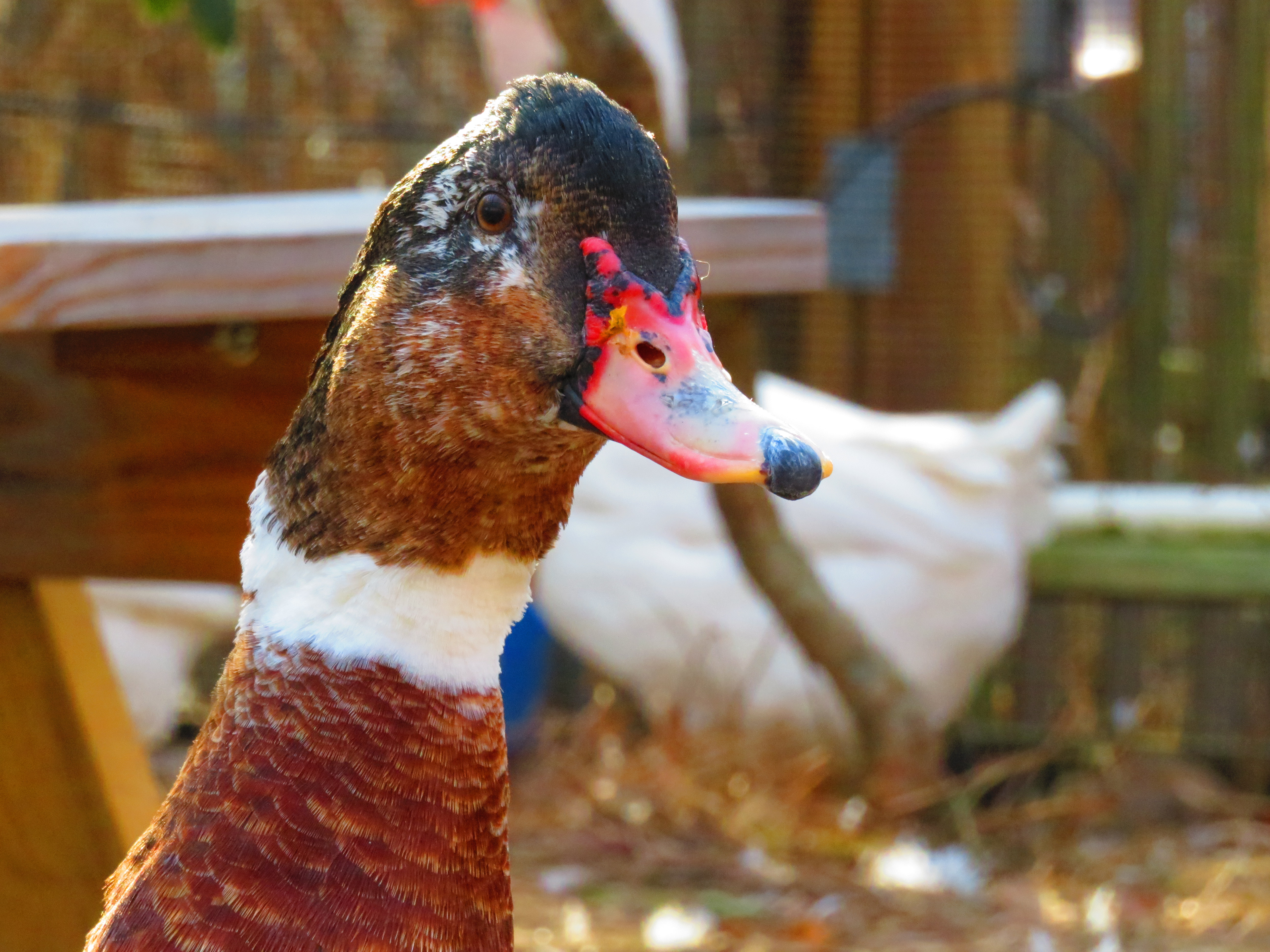 Moose!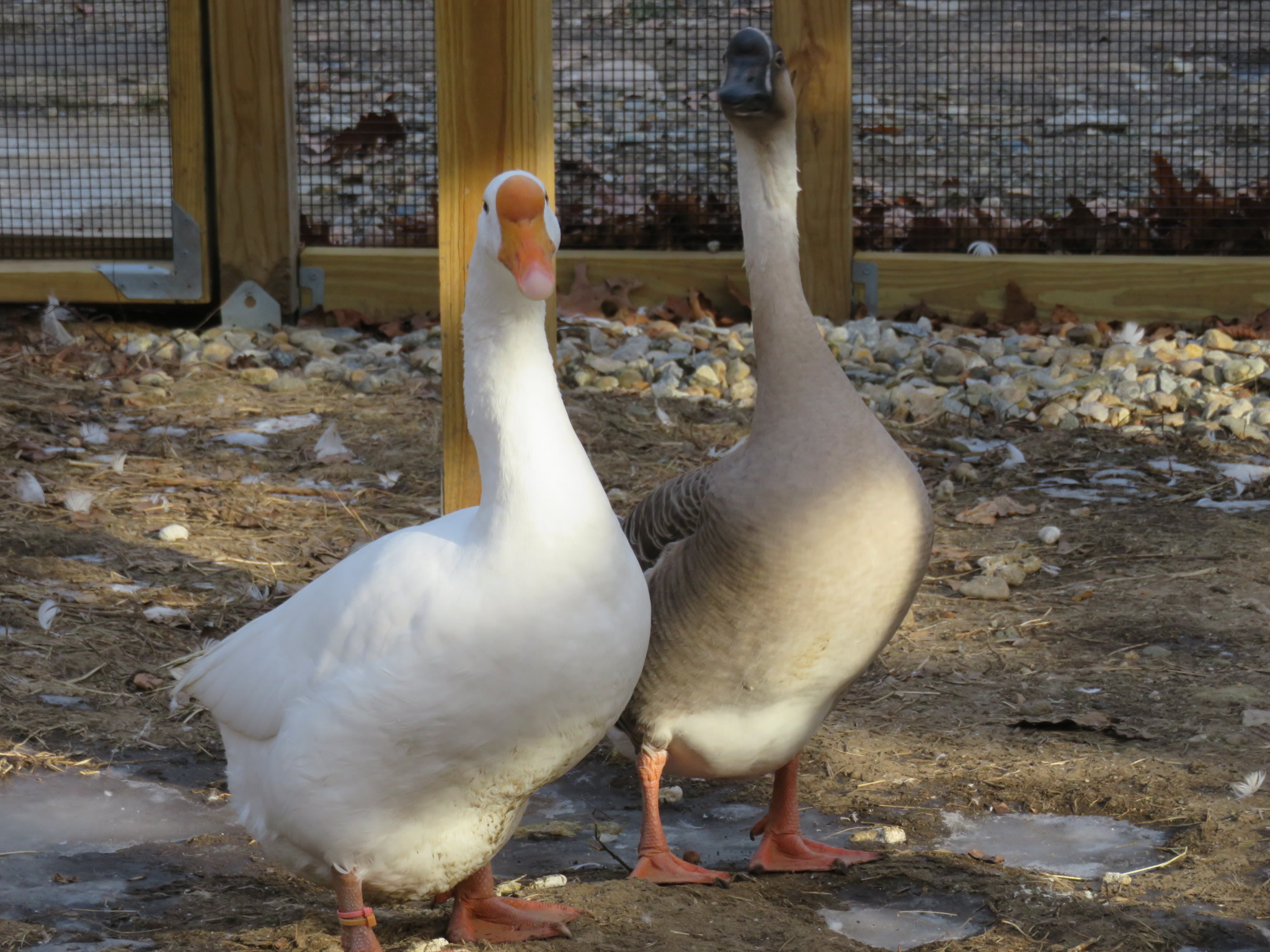 Yolanda & Senora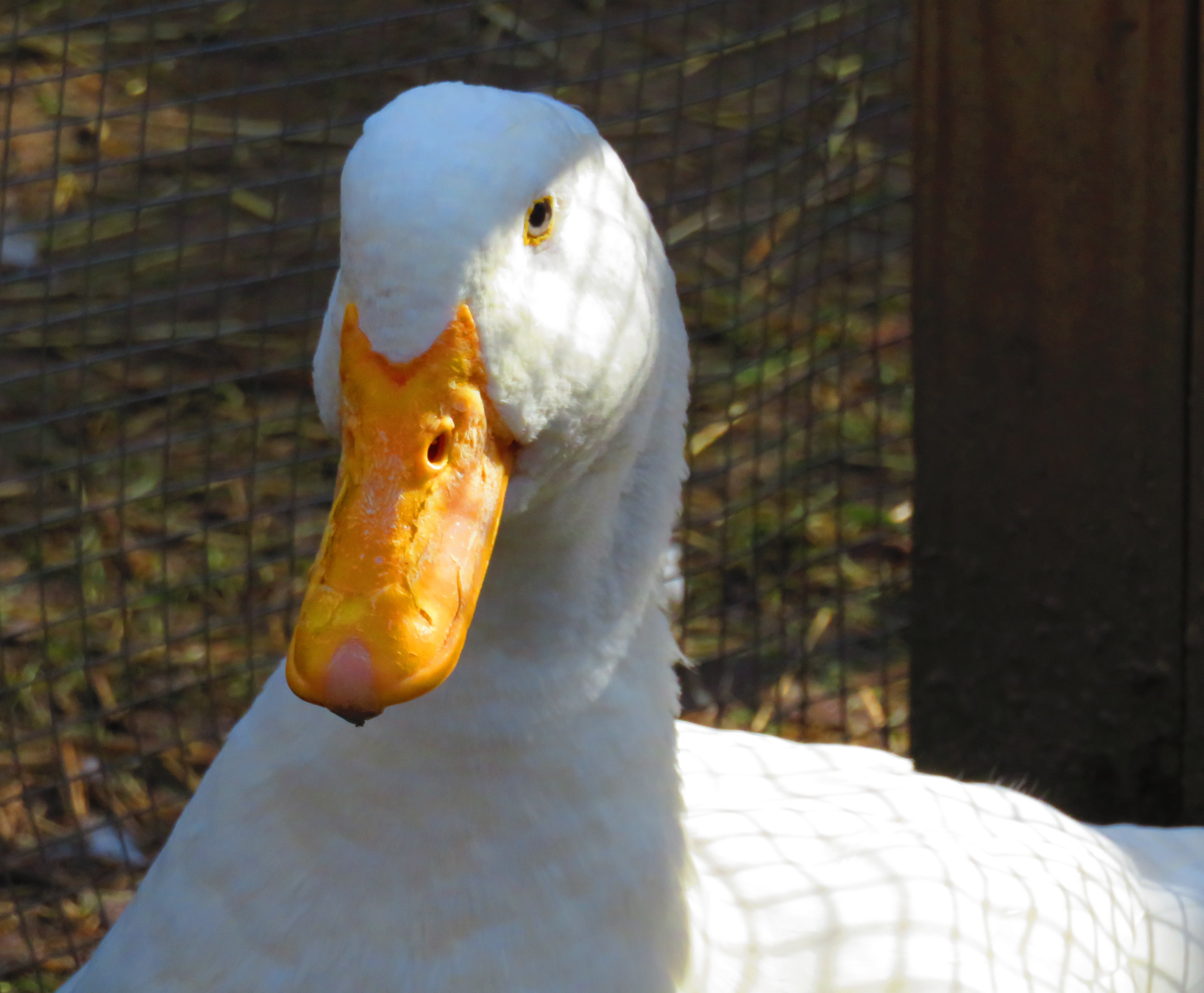 Duck-Sitting for King Raj!
Majestic Newcomer!
Moose has been on our waiting list since September. It has taken our duck rescuing friend, Patricia, a LONG time to nab him. Special thanks to Vinny for assisting with his net gun, which thankfully did the trick! Now he's safe with us--FINALLY!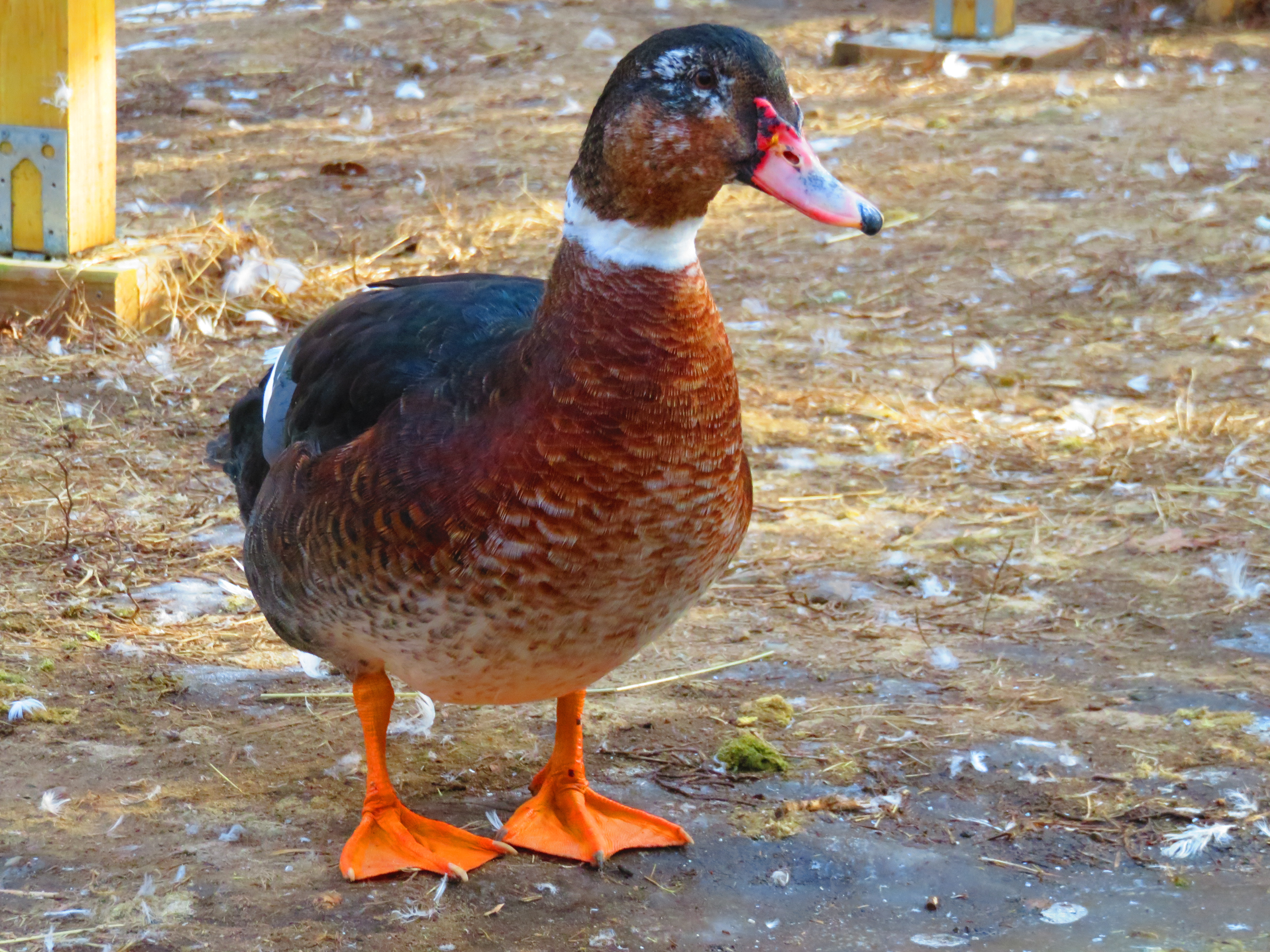 Moose
Majestic Gift Shop
Visit our Majestic Gift Shop for some fun Majestic items! Proceeds from the shop benefit our sanctuary!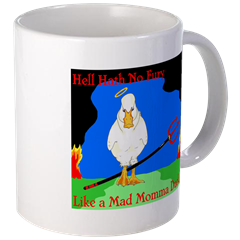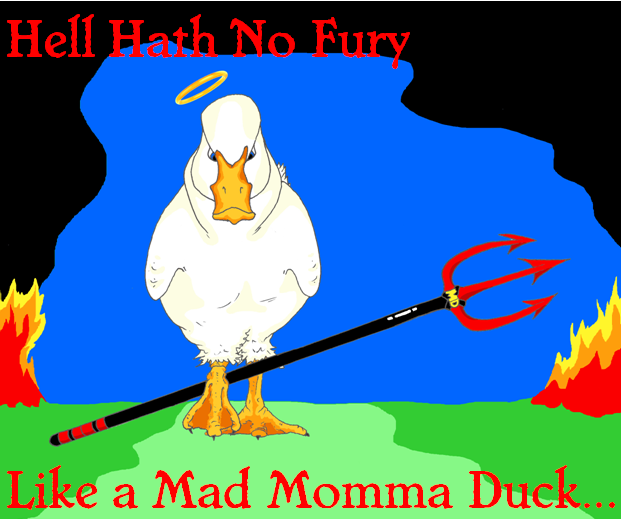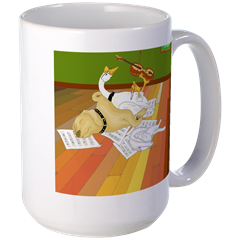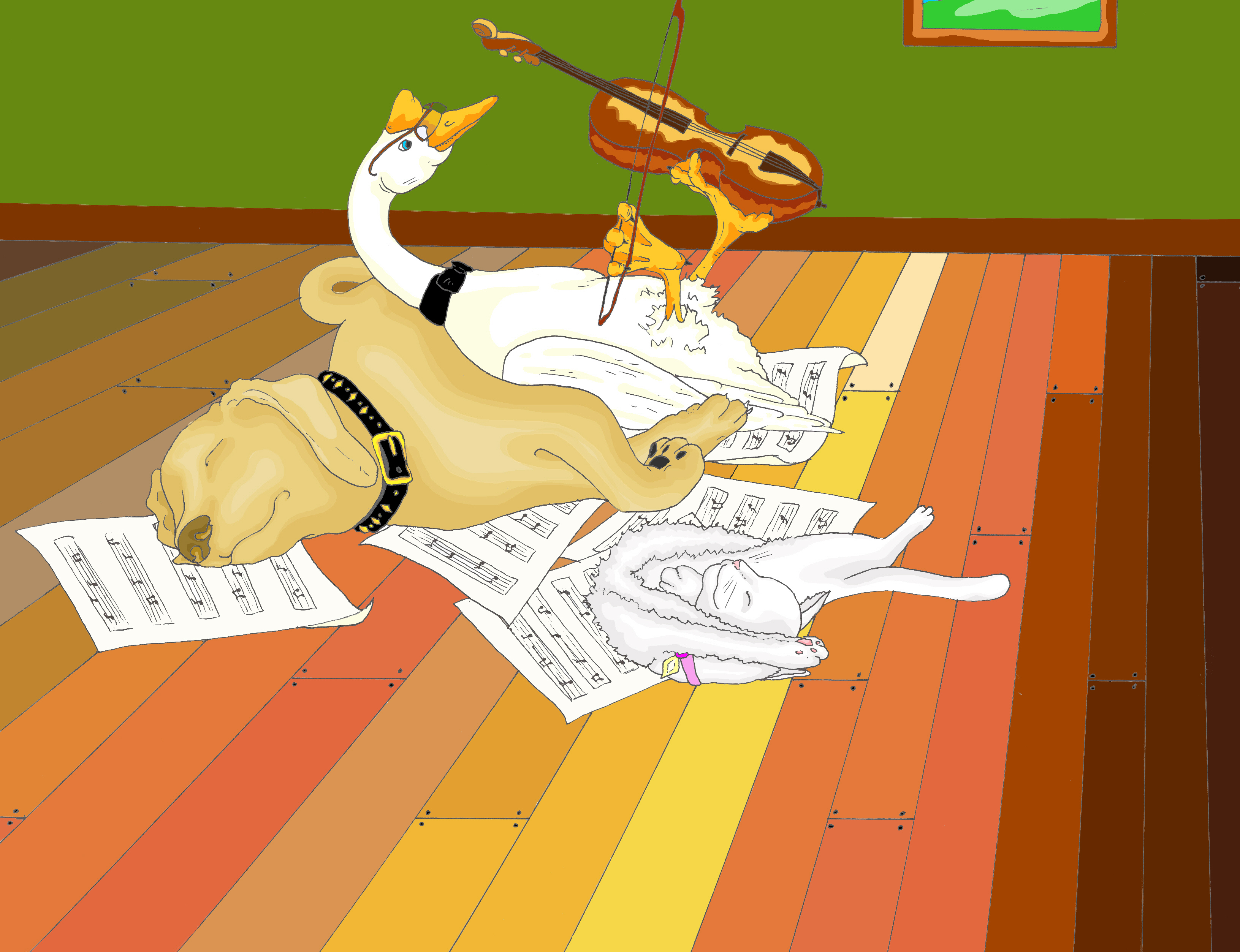 Majestic Sponsorships!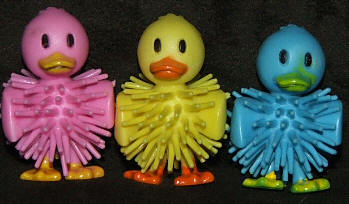 Our new and ducky Majestic penlights have arrived and will now be included in all of our outgoing sponsorship gift packages!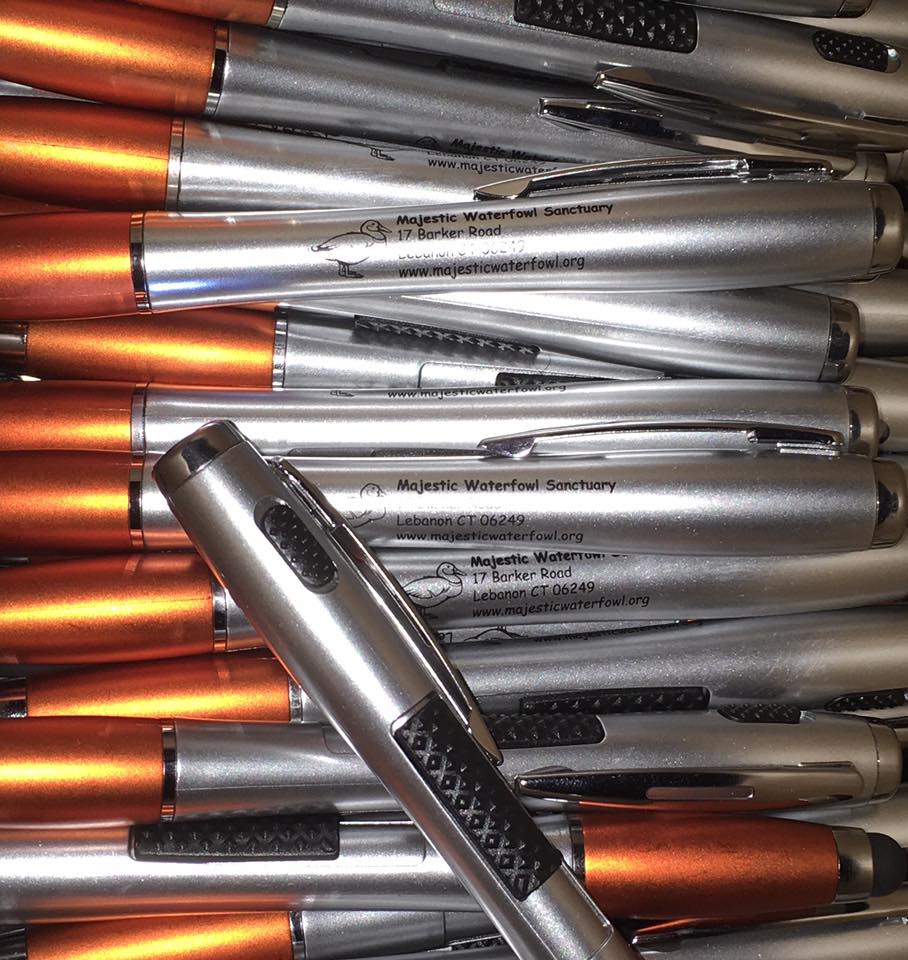 Give the gift that keeps on giving! Please consider sponsoring our rescued ducks and geese. Visit our Sponsorship Page to learn how!
*Sorry... Continental USA only.
Contact Us
Majestic Waterfowl Sanctuary
17 Barker Road
Lebanon, CT 06249
director@majesticwaterfowl.org
Our Newsletter
The Majestic Monthly is published 12 times per year. Previous issues are available in our Archives.
Duck Survival Pouch
Sometimes we just find fun things while surfing the internet--and we just feel the need to share. How about this FANSTASTIC ducky find!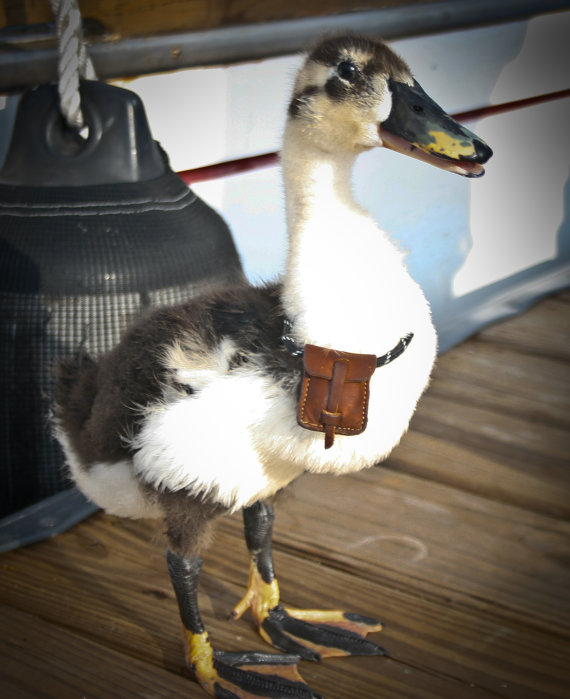 Genuine handmade pouch contains:
14mm oil-filled compass
25mm x 20mm SOLAS signal mirror
FireSteel with paracord handle
Comes with adjustable 6" reflective paracord sling

***One size fits most ducks.
(Can be modified to fit geese too!)
When ordering be sure to tell them Majestic Waterfowl Sanctuary sent you!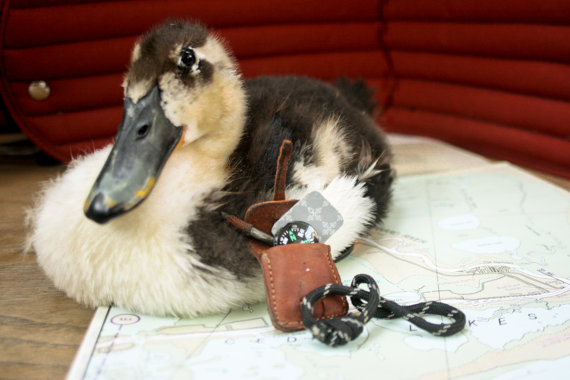 ---
Donations for Advice
As many of you know, Kim spends countless hours personally providing families with in-depth information, vital resources and detailed advice about their pet ducks and geese. She dedicates much of what little free time she has answering every single email that rolls into our inbox. This amounts to thousands of responses every year, and she's now done this for a consecutive twelve.

Unfortunately, this free advice hasn't resulted in donations they way we had originally hoped. Asking for after-the-fact donations just hasn't been working. In fact, only about 1 in 80 emails results in a donation and those donations usually average less than $15.00.
While we truly appreciate the emails of gratitude from all of the families who Kim has lent a hand to over the years, even the most gracious and heartfelt "thank you" doesn't really help our own rescues or our sanctuary.
In light of our increased workload and our low sanctuary funds, we've had to make changes to our policy regarding free advice. Going forward, Kim can no longer provide advice without receiving something that will benefit our Majestic ducks and geese in return. This has to be a two-way endeavor, or we won't survive as a sanctuary. She'll help you and your feathered friends, and you'll help our sanctuary and our rescues in return. In the end, everyone will be happier for it.
Those of you who know Kim, or who've received advice from her in the past, understand exactly how quickly she responds to your inquiries and just how thorough and helpful her replies are. She loves your babies and wants them to be safe and happy. She understands what it's like to be a worried Momma Duck (or Poppa Goose), but if she's going to continue to give you everything she has--providing you with every detail she thinks might help you, she's going to have to ask you for your help too.
We thank you for your patience and understanding regarding this new system.
MAJESTIC ADOPTERS: If one or more of your current flock members were adopted from Majestic, this new procedure does NOT apply to you! If you have a question about any of your flock members we are here for you night and day, twenty-four/seven. You can call or email anytime you like for as much free advice as you need!
---
How Our New Advice System Works
We've made some changes to the language of our website's Contact Form, explaining that donations will be required BEFORE any pet advice is given out. All of the information you see here is now on that page as well.
If you have a question or concern about your own pet ducks or geese, Kim (our Majestic President, waterfowl expert, author and full time volunteer) will be glad to provide you with whatever insights she can. This specialized service can no longer be given away without our sanctuary receiving some compensation for her time.
Email us your question, or utilize our online Contact Form.
Details Are Everything! Please provide us with AS MUCH DETAIL as possible upfront. For example: if your duck or goose has a health concern, Kim will need to know SPECIFICS about their age, breed, gender, diet, pen & housing situation, daily routine, climate, history and the appearance/escalation of their symptoms. Please be as PRECISE as you can in all of these regards.
While you might think these details aren't important, Kim probably can't help you without them. This in mind, failure to provide all of these particulars right from the get-go will most likely result in delays in getting your answer. To conserve time, we need all relevant information from you FIRST.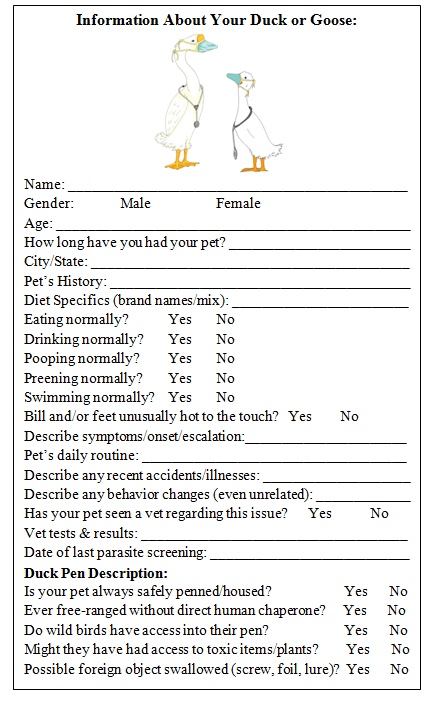 After explaining your situation, close your message out with the words: "HOW CAN I HELP MAJESTIC?" so we know you understand our new process.
If Kim can help, she'll determine approximately how much time she'll need to invest in providing you with the answers and resources you're looking for. We'll ask you for a donation based on that estimate. For example, if you want advice on feed brands it's going to require far less of her time than an inquiry about oviduct prolapse
We will send you a request for a non-refundable donation ($5.00 minimum)*. Once your donated funds are received by Majestic (we accept Paypal), Kim will personally attend to your inquiry and respond within a timely manner (usually within 24 hours, unless we have an emergency).
If you are a Majestic Supporter (details below) and are currently entitled to free consultations, please remind us of this when you initially contact us.
Follow-up questions may or may not require further donations. For best results, provide us with as much detail as possible regarding the situation upfront.
While there are no guarantees, anyone who has ever come to us for help in the past will attest that Kim loves all ducks and geese and absolutely has you and your pet's best interests at heart. This in mind, she will do her best to provide you with as much relevant information as she can to help you and your feathered friend.
What kind of response will you get?
Please remember, Kim is not a vet. She has not seen or handled your duck or goose in person. She's basically just utilizing your emailed information and then simply offering her own opinion on the matter. Any guidance, information, resources and/or suggestions she provides will be general in nature based solely on her experience with waterfowl. Vet consultation is always recommended.
Depending on your question, Kim may or may not provide you with any number of the following things (or something else entirely):
Opinions, insights, ideas and suggestions based on her own experience with waterfowl.
Hyperlinks directing you to helpful information/articles found on our website.
Relevant excerpts/illustrations from her Ultimate Pet Duck & Goose Guidebooks.
Emailed brainstorming/Q&A sessions.
Procedures, tests and/or questions that you can inquire about with your vet.
If you really stump her about something interesting, sometimes she'll ask our vet, but this is pretty rare.
Please do not expect phone calls from Kim unless you are one of our Majestic adopters.
We apologize for this change in procedure, but unfortunately, giving away free advice and then asking for donations after-the-fact just wasn't helping our rescued ducks and geese. Thank you so much for your understanding!
EXCEPTIONS:
1. All of our adopting families who have any of our former ducks or geese currently in their care are ALWAYS welcome to free around-the-clock advice about any of their feathered friends!
2. If you are one of our regular rescuers you are welcome to contact us for free advice anytime you please. Regular rescuers are individuals who have been delivering rescued ducks and geese to our sanctuary for years. You know who you are!
3. If you have taken good care of us, we'll take good care of you! This means if you're already one of our Majestic Supporters, we will be happy to offer you some free advice regarding your flock.
Who qualifies as a Majestic Supporter?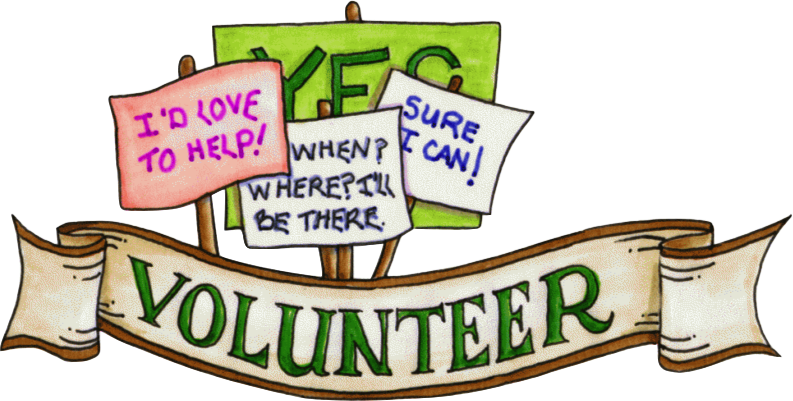 Majestic Supporter
(Complimentary consultations for as long as you are a current supporter)
1. Anyone who has volunteered at our sanctuary at least four times (for a total of at least eight hours) in the last twelve months and who requests free advice within six months of their last volunteer date.
2. Anyone who is currently donating/sponsoring on a monthly or quarterly basis and who has done so for at least one year, with donations amounting to a minimum of $100.00.
3. Anyone who has made a lump-sum donation of at least $250.00 may request free advice within a year of that donation.
Please understand... Future pledges to donate, sponsor or volunteer will not be accepted as a means to qualify an individual as a Majestic Supporter.
In addition... Complimentary consultations may not be transferred to any other person or party.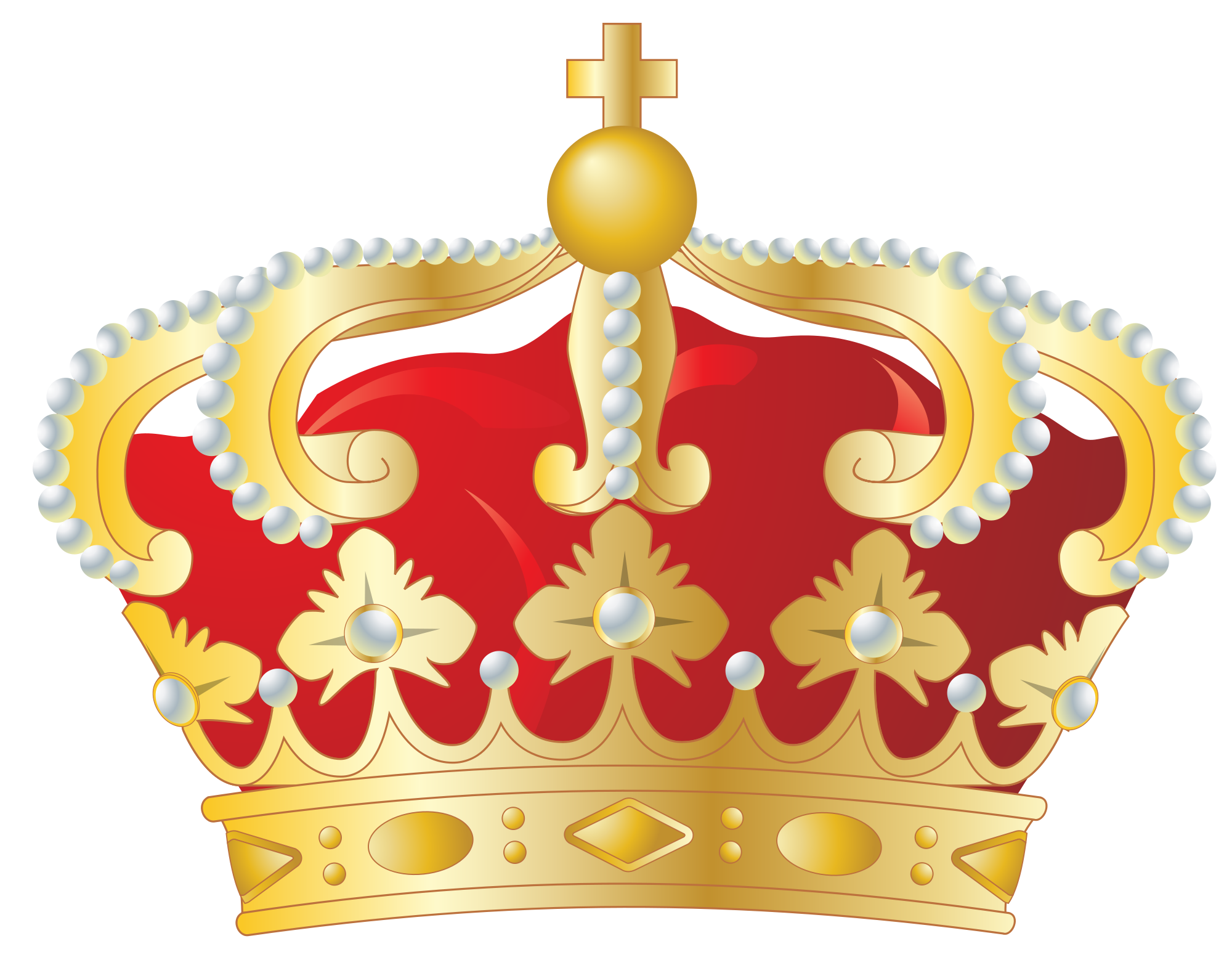 Royal Majestic Supporter
(Unlimited free consultations for life!)
1. Anyone who has donated $5000 or more to Majestic within a period of 5 years or less is GOLDEN for good!
*Majestic donations are non-refundable. If you truly cannot afford the suggested donation, please let us know and we will attempt to work with you while taking our own sanctuary needs and time constraints into consideration. Keep in mind, not having enough money to donate because you just went on a big shopping spree, bought a new sports car, or took-off on a family vacation isn't the same as not being able to afford a donation.