"Duck-Duck-Goose" Blue Ribbon Photo Contest!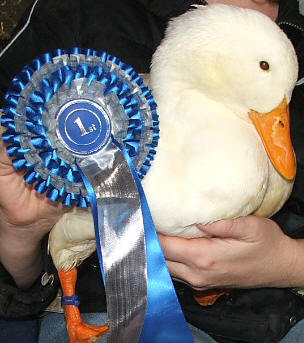 Haven't entered our Blue Ribbon Photo Contest yet? There's still time!
Each of our two lucky winners will receive a GORGEOUS metallic blue and silver, 4 tier, rosette ribbon with three 30 cm long tails and an imprinted silver "1st" in the center (featured left with Neo).
A personalized Majestic Waterfowl Sanctuary Winner's Certificate will also accompany each Blue Ribbon awarded.
Now that is something you and your feathered friends can proudly display!
There will be two categories and two First Prizes, one for Most Comical & one for Most Photogenic. In addition to being awarded Blue Ribbons and Certificates, winning photos will also be featured in our April newsletter and on our Winner's Circle page.
Rules:
1) Photos must be of domestic ducks or geese who you have claimed at least partial responsibility for. This includes abandoned ducks and geese, still in the wild, as long as you are helping to care and provide for them on a regular basis.
2 ) Photos may NOT be digitally modified in any way (except for cropping, which is allowable).
3 ) You may include a caption with your photo, but it must be sent as an attachment, NOT superimposed on the photo itself.
4) Photos entered must be taken within the last 12 months.
5) Amateur photos only may be submitted. No professional or paid photography (unless, of course, you are a professional photographer).
6) Each photo entry must be accompanied by a $5.00 entry donation. This is a fundraising event, after all!
7) Photos for this year's competition will be accepted from January 1, 2009 - March 15, 2009. Both photographs and full entry donations must be received by 12:00 pm, midnight on March 15, 2009 in order to be officially entered. Photos rec'd without payment will be disqualified. Entry donations are non-refundable.
8) Contestants may enter as many photos of their ducks or geese as they would like and are encouraged to do so!
Visit our Blue Ribbon Page for further information, submission guidelines and to view photos of our previous winners.
Dig through your favorite photos or have fun snapping a new one!
---
Miri Update
We would like to thank everyone again for your inquiries and well-wishes for our little Miri-Miri (or Miwi-Miwi as we playfully call her). She has surprised us all with her strength and love of life and is hanging in there and doing well.
We will continue to keep you posted regarding Miri's progress.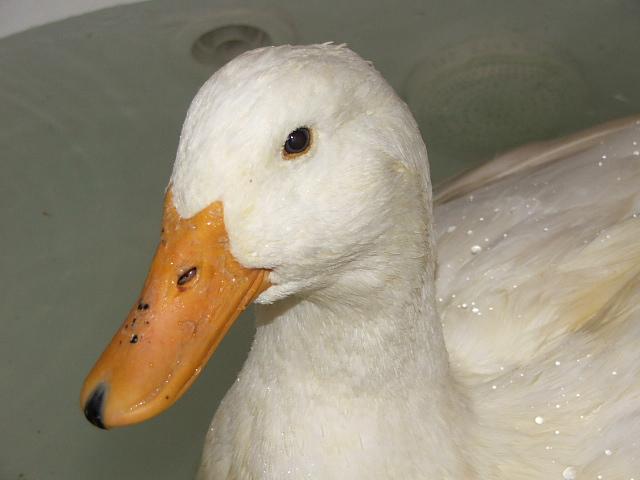 Special thanks to Caroline for donating a heated pet bed to assist in Miri's care, which she has free access to nest on whenever she likes.
Thank you also to Beth for offering to assist with her medical costs and sponsoring Miri.
---
Ah, Yes... Spring...
We have been receiving emails since November regarding lots of especially feisty ganders and drakes. The many ups and downs in the temperature seems to have caused some confusion among the boys in many flocks. Momentary lapses of spring behavior aside, brace yourselves because the real deal is coming!
As we head into February you can expect to see a changed attitude among your boys as they begin to get in gear for spring fever. This is the time of year when boys often need to be separated from each other. Common signs of fighting include missing feathers and eye injuries. Tiny bubbles or foam that forms in or around an eye are a clear indicator that a duck has been poked in the eye and this Eye Trauma should be taken very seriously. Without intervention further incidents can lead to blindness of the loss of an eye.
You also need to pay special attention to your girls to make sure no single hen is taking the brunt of your drake's attention. Remember over-mating of hens can lead to serious reproductive issues. If your hen is showing signs of stress, as indicated by feather loss behind her neck and on her back, then you want to either set up a dividing fence or add more hens to your flock. Prevention is the best medicine to avoiding injuries among drakes and hens during the season of love.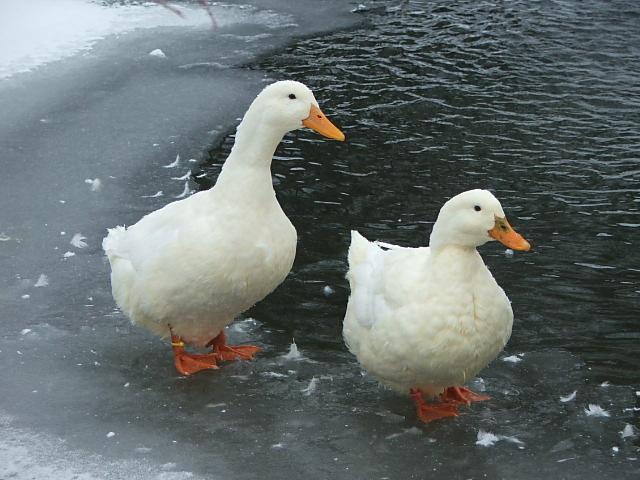 Aladdin & Jasmine
---
Valentine's Day Eggs
This is the time of year when our geese begin laying eggs. Many of you out there are waiting to find out if your gander is really a goose and you may be about to find out. Eggs commonly appear around February 14th--Valentine's day! So congrats to those of you who are about to find out that your gorgeous gander is really a glorious goose and enjoy your omelets!
---
Dietary Information for Laying Hens
Mazuri Waterfowl Breeder formula is the dietary option we have selected for our laying hens and we have been very pleased with it.
While some laying formulas push hens to produce a daily egg, taxing their bodies, the Mazuri Breeder fosters your hens' needs, supporting them nutritionally throughout their laying cycles. When not hatching out little ones, we recommend a ratio of 25% Breeder to 75% Maintenance as long as eggs appear normal.
If eggs appear rough, odd shaped or soft, then you want to increase their Breeder by 25% each day until you see a positive change in their egg quality. Once you have stabilized your hen, and eggs look healthy, you want to slowly work on decreasing her ration of Breeder again. You want to find that equilibrium—the point where she gets the maximum benefit from the least amount of Breeder.
It is not uncommon for hens to require a higher Breeder ratio in the spring and summer—during the laying season (this can be true even for those hens who lay eggs all year long). You may have to feed your hens separately, if some of them have different Breeder ratio requirements. Non-laying hens, drakes and ganders should not be fed Breeder formula on a regular basis although it won't hurt them if they happen to get into it now and then.
Laying hens should have access to a calcium source 24/7. You can purchase oyster shells or calcium chips from your local grain store. This should not be mixed in with their regular food. Place it in a different feeder. Your hens have the instincts to know just how much and when to eat this supplement. If you mix it with their food, you can throw them off.
---
Outside Farewells...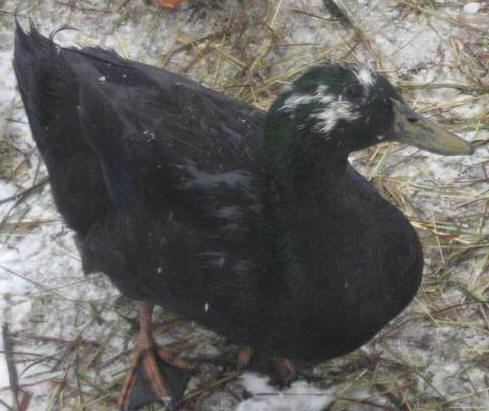 This is a special message for Judith and her flock in memory of Timber, a late egg who came to them by chance. He was named Timber because when he was far too small he would jump into the sink for a swim.
He was a handsome Cayuga drake who died suddenly at age six and his mate Tumble, a lovely Khaki Campbell lady, misses him every day. May you fly forever into the sun for you were sincerely loved...
---
Big Orange
Big Orange was a ten and a half year old Buff Orpington hen who was loved dearly and will be dearly missed. She loved grapes, rice, oats, duck food and being held. She was the top chicken even in her old age.
She may not be a duck or a goose, but we love chickens too and find them truly wonderful and very loving animals. We know your pain and our thoughts are with you in your time of loss, Marlys.