Duran Duran... Double Trouble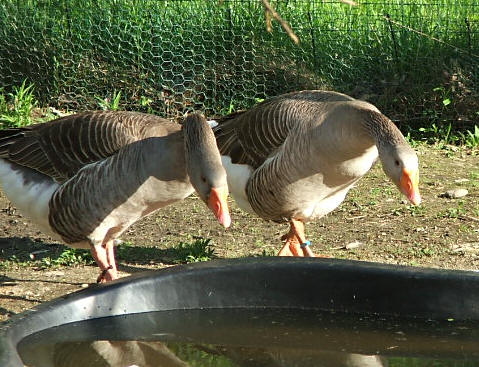 Duran Duran (Rio & Moon) were adopted out last year, but came back to us this year when they became more than their new owner could handle. The boys came back to us with some atrocious manners that had to be broken and this can happen to anyone who lets their geese rule the roost.
It is very important when keeping geese as pets that you remain the alpha leader of your flock. Your ganders will become especially testy during egg-laying season (February 14 - May 31), but you must insist upon being in charge. Left to do whatever they please, ganders especially, can learn some naughty habits very quickly.
Upon taking them back into our sanctuary, we discovered that Rio and Moon had become very aggressive towards objects brought into their pen--especially food buckets. When they saw us coming with dinner, they thought it would be a good idea to fight us for the bucket. To break this habit, we began walking into their pen at random times with empty food buckets. When the boys charged forward to claim their prize, we caught them by their necks (loose but firm grip) and sat down over them. More fearsome than their bills are their strong wings, which can inflict serious damage to the inexperienced handler, so be very careful when practicing these tactics.
The key to reversing their naughty behavior was never letting them have the last word about anything. They had to re-learn that we are allowed to enter their pen whenever we please and go wherever we like without any flack from them. Any challenges they initiated had to be met with equal determination.
Within the first week they learned that whenever we call, "Up, Up, Up!" they are required to instantly move along in the direction we herd them.
It is not only vital to your safety to have respectful geese, but also vital to theirs. You should always be able to motivate and handle your geese. It is so important to maintain leadership and never let your ganders get the better of you. We promise, they will still know that you love them.
Once we curbed the Durans behavior, they blended perfectly into our existing gaggle and are now wonderfully sweet and inquisitive geese again. Welcome back, boys!
---
Best of Luck, Dr. Melgey!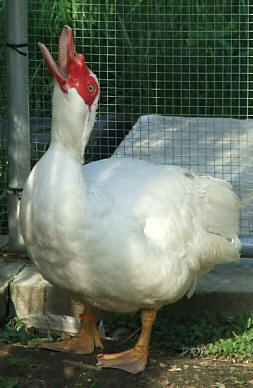 We were devastated to hear that our favorite duck and goose vet is moving out of state.
Dr. Melgey at All Friends Animal Hospital has been assisting our waterfowl for nearly five years. He and his staff have always rolled out the red carpet for our wonderful rescues, and we are thrilled to hear that our feathered friends will continue to receive the same special consideration under the practice's new ownership.
We would like to take a moment to wish Dr. Melgey well in his future endeavors, to thank All Friends Animal Hospital for their continued support and to welcome Dr. Otka onboard, who will be All Friend's new waterfowl vet.
---
Pen Building 101
For instructions on building a predator proof, safe enclosure please visit our Pen Building page. More on this in coming issues!
---
Duckling Days
We have had a year of record low adoptions and if it continues, it will have a serious impact when our upcoming fall/winter rescue seasons begins.
The troubled economy is part of the problem this year. Less people are willing to invest money into building predator proof pens in order to adopt our waterfowl. Not only does this result in less adoptions for us, but it also entices them to buy ducklings. The birds they purchase are often placed into inadequate or free range set-ups, which ultimately lead to the ducks being predated.
Supporting this trend is the over abundance of ducklings available at grain stores this year. People are opting to buy ducklings rather than adopt rescued waterfowl. Worse yet, in many states (including Connecticut) there is a six duckling minimum purchase. Folks are buying six ducklings without doing any prior research and then discovering within weeks that they cannot handle their new flock or the fighting that is rising between their drakes.
We have received a RECORD NUMBER of emails this year from families who opted to purchase ducklings and then discovered that they could not handle their purchase. Unfortunately, we are a rescue shelter running at full capacity and can only very rarely accommodate owner surrenders.
We recently took in a young Cayuga hen named Bonnie. The owner surrendering the girl openly admitted that she didn't do any research at all before taking the two ducklings home. This lack of preparedness ended up costing one of the ducklings his life when he was predated by a raccoon right in front of Bonnie.
After taking Bonnie "Bonster" into our sanctuary, we discovered that she was terrified of even small bodies of water, had not learned how to eat dry food properly and was extremely traumatized by the loss of her sibling. It took days for us to ease Bonnie into our flock and she spent most of her time standing on the opposite side of the fence from our resident Cayuga drake Young Jeffrey who obviously reminded her of her lost sibling.
Bonnie has since learned to swim and play on the pond and eat properly, but there are many more ducklings out there who are also the result of impulse buying and face similar futures.
It is a vicious cycle... Purchasers want us to take their ducks when they realize they made a mistake in buying ducklings. Meanwhile, adoptions are down and our pens are full. Still, we will not adopt our birds to sub-standard homes. We want the best for our beautiful rescues and will simply wait out those good homes while we enjoy our feathered friends a little while longer.
---
Tapeworm
Tapeworms are a type of flatworm flatworm or trematode. Your duck can become infected upon eating worms, bugs, flies, slugs, ants and beetles.
Symptoms
The presence of tapeworms can be confirmed by fecal exam. Symptoms of tapeworms include weight loss, loss of appetite and diarrhea.
Treatment
Praziquantel found in Drontal Plus is prescribed to treat tapeworms.
---
The Ultimate Pet Duck Guide Book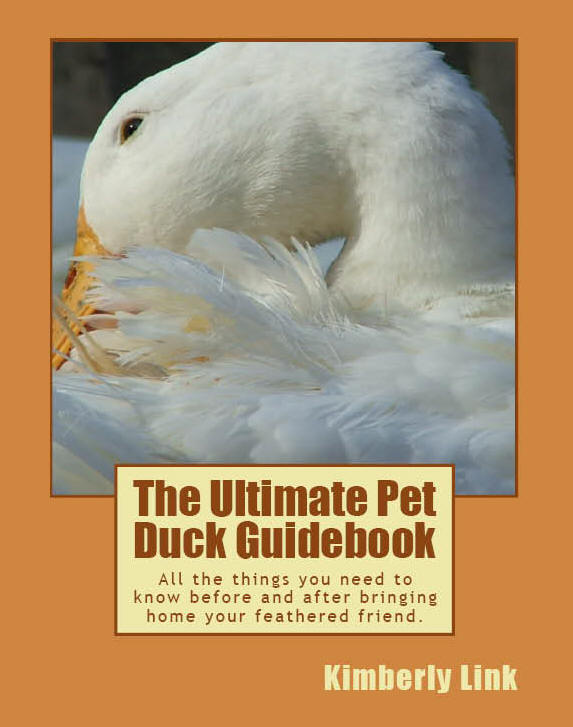 Our first proof has just arrived and our new duck guide book is absolutely gorgeous!
Containing over 100 full color photos, we anticipate this invaluable guide will be available for purchase by August!