Thrichomonas gallinae
A couple families have emailed us regarding the recent surfacing of Thrichomonas gallinae in their ducks and geese.
T. gallinae are a protozoan parasite that are usually found in pigeons and in predatory birds that consume pigeons. When infected birds defecate in your flock's ponds or water sources or eat from your flock's food dishes, your ducks or geese may become exposed to T. gallinae.
Symptoms of T. gallinae range from being very mild and unnoticeable to the development of large, yellow, cankerous masses inside their mouths. Birds may recover and become immune in the more mild cases, but more severe cases may be fatal.
Treatment of T. gallinae is simple enough. Your vet will likely prescribe Metronidazole (Flagyl) in the dose of 25 mg per kg of your bird's weight twice daily for 5-7 days. Be sure to resubmit a fecal sample for testing after the treatment regime is complete to ensure that the parasites have been successfully eradicated.
Side effects of Flagyl may include loss of appetite, so keep a close eye and make sure your duck or goose is eating normally. If you see unhealthy changes in their appetite let your vet know right away.
---
NEW! Sponsorship EXTRA GIFT!
We've been told that those abandoned ducks who are fortunate enough to find safe haven at our sanctuary are about the luckiest ducks in the world. And where else would that luck come from other than their very own lucky feathers!
We've added a new option to our Sponsorship program. For an additional $5.00 you can now add a beautiful bottled Majestic Lucky Feather to your gift package! Each vial is handmade and comes packaged within a glossy poem card.
Just send a sponsorship payment of $30.00 instead of the normal $25.00 and bullet the "Add a Luck Bottle" on our online form OR include a note with your payment if ordering by mail.
Lucky Feathers are collected from our grounds during normal periods of molt. Quantities are limited, so get yours now!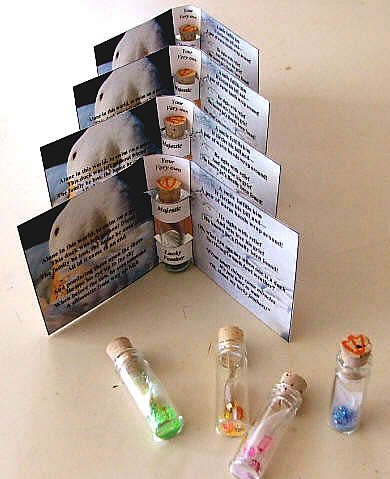 Poem inside reads:
Alone in this world, to swim on a pond
This duck was left without friend
The family he lost, the home he once knew
All of it came to an end
And pondering there upon the shore
He tips his eye up to the sky
When before the sun, he sees someone
A silhouette from way up high
A smile fulfills him
It circles his bill and—
A pair of warm hands wrap around
He sighs with relief
And sets free his grief
Because he knows he's finally been found!
Oh, what can one say when one is a duck
Surviving in such fowl weather?
"From small things come miracles,
we just have to wait--
Oh, thank my lucky feathers!"
OR...
Get your Luck Bottles by making a Donation!
You can receive one of these precious little Luck Feather vials, individually boxed, with each $12.00* donated to our sanctuary. Just visit our Donation page, make your donation and then request the number of Luck Bottles you would like sent to you in the Comments Field.
Be sure to include your complete mailing address!
A GREAT stocking stuffer for the holidays!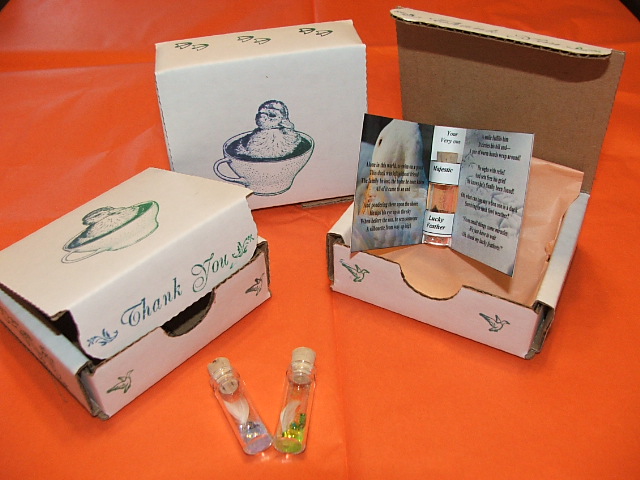 Each Luck Bottle comes in its own little gift box!
If you'd like us to send a Luck Bottle as a gift to someone other than yourself, just give us the details in the Comments Field. We'll even include a little gift card!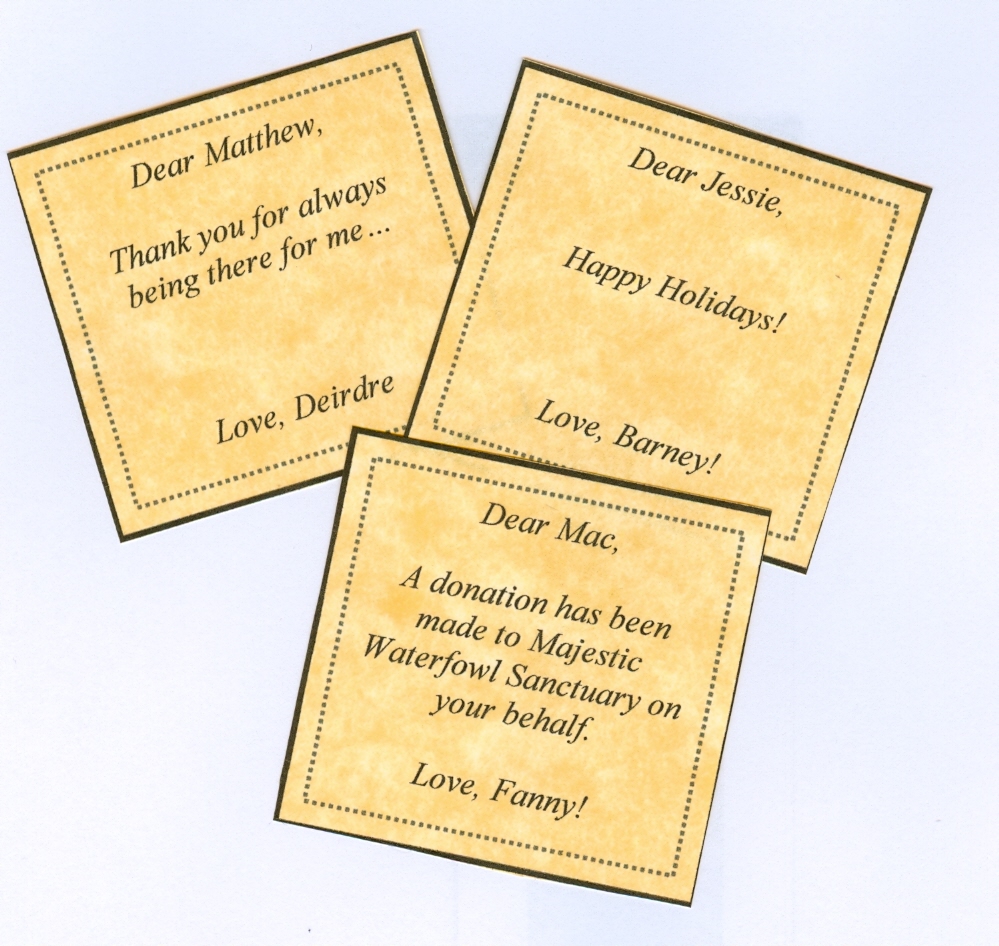 LIMITED SUPPLY! Offer valid only while supplies last!
Please Note: If you do not request any Luck Bottles with your donation, they will not be sent!
Visit our Luck Bottles page for further details!
*Sorry, offer only valid in the Continental U.S.
---
Lemon The Duck Wins a NAPPA Award
Congratulations to Laura Backman whose children's book "Lemon The Duck" received a 2009 National Parenting Publications Award!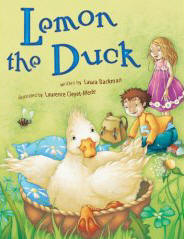 This gorgeous picture book is based on the inspirational true story of Lemon the Pekin Duck, who was born in an elementary school classroom. Neurological issues make Lemon unable to walk, but with the support of a compassionate teacher and her students, Lemon is still able to become one happy duck.
Through caring for Lemon, the students share in her victories and learn that acceptance, love, and extra special care can go a long way. They also come to understand that her difference does not make Lemon any less special.
Click here to order from Amazon, or click here to order directly from the publisher, Lobster Press. Click here to learn more about Lemon.
---