Duck Wheelchair... Continued...
Thanks to the two Laura's and Lemon for sending along more information about helping lame ducks overcome their mobility issues.
Jorgenson Labs sells mobility carts and slings. Pekin-size ducks tend to fit into a medium-sized sling. Just visit their website and type "mobility cart" or "sling" into their Search feature.
Here are some photos they shared with us of their home-made ducky wheelchairs: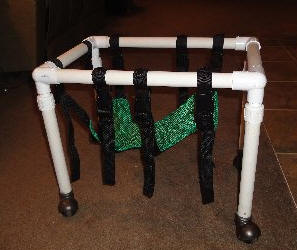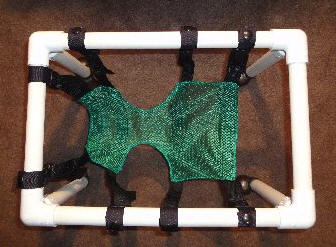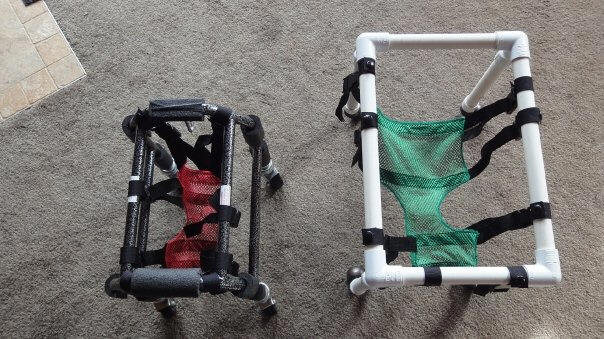 ---
Look Into My Eyes... The Truth About Cataracts
Even the most attentive pet owner may not recognize what is usually a slow onset of cataracts, especially since they tend to develop in one eye long before the other, preventing any noticeable change in behavior. For this reason, it is important to take a once-a-month look into the eyes of your ducks and geese.
Cataracts are the result of lens deterioration, irritation or disintegration. Cataracts can cause blurry vision, poor night vision and even blindness. An eye with cataracts will usually have a cloudy, grayish-white, opaque discoloration in the pupil. Cataracts begin small and may grow to cover the entire pupil over time.
There are Age-related Cataracts, Congenital Cataracts (inherited), Traumatic Cataracts (impact or injury) and Secondary Cataracts (brought on by diabetes, glaucoma, malnutrition, exposure to toxins or bacterial infection). Beyond this, cataracts are classified by the location of lens affliction. There are various levels of Anterior, Nuclear and Posterior cataracts. Operability depends on which kind of cataract your duck or goose is diagnosed with. Some types progress rapidly and require timely diagnosis and treatment to avoid blindness while others progress more slowly.
No matter what the case, when you notice cataracts in your duck or goose, a trip to your vet is in order for closer examination and to determine exactly what is going on in one or both eyes. Nuclear Sclerosis is sometimes confused with cataracts. Your vet may discover that your duck has Nuclear Sclerosis, which occurs in older birds, does not cause impaired vision. Blood work is recommended to rule out any kind of infection.
If diet is the issue, corrective measures may stop the progression of the condition, but are unlikely to reverse it. The same is true of cataracts caused by infection, the infection may be remedied through proper medical treatment, stopping the progression of cataract formation, but things will not likely improve.
Surgery, when possible, should only be performed by an experienced avian veterinary ophthalmologist. Blood work should be done first to ensure your duck or goose is a good healthy candidate for surgery and anesthesia. Surgery should only be performed if it is expected to restore your duckís vision to an effective degree.
Patients are usually operated on within an hourís time and tend to return home that same day. Surgery in waterfowl does not include the implantation of an artificial lens, so birds tend to have blurry or far-sighted vision in their eye afterwards.
Your duck or goose will likely go home with an anti-inflammatory and special eye drops following surgery. Try to avoid medications with steroids whenever possible; ask your vet about safe alternatives.
Holistic options to discuss with your vet
As with any medical regimes, never proceed with holistic options without first discussing it thoroughly with your vet. Often, holistic options are incorporated into a vet-prescribed treatment regime.
Raw carrots, dark green lettuce varieties and raw garlic consumption may result in the reduced risk of cataracts caused by old age. They may possibly even slow the progression of existing cataracts caused by age. Other healthy foods that may help are: oranges, grapes, raisins, figs, dates, cauliflower, turnips and ground almonds.
A quality supplement (like Vionate) can be sprinkled over your petís food to increase their intake of vitamins, which may help slow progression.
---
Deirdre "Dear Heart" Cataracts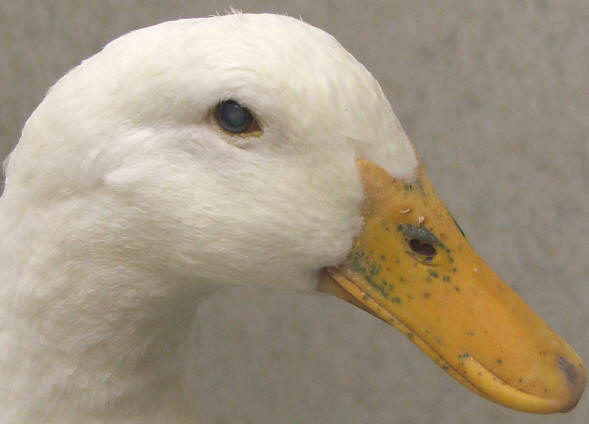 Deirdre Dear Heart is among some of our very first rescues. She went through a lot to get here to us and was subsequently retired to our sanctuary. Deirdre's job is to welcome in all new hens while providing consistency to the sanctuary. Newcomers rely on her reassurances as new ducks join us and are later adopted out. She remains calm through our routines, which teaches our visitors that they are safe too.
Deirdre has cataracts in her right eye and is limited to seeing only light and shadow on that side. She has gone for her initial blood work and is scheduled to see Dr. Brown (Avian Specialist) and Dr. Aubin (Ophthalmologist) at Ocean State Veterinary Specialists on February 4th for a more thorough examination and to discuss her options.
We will be asking plenty of vital questions and sharing our learned information with you in our next issue of The Majestic Monthly.
---
Unsafe Ice-Covered Ponds
Many of us are deep in the season of snow and ice. During these freezing temps many duck and goose ponds are partially to fully frozen. It is important to know when an icy pond is safe and when it is dangerous.
Ducks and geese get excited and love to dive underwater and swim around. If your pond has too much ice coverage, your pets can get lost under the ice, become trapped, and drown.
This is an example of a pond that does NOT have enough exposed water. This pond is NOT safe for ducks and geese to swim in: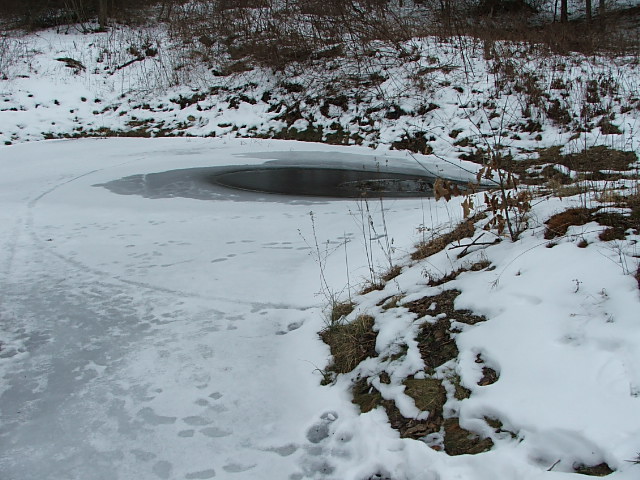 This is an example of a pond that DOES have enough exposed water. Better yet, the water is circulating. Ripples and movement on the water's surface helps ducks and geese to see where the open water. This pond IS safe for ducks and geese to swim in: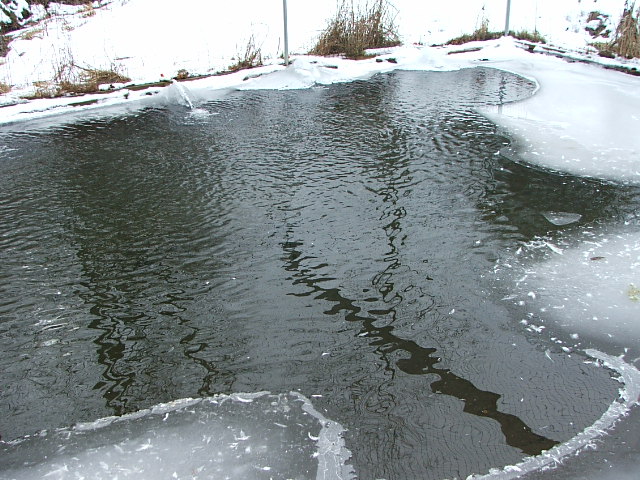 ---
iGive
Majestic is set up and receiving donations from iGive.com
This means, when you search and shop via Igive, Majestic receives part of the proceeds. A penny per search may not seem like much, but we have already received over $66.00 in donations, so it can really add up!
Over 700 stores participate in the iGive program, so if you search and then shop, Majestic can get up to a 26% donation from the store you purchase from.