Majestic's Expenses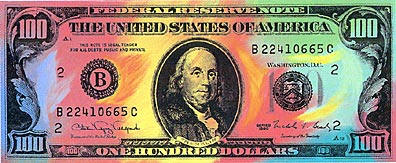 Why donate?
We Respond to requests for assistance for compromised animals.
We Rescue abandoned ducks & geese.
We Rehabilitate former pets to prepare them for their new homes.
We Place abandoned waterfowl into safe and loving new homes.
We Educate pet owners about the proper care of waterfowl.
We Reduce animal suffering, neglect and abuse.
We do all we can to STOP they cycle of waterfowl abandonment!
And consider this!
We don't draw any salaries at Majestic. We work on a strictly volunteer basis only. No salaries for us means all of our funds are directed towards assisting our rescued animals.
Majesticís 2010 major expenses:
$2800 Waterfowl feed & veggies
$2500 Vet expenses
$1500 Utilities (pond circulating pump, heated buckets, barn lights)
$1100 Sanctuary supplies, building materials & equipment
That's nearly $8000 and that's just the big ticket items!
Our average annual expenses actually range anywhere between $9,000 and $12,000 depending on the number of animals we have and the severity of their medical needs.
And don't forget the weather! A harsh winter, like the one we experienced this year, can result in a myriad of unexpected costs. This year we had to invest in a snow-blower and a bullet heater to melt huge piles of blizzard snow and ice that resulted in extreme mobility & functionality issues in our pens (like doors & gates frozen into 2-3 inches of ice).
The severe weather also lent us to finally invest in a sanctuary generator to safeguard our circulating pump and heated water buckets, which can easily freeze and crack without running electricity. We could easily lose over $1500 worth of materials during a single power outage without this vital protective equipment. (In the aftermath of Hurricane Irene, it has also kept pond water circulating and fresh, as well as providing well water to our barn and quarantine pen).
The unusually deep snow also severely damaged one of our vacant quarantine pens this year, which still has to be repaired.
AND... the freezing temps actually cracked our barn's hydrant nozzle. While we were able to do a temporary welding fix to get us through the cold weather, it ultimately cost us nearly three hundred dollars to order a new housing and hire an experienced outdoor plumber to handle the much-needed repair.
So there you have it! These are the basic necessities that keep our sanctuary running and our ducks & geese happy and healthy--and they add up so quickly. And, as always, our goal is not just to break even, but to save up funds for our next expansion effort. We still plan to add a few more large enclosures to our sanctuary to allow even more abandoned animals to come into safety.
Please help us in our endeavor by making a Donation today. Every little bit helps! And Thank you to all of you who make it a point to donate to our sanctuary regularly. We simply couldn't do it without you!
---
Custom Designed Wooden Signs!
We are custom painting handmade signs to raise funds for our sanctuary. Signs measure approximately: 16" x 3.5" (unless otherwise indicated) and include a simple mounting kit.
Unless otherwise noted, signs are $35.00 each + $5.00 shipping.
Click Here to view our custom duck signs. If you see one you like, contact us to reserve it (first come, first serve basis). Additional signs will appear as we paint them--so keep checking back!
Once we confirm you're first in line for purchasing, you will be given the opportunity to have a name or words custom painted onto your sign. We have over thirty color options available for letters, so we can accommodate most requests (one color choice per sign please).
There is a ten letter per-sign maximum (counting spaces). Additional letters (not many more will fit) will likely require two lines of text and cost $1.00 extra for each additional painted letter.
Once these decisions are finalized, we will email a Paypal invoice to you. You do not need a Paypal account in order to pay this invoice; it will give you the option to pay using your credit card. If you would like to pay by check, please let us know when you first contact us.
Payments must be received within 10 days of invoicing or the sign will be relisted for sale.
Once your payment arrives, we will custom paint the words of your choice onto your sign for you. Please note: words will be painted EXACTLY as ordered. Please double-check your spelling and spacing. Please note: Painted letters are done in all capitals.
Please note: Signs are not poly-coated.
This is for our ducks and geese, so no returns, exchanges or refunds (unless damaged in shipping, in which case email notification and photo verification of damaged sign and packaging will be required within 24 hours of delivery).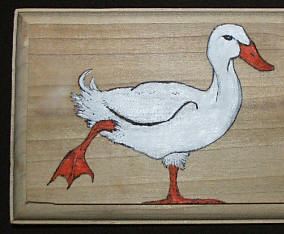 If you would like a custom painting of your duck (or ducks!), we will need an emailed photograph for reference. Custom work must be prepaid in full. The first painted duck is included in the price. There is a $10.00 charge for each additional duck.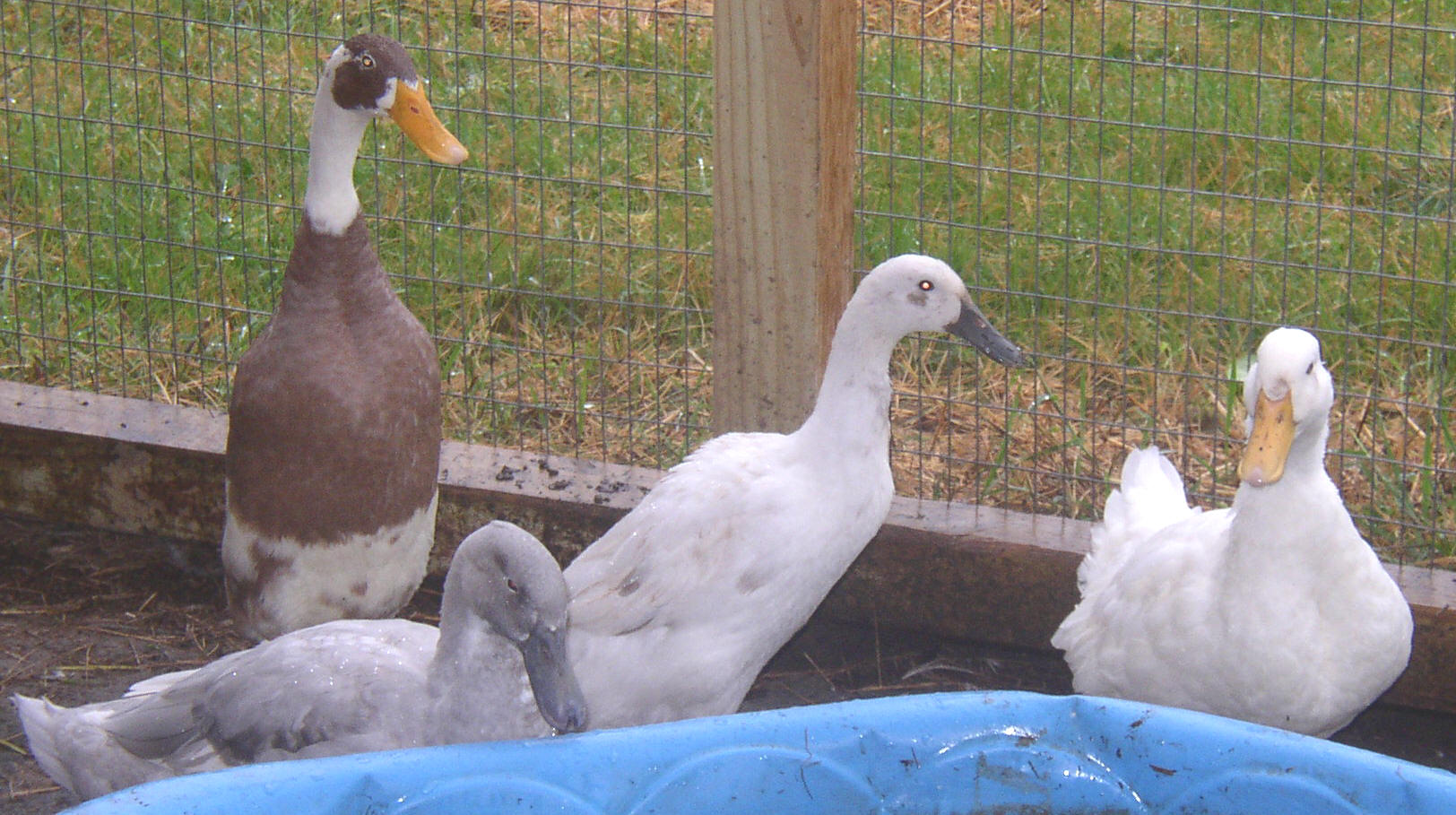 Geese signs will be available soon!
---
Your Thoughtfulness...
Thank you Jenn and Kat for the fruit basket and flowers to help us through Benny's loss. Your thoughtfulness means the world to us...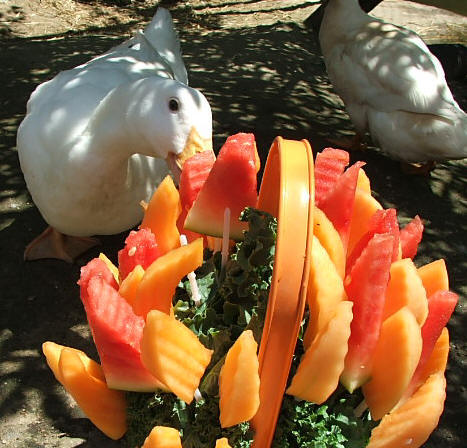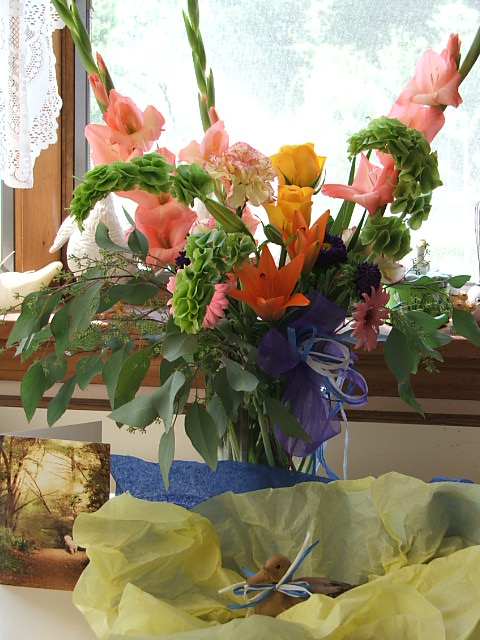 ---
Goose Barn Fundraiser A Success!
Thank you Tom & Deb and Deb for donating funds to build our two new goose barns! More information to follow as we build the barns and mount your custom engraved name plates!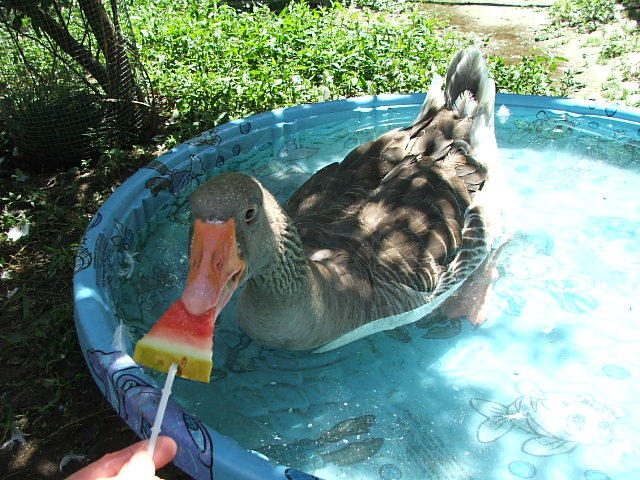 ---
Peppermint Oil Mouse Deterrent
This year we were able to purchase and assemble a new and affordable grain shed to store Mazuri & Nutrena feed for our flock. Not only does this beat hauling grain bags down to the barn from our house, but it also enables us to receive grain deliveries from our supplier. Instead of traveling an hour each way to their store to fill our cars with a limited amount of grain, we can now order a good 5-6 week supply and have it delivered right to our new shed, which sits close to our enclosures and barn.
To keep mice out of our shed we have taken up the advice of routinely putting a few drops of peppermint oil onto the pallets the grain bags sit on. Apparently, mice don't like the smell and it helps keep them out of our shed. This combined with humane traps (that are usually empty) are really doing the trick!
To protect our feed bags from insects and beetles, we spread food-grade Diatomaceous earth (Dearth) between the foundation and floor boards of our shed.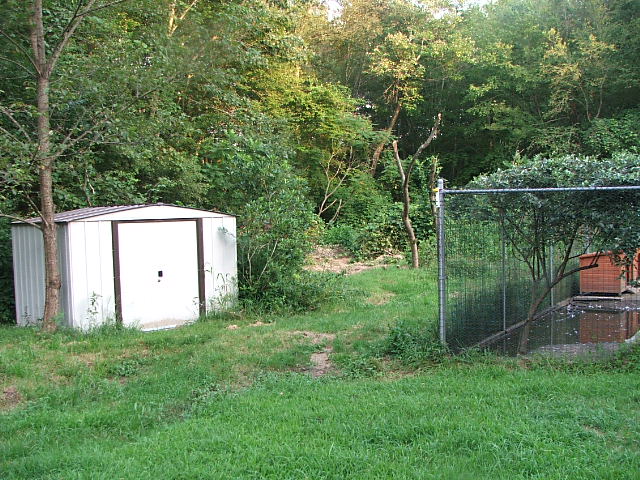 ---
Bumblefoot, New Treatment Options
We have seen tremendous results from a new treatment for bumblefoot and, as always, we wanted to share.
For those of you who don't know, bumblefoot sores appear as swollen areas on the bottoms of your duck or goose's feet that often have a black scab on them. Swelling and scabbing increase with time and lack of attention and can ultimately lead to osteomyelitis (bone infection) if not treated properly.
Webbed feet become inflammed with bumblefoot when tiny cuts (normal with waddling about) become infected. The best preventative measures are soft and clean grounds. Even so, ducks and geese are very prone to this sort of trouble, which is why it is so important to routinely inspect the bottoms of their feet and nip any issues in the bud.
Always take your duck or goose to a qualified veterinarian for a thorough exam before initiating treatment.
Treatment:
Some vets will prescribe Quickderm ointment to be applied directly to the afflicted area of the feet 1-2 times daily. While this will do the trick, we have experienced greater success using vet-recommended Thermazene Silver Sulfadiazine Cream 1%, which can often be purchased over-the-counter or on the internet. Like Quickderm ointment, this cream is applied 1-2 times daily.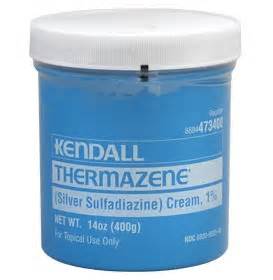 Always wear gloves when applying creams/ointments to avoid absorbing unneeded medications into your own skin. We always have a box of latex gloves in our barn's medicine cabinet.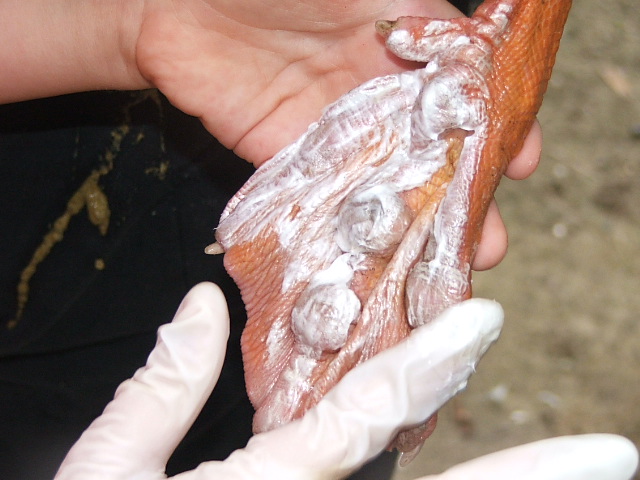 Your duck or goose will also need a prescription of Baytril (antibiotic) to help them fight off the infection from the inside.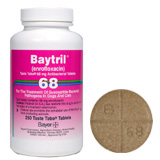 Ducks: 22.7 mg Baytril for average sized ducks (6-8 lbs)*.
Geese: 68 mg Baytril for average sized geese (12-14 lbs)*.
*In severe cases, your vet may prescribe a higher dose of Baytril.
As always, you want to keep your duck or goose on clean, soft grounds and provide ample time for swimming in clean water. These conditions are a vital part of treatment. Hard packed grounds or sloppy grounds will just invite further infection and irritation.
Probiotics are an important part of your duck or goose's treatment when they are on any kind of medication that can disturb the normal balance of their intestinal flora (antibiotics being just such an example). The use of a live, avian-specific, multi-strain probiotic helps restore the flora of beneficial bacteria in their gut, which will aid them through their recovery.
While we used to rely on Lake's Lacto-Plus powder, we haven't been able to reach them recently.
In light of this, we have discovered a fantastic new option for our ducks and geese. National Bird Designs, Inc. is the home of: Avi-Culture, which is a gluten-free, dairy-free & GMO-free (Genetically Modified Organism-free) probiotic powder specifically designed especially for birds. Avi-Culture is a great product to have on hand when medical issues arise, and it is also an important preventative during times of stress--including the molt.

Shelf-Life & Storage
Avi-Culture has a 2-year shelf-life when stored at room temperature.
For maximum viability, Avi-Culture should be refrigerated upon receipt. When refrigerated this probiotic has a 10-year shelf-life.
Avi-Culture keeps indefinitely when kept frozen!
Please note that moisture & condensation will activate the microorganisms; for this reason, you should keep the powder form as dry as possible by securing the lid properly after each use.
We would like to thank National Bird Designs for their generosity in extending a very special purchasing offer to our sanctuary!