Happy New Year!
Wishing you & your flock a safe and Happy New Year!
---
Quack Attack!
Send a hilarious and colorful "Quack Attack!" to someone you love!
For just a $20.00 donation to the sanctuary we'll Priority Mail one of these side-splitting ducks to a recipient of your choice (or get one for yourself!)
A great birthday, friendship or holiday gift. Also fantastic for cheering up someone who needs a little boost.
Each lively duck is shipped out in cheerful tissue paper and includes a gift card with the wording of your choice.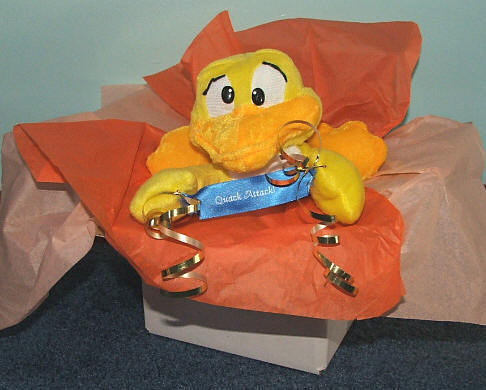 Ducks measure approximately 5" x 5" x 8" and come in lemon, blueberry, cherry and grape.*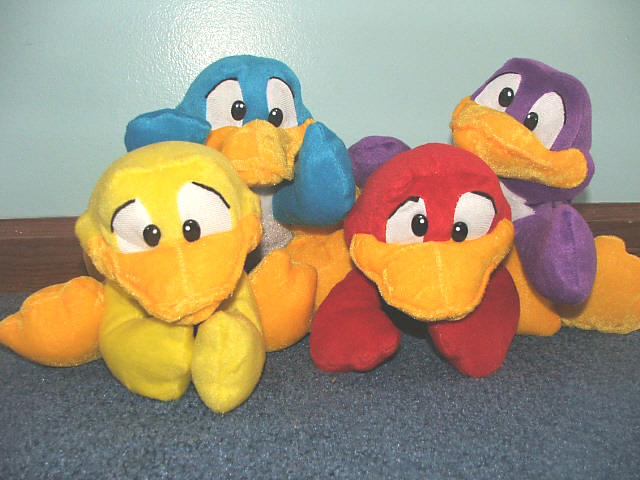 Click Here for more information!
*Sorry, no color choice available.
---
Duck & Goose House Doors
We're thrilled to have our duck and goose doors complete in time for freezing weather. Special thanks to Dad for designing, constructing and fitting twelve duck doors and four goose doors into place for our feathered friends.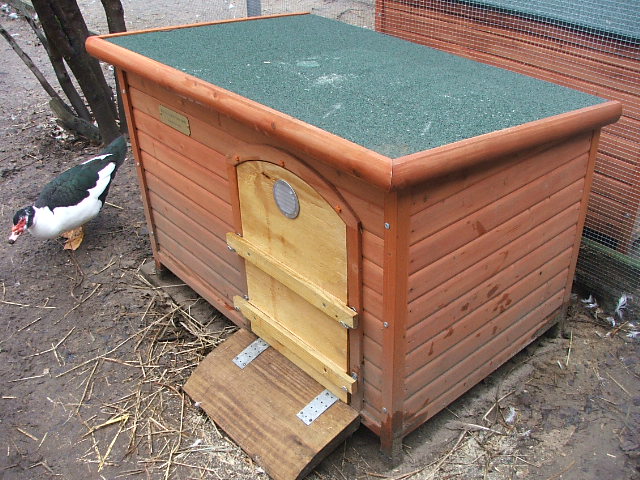 These wonderful new doors slide in and out of place with ease! Small vents keep houses fresh smelling while preventing cold breezes from blowing inside.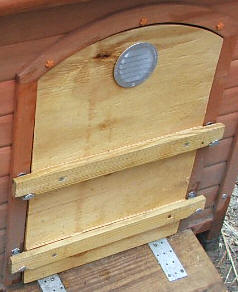 ---
Sprains
In December our little Muscovy hen suffered a serious sprain in her right leg. We just came out to the barn one morning and noticed Bella walking with a slight limp.
We slowly and carefully flexed each of Bella's toe, ankle, knee and hip joints to see if any of these movements made her uncomfortable, but they didn't, so we assumed it was a slight sprain and sent her on her way with the other hens.
The next day we noticed that her limp had worsened, so we kept her in the barn for the day to limit her movement and to help aid in her recovery.
Being flock animals, it's very important that ducks and geese are not lonely during their recovery, so we left the barn's back door open, so Billy and Rilo could come inside and visit her through the fence.
When Bella's injury worsened on the third day, despite being in cushy conditions, we brought her to the vet for an exam. She was no longer able to put any weight on her foot and we wanted to be sure there were no breaks or dislocations. Fortunately, our vet didn't find any skeletal issues, which he confirmed with an x-ray. He prescribed Torbutrol (pain medication) and Rimadyl (anti-inflammatory) and had us continue keeping her inside in restful conditions.
Four days later, Bella was beginning to put weight on her foot again and two days after that she was ready to walk outside and spend the day in the sunshine. We even saw her running!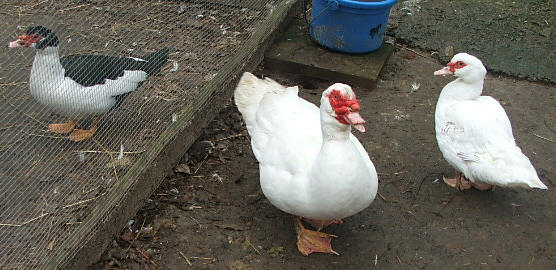 Most ducks and geese benefit from some good, chaperoned swim time to help with muscular injuries. Hydrotherapy allows them to bend and flex their joints without having to support their weight. In cold weather, an injured duck may not be able to preen properly afterwards though, so be sure you keep them inside or give them a gentle blow dry to avoid them catching a chill. Bella is not a fan of swimming and advised us that she would prefer not to come inside to the bathtub, but just relax in the hay. Whatever Bella wants!
---
Holiday Thanks!
We would like to send out special HONKS and QUACKS to everyone who donated to our sanctuary over the course of the holiday season (which includes purchasing goodies like calendars, t-shirts, sponsorships and custom wooden signs). We know times are tight and we are so grateful to all of you for helping us make an amazing difference in the lives of so many homeless ducks and geese.
Thank you also to everyone who donated this year, especially our repeat donors who keep our rescues in mind throughout the months and thank you to all of our adopting families!
--And a special shout out to Sweet Pea!