Ducks and Geese Adopted
Here are photos of the ducks and geese that we have placed in permanent homes so far. We love to hear from their new families. If you have updated photos of a duck or goose you have adopted from us, or a story to share about them, please email us, so we can update this page for you.
---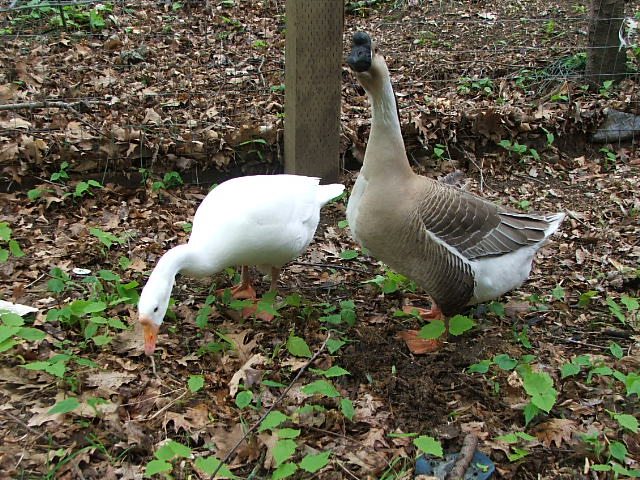 Lancelot is a Grey Chinese gander who was found wandering around a gas station near a river. Rescuers asked around, but could not find his home. He is the friendliest gander we have ever met and we enjoyed his stay with us thoroughly. Lancelot's rescuers built a pen and adopted him back from us and then they brought home Guinevere a White Chinese goose as a companion for him.

Five years later, the adopting family could no longer keep the pair, but as it turned out, Lancelot's original family found us and him! They were thrilled to welcome Lancelot and Guinevere into their home. As it turns out, Lancelot was with them for 12 years before getting lost only a few houses away from their home. So, at 17 years old, he finally found his way back home again.

A fairytale ending for all...
---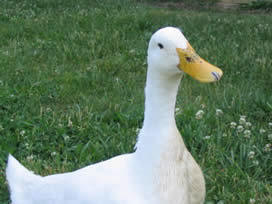 Hildegarde was rescued from a pond in Seymour, Connecticut. A family living on the shore of the pond safely removed her from the ice she was frozen into when temperatures dropped into the single degrees. They discovered her before she succumbed to any injury. Hildegarde is a personality we will not soon forget. This hen loves BOYS! Her antics around the drakes was brilliant—herding them around in adoration.

Hildegarde was adopted by a loving family in Virginia. She joined a flock of six Pekin ducks and three geese and is currently sharing their big barn and large pond.
---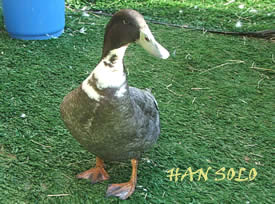 Han Solo was found "ice skating" in Old Saybrook, Connecticut. He was all alone with no access to water, in danger of predation, and in risk of frost bite and starvation.

A concerned citizen educated herself, captured him and brought him to us. Han is a very friendly drake. As soon as we took him in, he gave us hugs of appreciation. It's amazing to believe someone would drop this friendly boy off to fend for himself in the wild.

This gorgeous drake joined his new family in Colchester CT. He shares his home with a lovely duck named Georgetta and plenty of other rescued animals including goats and horses.
---
| Go to Ducks and Geese Adopted Page 16 |
© Majestic Waterfowl Sanctuary 2005, 2006, 2007, 2008, 2009