Ducks and Geese Adopted
Here are photos of the ducks and geese that we have placed in permanent homes so far. We love to hear from their new families. If you have updated photos of a duck or goose you have adopted from us, or a story to share about them, please email us, so we can update this page for you.
---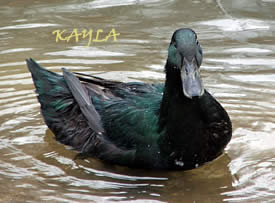 Kayla is a Cayuga hen who came from a severely overcrowded home, deprived of food and water. Kayla came to us in a terrible state, but she overcame all of her afflictions and became a very healthy girl.

Kayla joined her new family and is currently sharing a home with two khaki hens named Chief and Missy.
---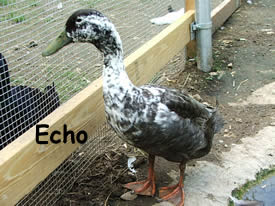 Echo is a Swede / Runner drake. He was one of three ducks rescued from a cement pond that was only three feet deep near a police station and a "No Feeding" sign. He survived near starvation and was removed just before the pond froze.
Echo is a friendly boy who ate lettuce out of our hands and came up to us to investigate our activities, especially if night crawlers were involved.
He went to join his new family and to meet the new love of his life, an East Indy hen.
---
| Go to Ducks and Geese Adopted Page 17|
© Majestic Waterfowl Sanctuary 2005, 2006, 2007, 2008, 2009