"Crocodile" Stanley is a Pekin drake who was rescued from a park. Stanley came right out of the water and followed us as we fed him and lured him into a pen. When Croc first came to us we could hardly enter his pen without him bolting in the opposite direction. As Croc settled in to sanctuary life, he began to allow limited petting.
Croc is a special needs duck. His left eye suffered a severe impact trauma well out in the wild and although he may have some visual capability, it is most likely limited to simply distinguishing shadow from light.
Croc went to join a new family with a Pekin hen for him to love and call his own.
---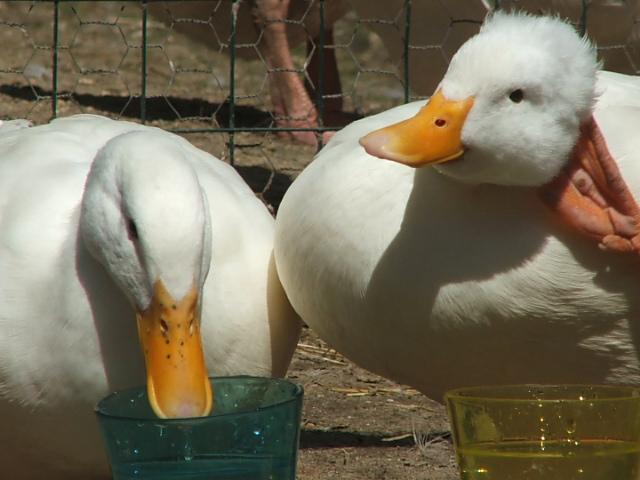 Bindy and Tova were removed from a farm where they suffered from extreme neglect.
Both girls were very nervous at first, but they soon settled into sanctuary life. Both girls love playing with colored cups! It didn't take long for these girls to learn the fun in blowing bubbles in their cups of water, spilling them over and waiting for them to be refilled again.
Both girls went to their beautiful new home to be with two drakes named Mike & Ike. Tutter and Angelo (geese) were adopted out along with them.
---