Spencer and Penny were both abandoned to a pond with a number of other ducks. Locals took care of them for 4 years and slowly watched as the flock dwindled because of predation.
Spencer and Penny both succumbed to fishing line injuries and one of Penny's webbed feet has permanent tears from the encounter.
Penny is a duck who loves to muck around in the mud and it is not uncommon to see her with a pile of mud atop her bill! She has a lot to say and loves to eat out of our hands and be petted.
Spencer is a quieter duck, but very sweet as well as quite colorful and gorgeous. This lovely pair went to live with their new family. They have safe pens and a lovely pond to swim on along with their new feathered friends, two Toulouse geese named Napoleon and Rosemary. Penny and Spencer also have a few new chicken friends in their new home.
---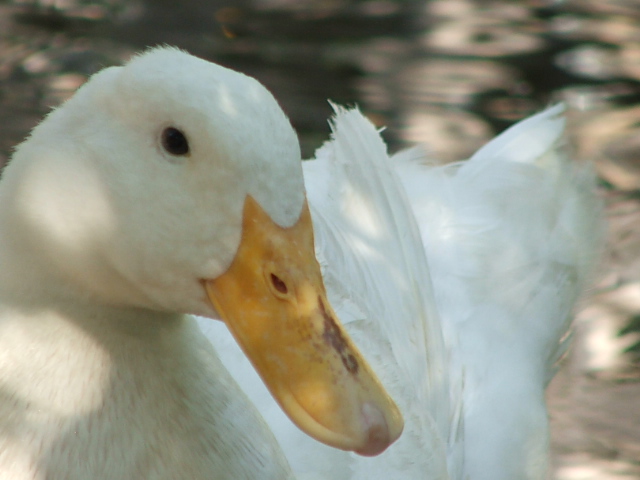 Roberta "Berty" was rescued and subsequently delivered to a cat and dog vet who did what they could for her, but were ultimately unequipped to handle the special needs of a duck.
Berty was a wonderful duck--a real friendly girl who was just full of life and personality. Upon arriving at our sanctuary, she and Gulliver fell in love. When she saw him, she quacked up a storm!
Sadly, Berty's right leg was very inflamed at the knee and ankle, although original tests seemed to indicate a staph infection that led to osteomyelitis (bone infection), urgent surgery revealed an extensive and inoperable tumor that was likely cancerous. Berty was euthanized while under anesthesia to prevent her from suffering any further. She was cremated and her ashes returned to our sanctuary to rest.
Below are Roberta's Leg Up Supporters who helped pitch in to provide her medicine, vet care and surgery. We are forever grateful to you all...
| | |
| --- | --- |
| | Roberta's Leg Up Supporters |
1. Beth Scott

2. Caroline Lee

3. Melissa Meek

4. Jenn, Elizabeth & Mike Garey

5. Mary Gentry

6. Marlys Lipe

7. Gini Sikes

8. Shyoko & Aryeh

9. Deborah & Lewey

10. Konrad, Gwen, Dolly & Croc Stanley

11. Laura Backman & Lemon

12. Leanna Loomer

13. Gary Clover

14. Julie Laub

15. Anne Lucey & Sofy

16. Joyce Shook, Quackers & Mindy

17. Sean & Jeff

18. Donna Terris

19. Joyce Mays

20. Tom & Deb Grupp

21. Frances Srulowitz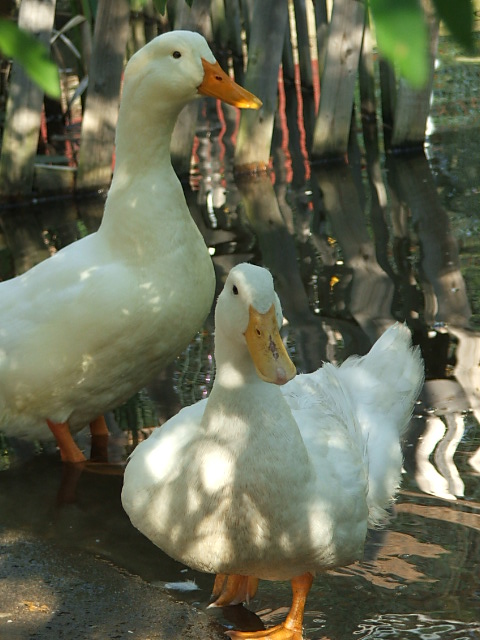 Gulliver & Berty in love... --July 2009
---