Ducks and Geese Adopted
Here are photos of the ducks and geese that we have placed in permanent homes so far. We love to hear from their new families. If you have updated photos of a duck or goose you have adopted from us, or a story to share about them, please email us, so we can update this page for you.
---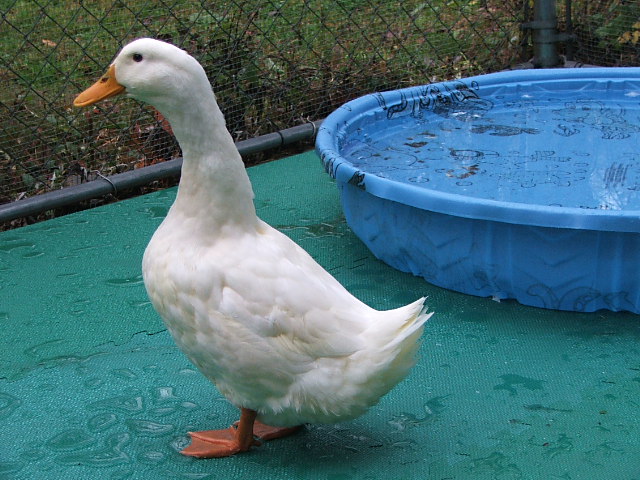 Matilda was found on a pond in Bristol CT. She is a very friendly and imprinted duck who loves to get petted and who can't seem to give us enough hugs! This girl is bsolutely wonderful and we can't imagine why anyone would have ever dropped her off. She just loves attention!
In addition to being very friendly, Matilda is also very chatty and loves to be around other ducks, so we were thrilled to find her a new home with a Pekin hen named Gertrude and a Muscovy drake named Dou Dou to keep her company!
---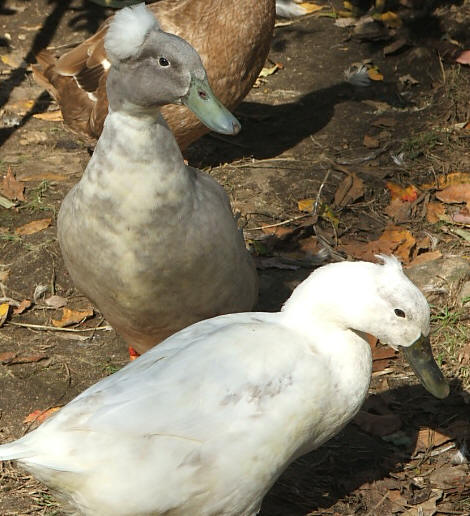 Asaru (gray) & Tiwana (white) are two, cute little ducks who were rescued on 10/29/07 from a pond in Seymour CT. They were dropped off as ducklings in the spring of that year. Both of these ducks are shy, but will come in nice and close for treats!
Both ducks are crested, but Tiwana's feathery top is a little smaller and off-center. Like a little flower tucked into her feathers. Asaru & Tiwana come off of our fenced in pond when we call: "Up, up, up!"
This lovely little pair was adopted to a wonderful family with a predator proof pen and a pool for them to swim and play in.
Update... Years later, Tiwana passed away and the family returned Asaru to our sanctuary, so he wouldn't be lonely.
---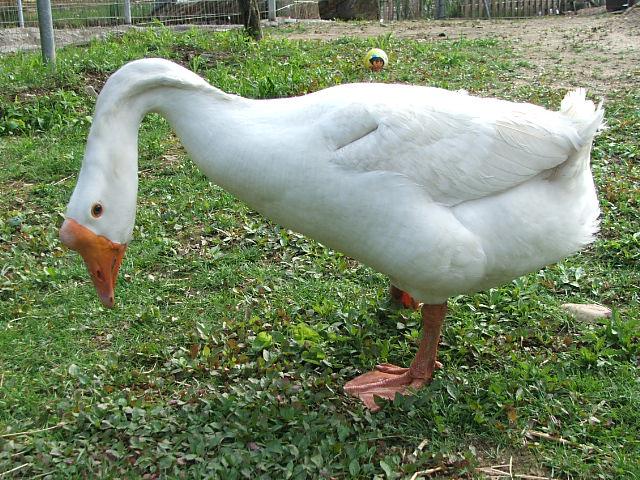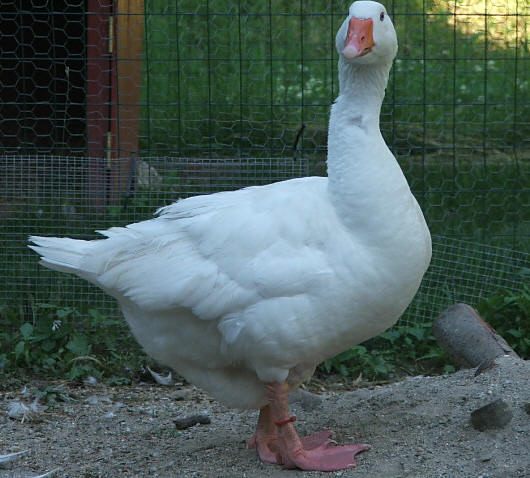 Mac is a White Chinese gander who was rescued with his girlfriend Fanny (Embden) in New Haven, CT. Both geese came down the river and found assistance in someone's yard.
Mac is a beautiful gander who runs up to greet us with loud and excited vocalizations. He loves to be sprayed with a hose, especially the kind with a shower setting. To balance out his outgoing personality, Fanny is a sweet and gentle goose who is a sheer joy to have around.
This lovely pair has joined their new family, which includes 8 geese and 2 ducks!
---
© Majestic Waterfowl Sanctuary 2005, 2006, 2007, 2008, 2009