---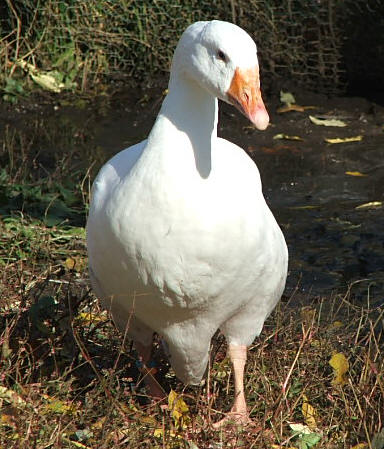 Egor is a young Pilgrim gander who came into our sanctuary in August 2009. His mother & father were abandoned when their human family moved away and left them behind to fend for themselves. The parent geese walked up the street to a pond and hatched out 5 goslings there.
While Egor's family was relocated to a loving new home, he was on the verge of death and required emergency medical treatment that resulted in him missing out on following along with his family.
Egor came to us very lethargic and kept his head and neck curled up into his body, which is commonly referred to as limberneck. After two months of potent antibiotics he finally pulled through and received the official "all clear" from our vet. Egor was finally able to come out of quarantine and join our other geese.
Egor blended quickly and easily into our gaggle and respectfully follows his new leaders around. Unfortunately, after having to give him so much medicine to save his life, he was pretty nervous around humans, but time and lots of TLC began to restore his trust in us again.
Egor's follow up exams and bloodwork all showed that he had made a full recovery, and he was adopted into a loving home. His family now consists of a few ducks (including Switch!) and a bunch of chickens. His new Momma Goose will be adopting a rescued goose to accompany Egor as well.
Special Thanks to Dr. Otka at "All Friends Animal Hospital" for helping us save Egor's life!