---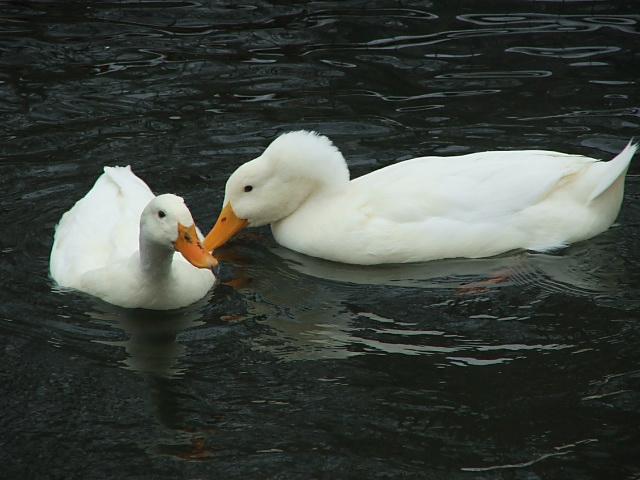 Jazzy(L) and Laddy (R)
Jasmine "Jazzy" and her boyfriend Aladdin "Laddy" were both rescued together on August 18, 2007. They were dropped off at a park in Middletown, CT. Jazzy-zay-zay had her quack at that time, but Laddy still had his duckling peep, which enabled us to successfully estimate their hatch date as June of that same year.
While Jazzy and Laddy never found their forever home together, they both enjoyed blissful happiness here until March 23, 2012 when Jazzy's oviduct prolapsed. Despite attempted surgery, the damage was beyond repair and she was euthanized while under anesthesia.
Jazzy had a small and harmless scar over one of her eyes as a result of living in a briar thicket before being rescued. Unfortunately this little beauty mark hindered this lovely pair from finding their new and forever home.
Jazzy had a very unique little quack--definitely one of a kind! She would say: Eey-yut! Eey-yut! when she's happy, which was most of the time...
---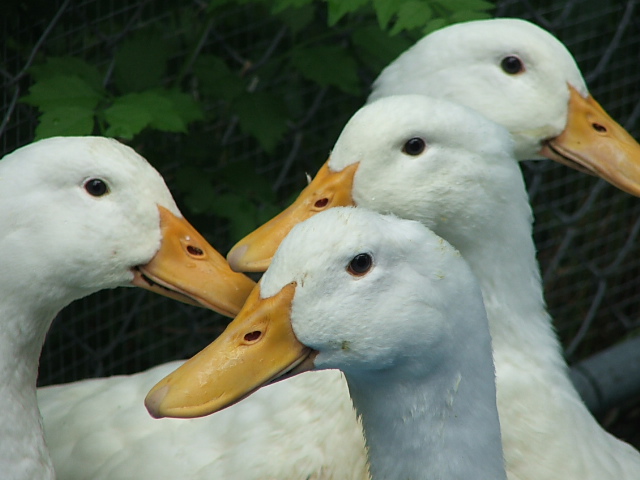 Salem, Pemphredo ("Phreda"), Deino & Enyo were rescued on 7/15/10 in Salem CT in a parking lot near Horse Pond. The quartet were too afraid to venture out onto the water and were huddled up on shore. Ducks who have never seen big water before are petrified of it because it's unknown to them. This told us that they were probably dropped off the night before. The four of them ran over to us quacking for food and love, and were thrilled to give them both!
These happy ducks always came running up to us for treats (especially watermelon!) and loved eating out of our hands! All four are VERY friendly and sweet! They have also grown nice, round bellies while in our care, which led to their nicknames: The Four Widdle Piddies!
These ducks are a true delight!
Salem is the leader of the bunch!
Enyo is very LOUD and has the fluffiest little bottom we have ever seen!
Phreda is the friendliest and most trusting of the group!
Deino is gentle and trusting too!