Ducks and Geese Adopted
Here are photos of the ducks and geese that we have placed in permanent homes so far. We love to hear from their new families. If you have updated photos of a duck or goose you have adopted from us, or a story to share about them, please email us, so we can update this page for you.
---
| Go to Ducks and Geese Adopted Page 47|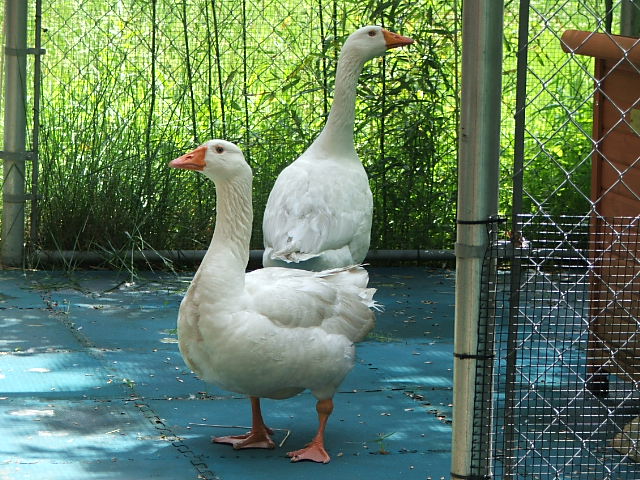 Fred & Ginger were rescued in June of 2013, but unfortunately, we didn't have enough room at our sanctuary for them to stay with us for the long term. Even so, Ginger had some serious leg issues, so we brought her to the vet for immediate x-rays and a prescribed treatment regime and then arranged for the pair to relocate to Nevins Farm MSPCA. At Nevins they intend to find them a new family who can handle their special needs. All of their medical information will then be passed along to their new family, so they can continue with their care.
---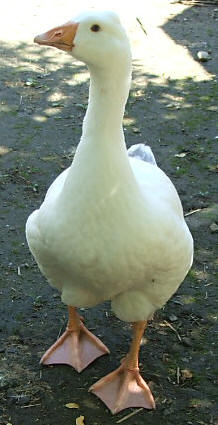 Galileo hatched in April of 2013 and was subsequently dumped on a pond as a gosling. He ended up at a wildlife rehabilitation center before arriving safely at our sanctuary. He is a very brave boy-not afraid of anything--and quite clever!
Because he's very comfortable around people and loves to be petted, he quickly found a wonderful new home along with our other rescued goose River.
---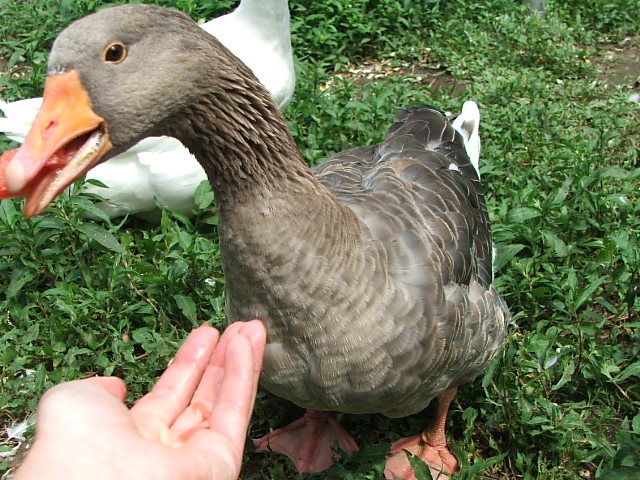 River is a beautiful and friendly Pilgrim goose who loves to eat watermelon out of the rind in our hands. She is a greeter who runs over to say hello, and who really needed a new gray friend after her boyfriend "Moon" past away.
River went along with Galileo to join a new home with a Giant Dewlap Toulose named Louie-Louise!
---
© Majestic Waterfowl Sanctuary 2012