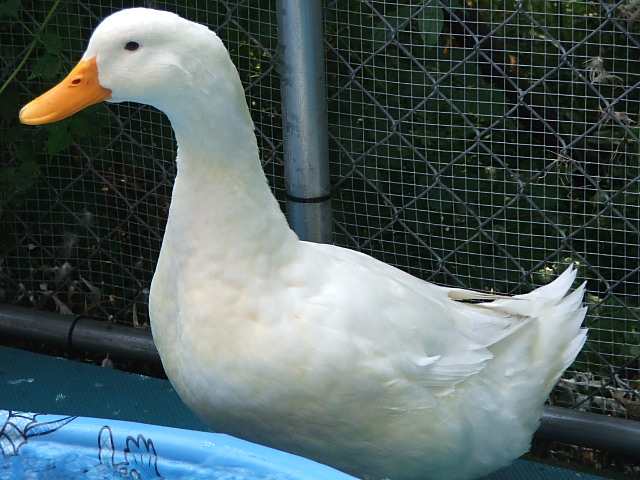 Jocamo is a Pekin drake who was dropped off in a small and muddy swamp. Six days after being abandoned, rescuers found it easy to lure him up for food and said he even seemed happy to go into the large pet carrier they had waiting for him.
The fact that Jocamo felt so comfortable in small spaces when he came to us, combined with the terrible state of his feathers told us that someone bought him as a duckling and housed him in a dog crate. It's likely that as soon as his family grew tired of cleaning up the mess, they dumped him off and abandoned him.
Jocamo was a little bit shy at first, but he soon learned to run up to us for a nightcrawler or a watermelon treat! Once this guy settled in and realized he was safe, he really came out of his shell and ventured out to explore his spacious duck pen.
In our care Jocamo became a GORGEOUS and well-adjusted boy who shared his pen with his new Majestic family Jabberwocky and Yolanda (geese). The trio looked like a Poppa, Momma and their Son and got along famously.
Even so, Joc-Joc's dream came true when he joined his new family and found a lady Pekin of his own to love. Today Jocamo is with Connie!
Jabberwocky, Yolanda & Jocamo (L-R)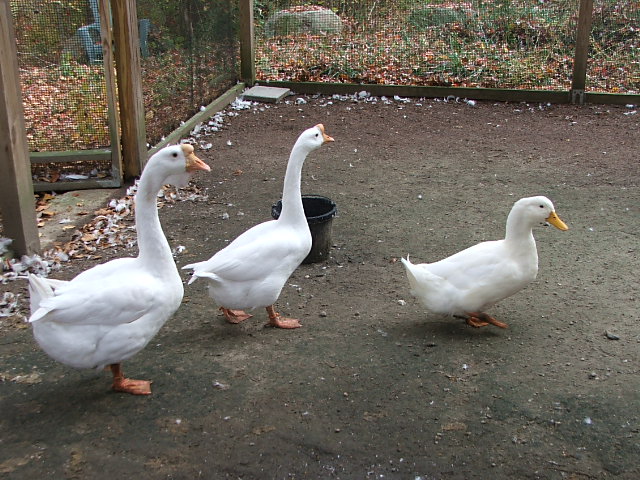 ---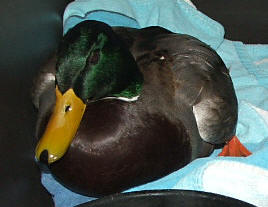 Warren is a wild Mallard who we rescued on an emergency call from the police. Someone had illegally shot him and he had escaped into a home owner's front yard. An immediate vet visit revealed three pellets lodged inside of him. Even so, he began to recover from shock and after an afternoon of treatment he came home with us.
We knew Warren needed to survive the next 24 hours in order to make it over the next major hurdle. Under the guidance of a certified wildlife rehabber we did all we could to keep the little fellow quiet and comfortable.
Unfortunately, Warren did not survive the evening, but we did keep him sedated and comfortable until he quietly passed.
The police reported the illegal shooting to the DEP and plans were set in place to monitor the area and try to find the culprits.
As is tradition... we include all of our rescues in our "profiles" pages, even those who do not survive their hardships.
Remembering Warren...
---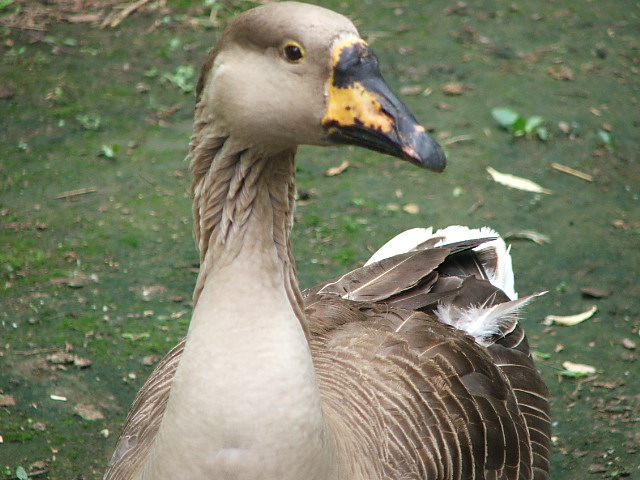 Pastel is a Grey China/Toulouse mixed gander with a GORGEOUS "painted" bill. He was dropped off with Fred & Ginger, but it took a little longer to rescue him. He was originally very underweight from his abandonment experience, but filled out nicely after making his home with us.
Pastel is a very gentle and friendly gander. He loves to eat grass and watermelon out of our hands and runs up to the gate to greet us whenever we visit. He especially likes children and he's so gentle with them!
Unfortunately, Pastel was diagnosed with a heart murmur during his precursory vet exam in July of 2013 right after his rescue. By November he was in end stage heart failure. Pastel was given heart medication and retired to our sanctuary to live out the end of his life, receiving all the care he so richly deserved.
Pastel passed away on Valentines Day morning 2014. He is dearly missed...