Pet Rock Festival 2005
We dare say Majestic and our ducks were the hit of Pet Rock! We entered Elijah in the adoptable pet parade and pulled him along in a red Radio Flyer wagon.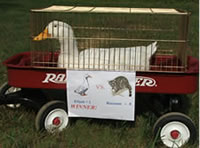 We distributed informational brochures, sold all of our plush Majestic ducks, and gave away paper crowns to the kids. Our royal subjects were everywhere!
People were surprised to learn that domestic ducks and geese do not fly and cannot escape the ponds they are abandoned to. Getting that message out to a few thousand visitors is one of the best ways to help our endeavor to prevent waterfowl drop offs.
Young Matthew and Elijah slept all the way home, but immediately quacked up a storm upon being reunited with their flock. We could hear them telling their flock mates about their adventures as we closed the barn door after tucking them in for the night.
We would like to sincerely thank Karen of Cathy's Rottweiler Rescue and Paula and Tom of the House Rabbit Connection for volunteering their assistance at our booth when the crowd was at its peak.
---
One Year Anniversary!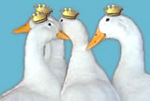 As we reflect on our first year anniversary, we review the goals we had set for ourselves and set our new goals for the coming year.
With the help from our volunteers, Lew and Bill, we became incorporated in May of 2005 and were approved for tax exemption in September. With our tax exemption approved, we plan to seek out corporate funding to expand our sanctuary and build even more enclosures for ducks and geese in need of shelter.
We poured the cement walls and pond basin for our new sanctuary and have raised enough funds to order our fence supplies and put up our perimeter fencing. We will continue to raise funds to purchase an aviary netting to complete the new sanctuary. When the sanctuary is complete, we are looking forward to our Grand Opening!
We have assembled a respectable waterfowl Vet Finder on our site. The New England states are complete and we plan to expand this listing westward over the course of the next year.
We were surprised to discover how many families were in need of advice and information on how to care for their waterfowl over the past 12 months. For this reason, we plan to increase our role as educators over the next year by completing a guidebook with the answers to the most frequently asked questions regarding waterfowl care. We also plan to continue to appear at pet stores and pet events to make ourselves available to the public.
Most importantly, we have listed nearly 40 ducks on our site for adoption and placed 27 of them into wonderful and loving new homes. We have also helped find homes for a handful of ducks and geese that were residing at Nevins Farm Sanctuary in Massachusetts. We have said hello and good-bye to many birds over the course of the last year, farewells that were both bitter and sweet. We look forward to another year of rescuing and finding homes for even more of these abandoned animals. It has been an added blessing to make so many new friends through our endeavor, and we thank all of you for your kindness and support. You are all an inspiration, and we look forward to another wonderful year together.
---
Our Webmaster
As we come upon our first year anniversary, we begin to reflect on the near 40 ducks that we've helped find homes for in the last 12 months. We have made some very good friends along the way and would like to thank all of them. We especially want to take a minute and stop to thank our Webmaster, Abby Garcia.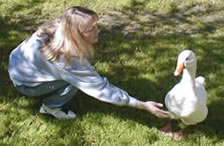 Abby volunteered to build our website a year ago when we first began our rescuing endeavor and felt we were in way over our heads. She stuck by us and helped guide us through some difficult and trying decisions. She has proved to be an invaluable member of our team and a true resource of information. We simply could not have done so much and helped so many without her involvement in this project.
Although we reside on opposite coasts, Abby keeps in contact with us on a near daily basis. She tirelessly updates and keeps our website current. She puts together all of our articles and photos and arranges them into our monthly newsletters along with a few articles of her own. She maintains our e-list and formats and forwards our messages out to the group, so that everyone is up-to-date regarding our progress. In addition to a myriad of unbelievable tasks, including web site design (and our beautiful banner!) and maintenance, she created all of the forms on the site, compiled most of the links, and helped us put together a gorgeous brochure.
Abby is an amazing and generous person, and she makes sure important and helpful information is available to everyone who visits our site. She is our invisible partner who helps you ask us questions and get responses by ensuring that the site is functioning properly.
Thank you, Abby, for being on our team and doing so much for the ducks and geese out there who need our help! Thank you also for everything you have done for us, through such a trying year -- you are so appreciated! We look forward to many more wonderful years of rescuing together!
---
Kentucky Rescue
A journey to Kentucky to visit Jonah, Joseph and Fiona in their new home with Qwaka was more than just a social visit. It was wonderful to see these ducks enjoying one another's company in their gorgeous predator-proof enclosure, and escorted swims to their pond. Visits are not only about ducks adopted, but also about ducks in need of rescue.
We would like to thank the Huffmans for their assistance in rescuing three hens abandoned to a local Kentucky pond, dangerously close to an intersection. The three girls have joined the Huffman flock and the Huffman's have decided to join our volunteer flock. Their photo and bios have been added to our staff listing.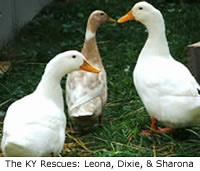 ---
A Well-Stocked Medicine Cabinet
In addition to having a pet carrier on hand and a vet on call, be sure to stock your medicine cabinet with these invaluable emergency items: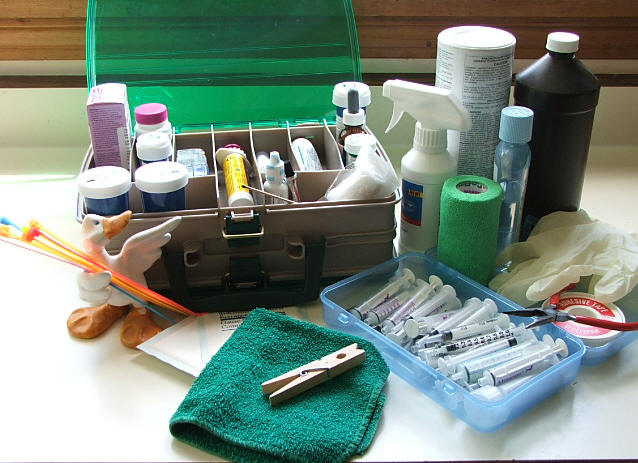 | | |
| --- | --- |
| | A blood coagulant in case of a toenail break. |
| | Bandages and gauze tape in case of a foot, leg or wing injury. |
| | A towel and clothes pin to blanket your duck's eyes and calm them during emergency procedures. |
| | Needle nose pliers for plucking a broken blood feather. |
| | An antiseptic or wound wash. |
| | Disposable rubber gloves |
| | Oral syringes for administering medication, liquids or food. |
| | Bacitraycin Antibiotic ointment |
| | Vetropolycin antibiotic eye ointment |
| | Baytril (22.7 mg antibiotic pills) for weekend/after hour emergencies. |
| | A Saline Solution for Sensitive Eyes to flush out eye injuries. |
| | Poultry powder for the treatment of lice and mites. |
| | A bottle of hydrogen peroxide. |
| | A spray bottle to put the prepared hydrogen peroxide/water solution into for misting and washing out any boo-boos to help stave off infection (10% H.P. to 90% water). |
Always consult your vet immediately in the case of an emergency or accident!
---
Hardware Disease
Ducks and geese are highly prone to Hardware Disease. It is one of the number one killers of pet waterfowl. Shiny objects appeal to ducks and geese and invite investigation. They ingest these tid-bits completely unaware that they may have just sealed their fate.
Screws, nuts, bolts, nails, staples, bits of wire, hooks, coins, pins, shreds of aluminum foil, jewelry--these are just some examples of items that can end up inside your pet's body, seeping into their bloodstream. This poisoning is known as Hardware Disease.
Although there are symptoms, but the time they appear, it tends to be too late to help your duck.
If your duck displays any of these symptoms, take them to the vet immediately for an x-ray and blood test to check for traces of metal.
Although Hardware Disease is extremely difficult to treat, it is entirely preventable. Make weekly inspections of your waterfowl enclosures, barns and pools. Search for and remove any small metal objects that can be picked up by your ducks.
In addition to visual inspections, we highly recommend that grounds be periodically swept with a metal detector. This is especially relevant when any building or maintenance projects are underway or have been completed. Sweep any area your ducks have access to as well as any outer-lying property (to avoid objects being tracked or washed in). Avoid visitors entering your your duck pens with jewelry--earrings and pendants can be deadly if dropped.
Do not run lawn mowers, weed-wackers or chainsaws in the vicinity of your ducks. These power tools can toss metal bits and objects right through your fencing and into your pens.
---