In This Issue:

Follicular Cyst

Sophie B. Hawkins & Ducks!

Feeding The Flock

A King Dethroned

Winter Hay Donations

The Month In Photos!

Majestic Newcomers

Recommended Reading
The Month in Photos!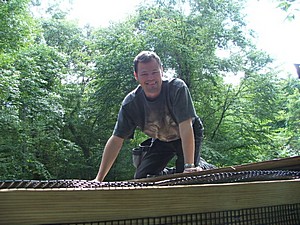 Tony on the roof of Louisville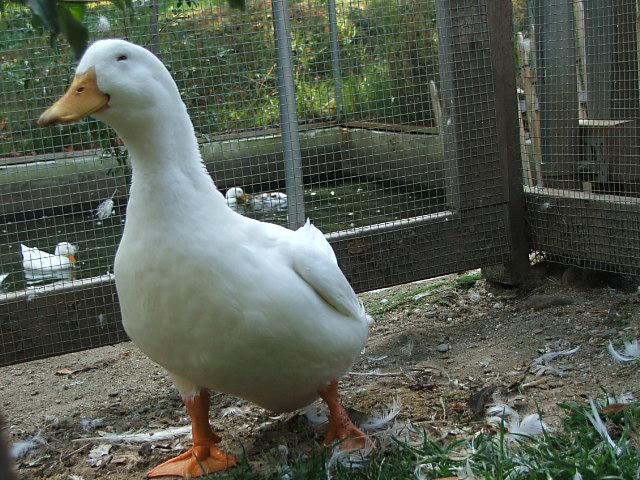 Elijah "Squints" struts his stuff!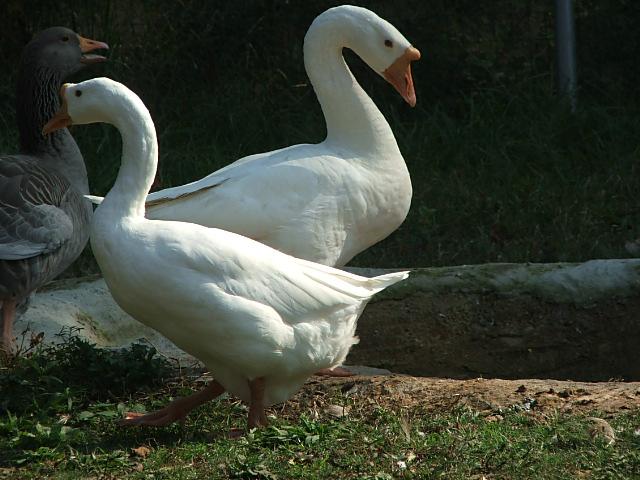 China & Chan flirting...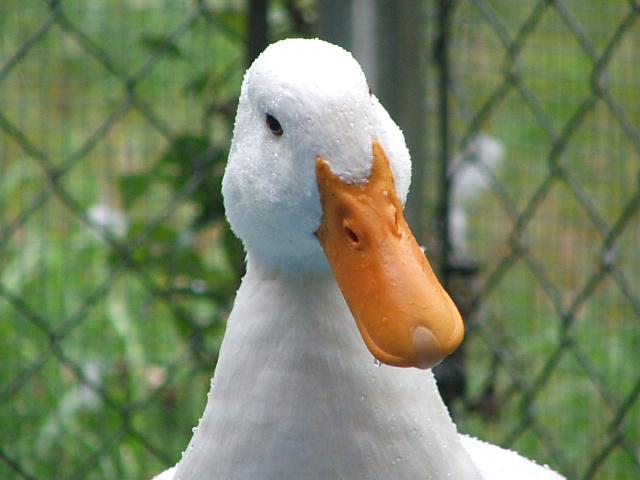 My, Jack, what a BIG bill you have!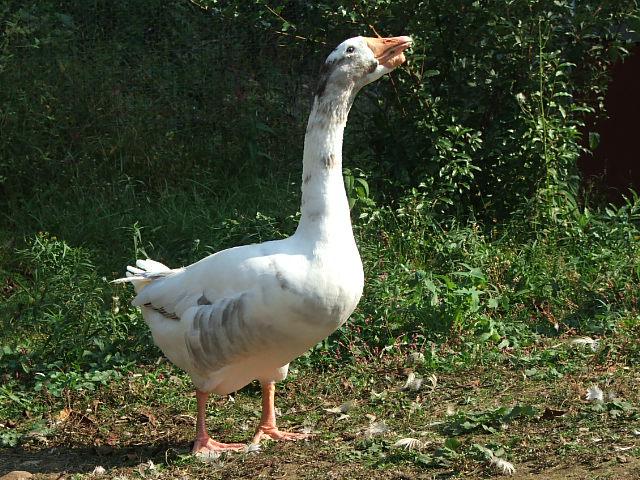 Our forlorn hero... Ali...
Majestic Newcomers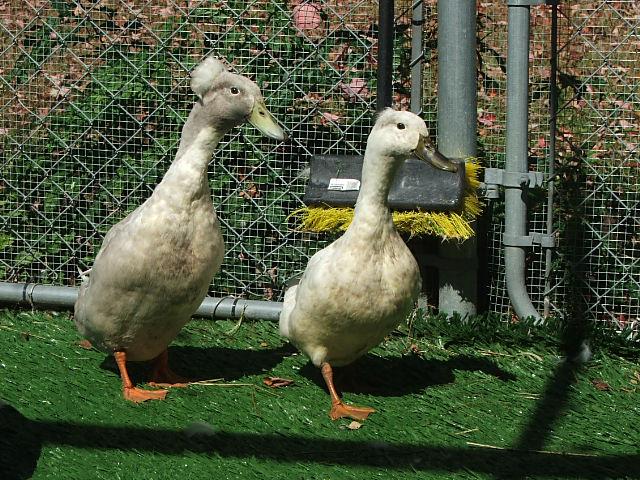 Asaru & Tiwana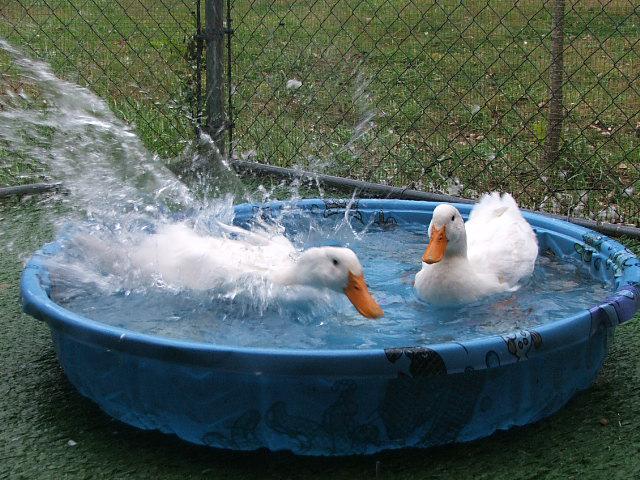 Captain Jack & Miss Swan
If you are a loving family and have a predator proof pen, please consider adopting! Click here to fill out our online adoption application.
If you canít adopt, please consider sponsoring by visiting our sponsor page.
Recommended Reading*

Bird Songs
Product Description
Drawing from the collection of the world-renowned Macaulay Library at Cornell Lab of Ornithology, Bird Songs presents the most notable North American birds in stunning new format.
This AUDIO and picture book will not only assist you in identifying bird calls in your own back yard, but it also makes for a fun enrichment activity for your flock--our geese in particular love this book!
There are 250 recorded North American bird calls featured. We love to press the button and play pre-recorded vocalizations of featured waterfowl and song birds to our flock. Their reactions are priceless!
This book also helped us identify some of the predatory bird calls in our area--letting us know exactly which species of owls we were hearing in the trees above our pens.
| | |
| --- | --- |
| * | For our full recommended reading list, click here. If you order from Amazon by way of our website, Majestic receives a portion of the proceeds! |
Contact Us
Majestic Waterfowl Sanctuary
17 Barker Road
Lebanon, CT 06249
director@majesticwaterfowl.org
Our Newsletter
The Majestic Monthly is published 12 times per year. Previous issues are available in our Archives.
Follicular Cyst
On rare occasions you may notice something that appears to be an abscess on your waterfowl, but actually is not. We recently had this come up at our sanctuary and wanted to share what we learned with our readers. The abscess itself was located on Jezebelís hindquarters. Our vet drained what we all believed was an abscess. This was done three times over the course of three weeks. She was placed on a daily dose of 22 mg of Baytril throughout the course of treatmentóa safe and general antibiotic.
Over the course of the three weeks, the hard knot reduced in size from that of an egg to that of a marbleónice improvement. The liquid drawn from the area was slightly yellow, but clear and uninfected, and Jezebelís behavior remained normalóno changes in appetite, activity or temperament.
Behavioral changes or thick, yellow liquid with a creamy or pasty consistency is a warning sign of infection. If they appear, your vet will most likely recommend immediate surgery.
When the hard formation would not shrink any further, surgery was done to clean out any infected tissue. We were surprised to discover that Jezebel did not have an abscess at all; in fact, what she had was a follicular cyst.
In short, a follicular cyst is when a feather follicle is facing the wrong way and the feather is aimed and grows inside of the birdís body instead of outside. The tiny vestigial feathers would grow, break off and then form into a knot around the follicle. Later, a new feather would grow and do the same.
The vet removed a mass of these tiny feathers embedded into a small fatty ball. He also removed the feather follicle to prevent the problem from re-occurring. Follicular cysts are more commonly seen in the wings of birds, rarely on their body. Jezebelís surgery was much more invasive than wing surgery and the vet had to come particularly close to her intestinal lining. He had to check the lining carefully to be sure that it had not torn or damaged during the operation.
Jezebel came home the same day and in good spirits. She was kept in very clean quarters with a dividing fence keeping the other ducks away from her during her recovery. We gently sprayed the area twice daily with a 25% hydrogen peroxide to 75% water solution (stored at room temperature) using a misting bottle. Her daily dose of 22 mg Baytril continued for another two weeks and then she returned to the vet for a follow up visit and to have her stitches removed.
---
Sophie B. Hawkins & Ducks
A different kind of duck story...
It was a Saturday morning, and we had a two-duck rescue scheduled in Seymour CT. The rescue was complete within minutes, thanks to our new kayak and Rita & Joe. We were exhilarated. We were also exhausted. By 1:00 p.m. we were releasing Asaru & Tiwana from their pet carrier and safely into West Wing.
The next steps entailed precursory medical exams, taking photos, updating the website, getting cleaned up, and at long last--having something to eat. Then I was immediately off to see Sophie B. Hawkins performing at the Ridgefield Playhouse.
The show was phenomenal. I've never heard so much voice coming from one person. Afterwards, I had the opportunity to meet Sophie. Being a friend of animals, I asked her to sign a t-shirt for Majestic to raise funds for our sanctuary. Her eyes snapped on mine and she said, "Oh my God, I just rescued a whole family of ducks on Saturday! A mother and her babies. "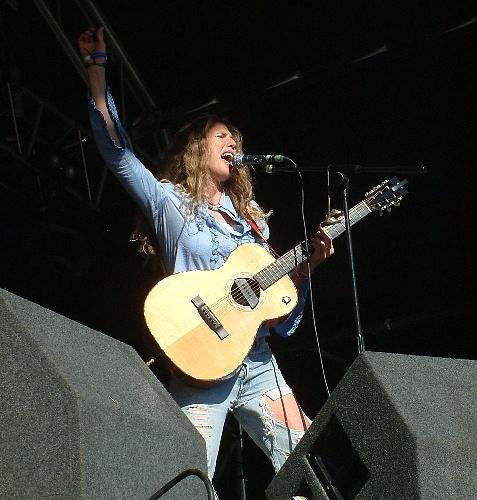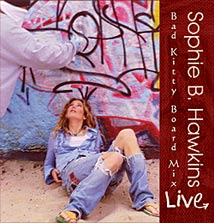 What a funny thing... to discover that Sophie and I were fellow duck rescuers. We talked for a minute about what we do and she invited me to revisit her website to read the story of her adventure removing a wild duck and her ducklings from traffic. "Isn't it funny how you meet people and just connect on that level," she smiled.
Click here to read Sophie's Duck Rescue story, which is entitled: "What I did last Saturday night..."
We have in our possession an XL red t-shirt signed by Sophie B. Hawkins that reads: "For Majestic Waterfowl Sanctuary! Long live the ducks!!!" along with Sophie's signature. A great holiday gift for the duck-lover in your family. Stay tuned for auction information!
---
Feeding The Flock
We have a lot of ducks and geese at our sanctuary and more coming in weekly. Our Majestic flock is currently consuming two bags of Mazuri feed every week. Each 50 lb. bag of Mazuri costs us $30.00.

Donate funds for a bag of food today! Click Donate and help make a difference.
---
A King Dethroned
Ali & Chan have long been the center of careful attention here at Majestic. They were the first geese we ever rescued and were foes to be feared. It was vital to keep our other drakes and ganders cautiously out of their way--on opposite sides of the fence.
Time and relaxation have slowly transformed this testy pair. The warning bellows through the fences have long since subsided. And so, we decided to let Ali & Chan through the gate, into Abby's Goose run, to see how they would fare with Bowie, China Girl, Angelo and Tutter.
A brief and chaperoned confrontation ensued between Ali and the kind and gentle Bowie, and then... as suddenly as it began, it was over. Ali was dethroned. Bowie took control of the newly formed gaggle. Chan and China Girl instantly exchanged glances and Bowie didn't seem to mind that his girl was strolling down flirtation path with another gander (until Spring that is).
Ali is mending an ego, but happily grazing out in greener pastures with his new flock mates. And his faithful companion Chan has been leaving China Girl's side frequently enough to assure him that they are still best friends.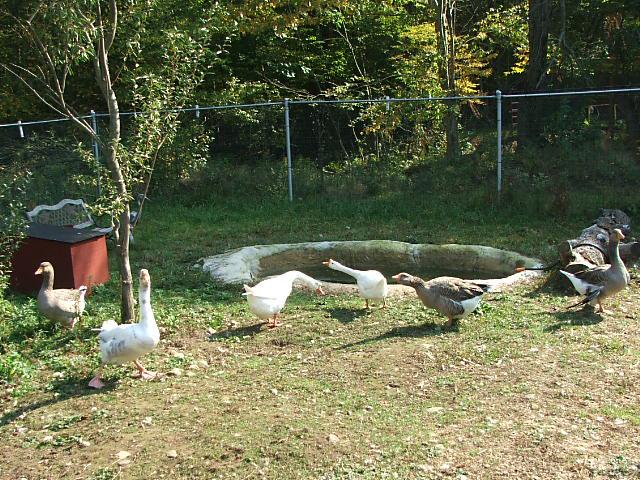 ---
Winter Hay Donations
It is time for winter hay donations! If you live nearby and you or anyone you know can donate hay, please contact us at director.
Please remember, hay cannot contain poison ivy, thorns or be old or contain mildew.