Good-bye Glory...
We can count on one hand the number of ducks we have lost during their stay here at Majestic over the years. We euthanized a new rescue Daphnee whose x-ray revealed she had dislocated hips and knees as well as a needle in her intestine. There was the night we lost Joven unexpectedly and of natural causes (as confirmed by necropsy). And this week, we had to say good-bye to our beautiful Glory.
Glory came to us at eight years old along with her best friend Miri in January of 2007. Both girls had been left behind when their original owners moved away. Neighbors feeling for their plight took them in. After years in their care, the girls needed a new home, and we welcomed them both here, and for the first time in their lives, they were adorned with names.
Although Glory's knee joints were damaged from a systemic infection that went unchecked before coming to us, she still had the heart and determination to walk. She had a fire in her soul, and she would accept nothing less from herself than to keep up with the others and do what they were doing, and with no help from us, thank you very much. She was the "Little duck who could." So strong, so determined. She was truly handicapable.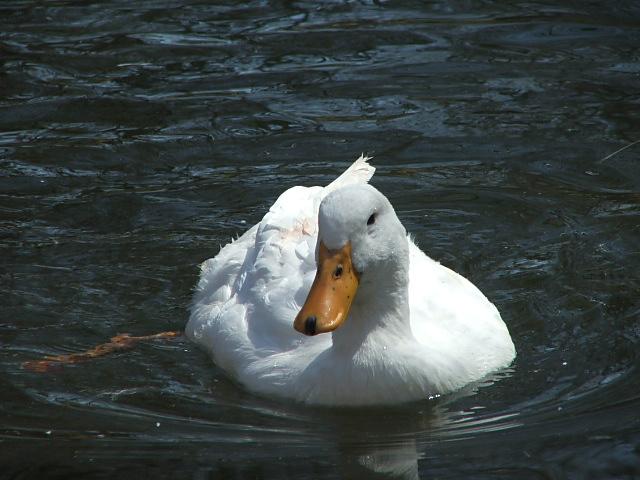 Glory enjoying The Courtyard pond
Glory was featured in the Humane Society's national magazine: All Animals this Spring. Walking on her own and even giving us a hug of gratitude.
Sadly in recent months, Glory lost a great deal of her mobility. We began carrying her to her hay nest beneath a shade tree, with plenty of food and water in easy reach and easy access to the gradient slope of The Courtyard's pond. She enjoyed swimming and could move from water to nest without difficulty.
And then overnight, she lost the ability to walk. A day later things progressed and she lost full movement in her legs and was no longer able to swim either. She was clearly uncomfortable and it broke our hearts to see her in any pain. Even worse, the fire in her eyes that longed to swim and forage with the other ducks soon doused with frustration and sadness.
We looked into Glory's longing eyes and held her on our laps. Glory has always been self-protective and too independent for holding, and the fact that she sat limply in our arms was another sign that she was ready to move on. She was clearly ready to be whole again.
As beautiful as Glory was, we were never able to find a new home for her and her best friend Miri. Before letting her go, we officially adopted and retired Glory into our sanctuary and added her to our Adopted pages. She was able to leave this world in peace, knowing she had found her permanent and loving home with her new family, and it had been here with us all along.
In the end, we gave Glory and Miri their own private pen, to give them as much time as we could grant them together before bringing Glory to the vet to ease her through her transition to the other side.
We held Glory in our arms as our vet gave her the injection and watched her fall peacefully asleep. She was not alone, and she never will be. She will always be remembered in our hearts as The Little Duck Who Could.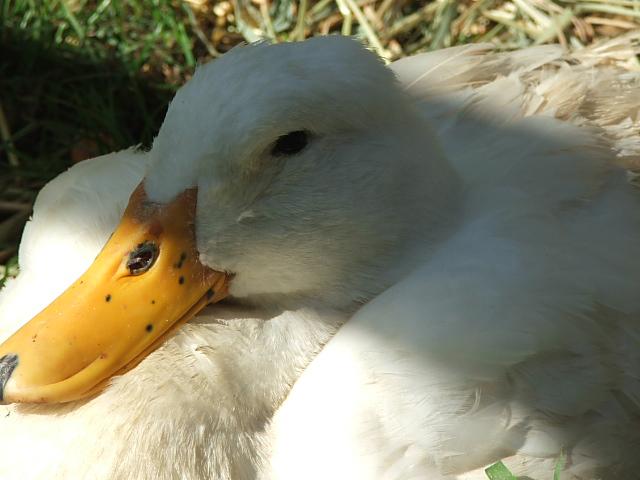 Glory August 4th, 2008 ... Good-bye sweet girl...
---
To Make a Donation in honor of little Glory, please click here: Donation For Glory.