We have had a banner adoption year! Since Petfinder gave us the option to add videos to our pet listings we have adopted a record number of ducks and geese to beautiful new homes. We have rescued 110 animals to date, placing 89 of them with loving families!
We installed power lines to our barn this year and now have an unlimited power supply for electrical outlets to run our new pump and to power our heated water buckets in winter. Of course this means we have an electric bill to pay, but the ducks and geese are all quacking and honking their approval anyway.
We welcomed a wonderful new Mazuri grain supplier this year who appreciates our cause, is motivated to serve our fluctuating needs and who can keep up with our continued growth.
We would like to extend a special thank you to Dr. Melgey and staff at All Friends Animal Hospital for continuing to treat our feathered friends with such grace and compassion. A heartfelt thanks to Dr. Joan Poster of Poster Animal Hospital who does so much for animals and has shown us such tremendous courtesy and support. We are eternally grateful to you for helping us save Tutter's life during the Christmas holiday last year. Thank you to Uncle Lew & Aunt Sally for EVERYTHING! We love you, and our endeavor would not be the same without you! And thank you Mom & Dad for all of your help throughout the year. You have done everything from providing emergency daycare services when duck rescues pop-up to grueling sanctuary work in the heat of summer. We love you & the flock loves you too!
Thank you to all of our supporters, sponsors, donors and volunteers, especially my good friends: Glynis, Mary, Elaine, Jenn & Patty. Thank you to all of the rescuers who have done so much to safely capture and deliver abandoned ducks and geese to our sanctuary, enabling us to give them a new beginning--especially Caroline. And thank you most of all to our adopting families. YOU are the true heroes in this, for you provide these loving animals with lifelong care and devotion, long after they have left our sanctuary. Thank you!
---
Tending To Crop Issues
Our sanctuary has welcomed a few new guests and among them is little Neo. As soon as Neo came to us, we recognized that he has a serious digestive issue. Neo is underweight and very weak at the knees despite the way he gorges down food.
When Neo eats, his crop fills up and distends, and the food does not move at the proper rate down into his gizzard. This is often referred to as "Crop Stasis."
Symptoms of Crop issues include: Distention of the crop, drooling, loss or changes in appetite, lethargy, weight loss.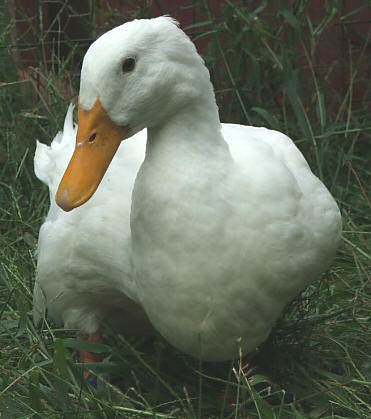 Sour Crop
Sour Crop is when there is a bacterial or yeast infection in the crop. You can normally detect it by smelling your duck or goose's breath.
Treatment
A vet examination is urgently needed when your duck or goose has a crop issue. They will commonly x-ray to ensure the source truly is bacterial. They will flush out the crop with sterile saline and then prescribe antibacterial or antifungal medication. Additional flushes and a special crop diet will be prescribed. Rehydration techniques may also be in order.
Blocked Crop
Blocked Crop is when a large stone, object, mass of grass, parasites or tumor blocks the passage leading out of the crop. It prevents food from properly leaving the crop and moving on to the gizzard. Avoid letting your ducks and geese forage on a freshly mown lawn as this is a common cause.
Treatment
After performing an x-ray and confirming the crop is blocked, your vet will determine whether the object is small enough to be flushed back up the throat or whether surgery is required. A special crop diet will be prescribed for before and after surgery. Sometimes a pea-sized amount of cat hairball remedy (molasses) will clear grass that is blocking the crop.
Slow Crop
Slow Crop is when the crop functions at a decelerated rate. This can be caused by illness (liver & kidney disease, diabetes), hardware disease or by lead/zinc poisoning.
Treatment
Your vet will perform an x-ray to confirm your duck or goose has not swallowed a metal object (hardware disease) as well as doing a comprehensive blood panel (checking for potential illness) as well as drawing extra blood to rule out possible lead or zinc poisoning.
Vets can sometimes remove a metal object, depending on its location, via surgery. Endoscopic procedures are recommended.
If the bird shows positive for lead/zinc poisoning with no metal object showing up on the x-ray then the object has already passed through their body. A chelating agent will often be prescribed to bind and flush the remaining metals out of their body.
If all tests come back negative then you've at least ruled out a worst-case scenarios. Your vet may want to flush out the crop and check for bacterial presence and/or prescribe a general antibiotic to address any infections indicated by a high white blood cell count.
Pendulous Crop
Pendulous Crop is a chronic condition. It can be the result of genetics, neurological issues, starving/gorging behaviors (a hazard faced by abandoned waterfowl) or an improper waterfowl diet.
If a crop issue is not attended to early enough the muscles surrounding the crop can become stretched out and lose their effectiveness over time. This leads to a permanent condition in which every time the bird eats, the crop distends abnormally. Food will move to the gizzard, but at an improper rate.
Treatment
The only treatment for a pendulous crop is a controlled diet. Teaching your duck to eat small quantities in intervals rather than gorging is an excellent part of this plan.
Sometimes a slow recovery can be expected, other times partial recovery and in some cases the condition remains for the lifetime of the bird.
Diet
While attending to crop issues, your vet will give you dietary advice depending on which crop issue your duck or goose is experiencing.
Dietary care often involves grinding their grain into a mash utilizing a food processor and then feeding small amounts at frequent intervals throughout the day. This limits the amount of the food in the crop at any one time and it allows the grain to move more freely into the gizzard. Make sure clean water is available 24/7 and watch for signs of dehydration. Be sure your bird has ample access to grit or sand to help with their digestion.
Depending on whether the condition is temporary or chronic, this diet may need to be maintained for the short term only, or for the rest of their lives.
---
Automated Feeders
If you would like your duck or goose to experience interval feeding, you can purchase auto feeders at www.petfrenzy.com and www.americas-pet-store.com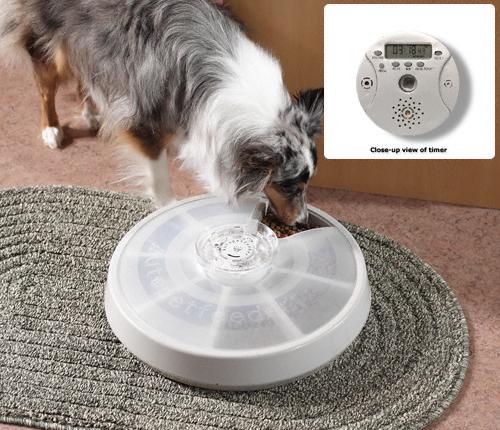 8 Day Auto Pet Feeder: Item# 20008D $78.99 / Free Shipping!
Unlike other automated feeders, this battery operated one can be programmed utilizing a digital timer to set the time of day your duck or goose needs to be fed. This enables you to feed your duck or goose up to 8 times a day! Their website description even recommends the dispenser for DUCKS! We love that!
Another great feature of this product is it allows you to program your own personalized voice message that alerts your duck or goose each time a door pops open. This means that even when you are not in their pen, they will be associating good things with the sound of your voice!
Visit www.petfrenzy.com for further information about this wonderful product, and when ordering please let them know that Majestic sent you!
Auto Pet Feeder / Outdoor Pet and Pond Feeder $170.99 / Free Shipping!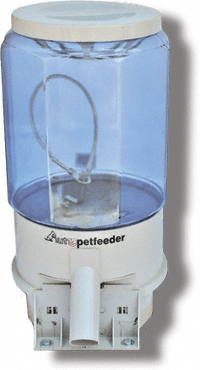 The small size (Item# 2000PFS) measures 10" x 10" x 20" and is recommended for dry, ground food or feed measuring up to 3/8" in diameter (the size of Mazuri food). It works with mash and the holding capacity is 5 lbs.
This power operated feeder is designed for indoor or outdoor use. A pre-set quantity of food can be released every hour for up to 8 hours. Pet owners will be happy knowing that the right amount of food is being released at just the right time.
America's Pet Store contacted us immediately after we placed our order with them and graciously donated this automatic feeder to help us care for Neo. We are absolutely thrilled with this amazing product!
We program Neo's food to come out every 2 hours. Neo automatically gets a small serving of ground Mazuri food at even intervals for 16 hours. Not only is this instrumental in helping his crop to properly process food, but it is also teaching him to space out his feedings rather than gorging. It teaches him that his next meals will be regularly and reliably forthcoming, which is helping him to recover from his starvation anxiety.
Visit www.americas-pet-store.com for further information about this fantastic product, and when ordering please let them know that Majestic sent you!

Majestic sends a sincere and resounding thank you to America's Pet Store for donating Neo's feeder to our sanctuary, which will help him tremendously in his recovery!
---
NMVH for Quality Vet Care!
Any ducks or geese in need of medical care are normally seen by Dr. Otka at Noank-Mystic Vet Hospital within 24 hours of coming into our sanctuary, or at the onset of any symptoms or abnormal behavior.
We would like to thank our friends at NMVH for always rolling out the red carpet for our flock and squeezing us in between your other patients. We know this is not easy to manage, and we thank the entire staff for being such a breath of fresh air. You provide care and treatment for these beautiful animals when so many others turned their back on them.
Thank you!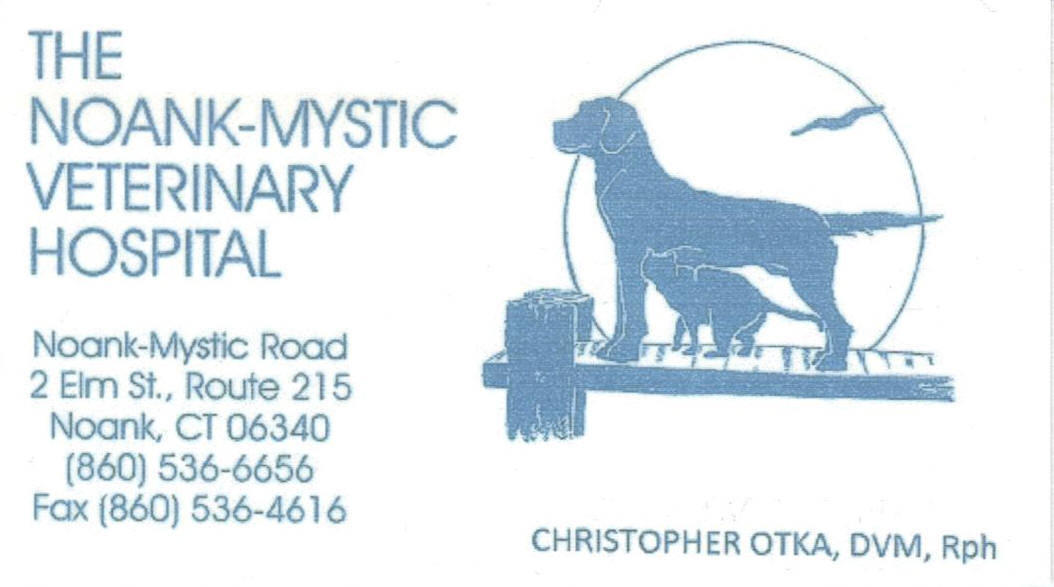 ---
Majestic's New Grain Supplier!
At last! Majestic has finally found a Mazuri supplier worthy of our sanctuary! We are thrilled to have formed a new association with A.S. Labieniec, Inc. out of Kensington, CT.
A.S. LABIENIEC has changed ownership and is no longer our feed supplier as of June 17, 2015!
Click: Current Feed Supplier for current information!
When our former grain supplier failed to keep his supply house stocked with Mazuri feed and left our animals high and dry, and then attempted to force us to purchase some of his year-old bags of his mis-ordered grain, we turned our backs and walked out the door.
Our sanctuary has grown from spending $200 a year on grain to purchasing near $2000 a year (your donations hard at work!). We simply could not deal with a supplier who could not meet our needs anymore.
Carleen at Labieniec calls our sanctuary every couple weeks to get a bag count and take our order. She always keeps a few extra bags on hand in their store in case of emergency and to sell to other families. She is even willing to break open bags and sell Mazuri grain by the pound to those families with only one or two ducks--to ensure they are getting fresh food for their feathered friends.
If you are a CT resident or live within driving distance, we highly recommend this new source of Mazuri Waterfowl Maintenance feed for non-laying ducks and geese, Mazuri Waterfowl Breeder for laying birds and Mazuri Waterfowl Starter for ducklings and goslings.