Waterfowl Veterinarian Directory: States M-W
Majestic has not had direct experience with most of the vets listed on this page and cannot vouch for their services. Families should ask their own questions and choose their vet care wisely. Be proactive, do your research, read up & get second opinions whenever necessary.
We have had experience or received excellent feedback from those vet practices flagged "Top Vet!" However, Majestic does not guaranty their services and is no way liable for your choice of veterinarian.
Questions you can ask a potential vet:
* How many duck/goose patients does this vet have?
* How many ducks & geese does this vet see as patients in any given month/year?
* What formal education has this vet received that has directly prepared them for the special handling of waterfowl (not parrots), including any training seminars attended?
* Is this vet experienced with reproductive issues that may occur in egg-laying ducks & geese and how to properly treat those issues should they arise?
* Has this vet operated on ducks or geese in the past? If so, what types of surgeries did they perform and what were those outcomes?
* What Guide Books does this vet recommend you read in order to better care for your ducks & geese? (If this one stumps them... be wary!)
* If ever in the future this vet should become stumped by your duck or goose's medical condition, what resources will they tap into for assistance? (Ideally, you are looking for a vet who is willing to consult with other vets. They are the best. Avoid vets who will "read up" or "surf the internet" as their sole means of research.)
HINT: One tell-tale indication that a vet does not have a lot of experience with waterfowl is often demonstrated in their inability to easily open up their bills. A vet who tries to pry a duck or goose's bill open at the TIP is demonstrating their experience with parrots and their inexperience with waterfowl. You want to see a vet who knows to pry the bill open at the BASE. A vet who cannot manage to open a bill within a few seconds most likely does not have many waterfowl patients.
ANOTHER HINT: Before deciding on your vet, ask for their voicemail and then leave a short message stating that you are looking for a vet for your duck or goose, but would like to talk to them briefly before choosing their practice.
Remember, you want a responsive doctor for your duck or goose, and one who is willing to call you is an important quality. We are always more impressed with vets who personally return their phone calls than those who have their staff return their calls for them--worse yet is the practice that does not return their calls at all!
If a staff member does call you back, don't rule them out yet. Once you start asking them the above questions they will likely discover that the vet needs to handle your call personally and will pass that message along.
BEWARE of the practice that wants you to come in and charge you for an office visit to address your questions/concerns before you've even decided on their services. Talking with you is in their best interests too. You need a vet and they need patients. This is business though, so remember to keep your conversation brief.
---
Maine
Stoneledge Animal Hospital
Dr. Bernard Wall, DVM
607 Bridgton Road
Westbrook ME
(207) 797-4292
---
Maryland
Fallston Veterinary Clinic
Dr. Donald W. Zantop, DVM
Dr. Beth Rodney, DVM
Dr. Vivian Ho, DVM
2615 Belair Road
Fallston, MD 21047
(410) 877-1727
Board Certified Avian Vet for over 25 years.
---
Massachusetts
Cape Animal Referral & Emergency Center
Dr. Barbara Kmiecik, DVM
79 Theophilus F. Smith Road
South Dennis, MA 02660
(508) 398-7575
www.carevet.net
Deborah Guidi, DVM
P.O. Box 39
Feeding Hills, MA 01030
(413) 786-1770
Littleton Animal Hospital
Dr. Alexandra Kilgore, DVM
29 King Street
Littleton, MA 01460
(978) 486-3101
www.littletonanimalhospital.com
Sager Animal Hospital
William C. Sager, DVM
4 Strawberry Hill Road
Acton, MA 01720
(978) 263-3535
www.sageranimalhospital.com
---
Minnisota
Avian & Exotic Veterinary Housecall Service (AEVHS)
Dr. Jamie Nalezny
Serving Minneapolis/St. Paul MN
PH: (612) 520-1386
Email: vet@aevhs.com
http://www.aevhs.com/

---
Mississippi
Saltillo Small Animal Hospital
Dr. John D. Morris
106 Flynt Drive
Saltillo, MS 38866
(662) 869-7301

---
Michigan
Dr. Jeanne Corbett DVM
3692 E. Pontaluna Road
Fruitport, MI 49415
(616) 865-6949
Animal Hospital Grand Rapids
Dr. Tracey Ritzman, Dipl. ABVP-Avian
6730 Cascade Road S.E.
Grand Rapids MI 49546
(616) 949-0960
http://www.chfa.net
***We've heard very good things about this vet!***
---
New Hampshire
Canobie Lake Veterinary Hospital
Dr. Melissa L. Magnuson, DVM
61 Range Road
Windham NH 03087
(603) 898-8982
Email: melodyvm@hotmail.com
http://www.canobievet.com
Fisherville Animal Hospital & Bird Clinic
Dr. George A. Messenger, DVM
108 Fisherville Road
Concord, NH 03303
603-229-0674
Email: Fishervet@aol.com
http://www.fishervilleanimalhospital.com/
VCA Animal Medical Center
Dr. Cindy Fulton, BVMS
Dr. Anthony Guerino, DVM
1550 Woodbury Avenue
Portsmouth NH 03801
(603) 436-4922
Email: cindy.fulton@vcahospitals.com
http://www.vcaanimalmedicalnh.com

---
New Jersey
Amwell Bird Hospital and Bird Pet Shop
Dr. James McKinley, DVM, Dipl. ABVP
49 East Mountain Road
Hillsborough, NJ 08844
(908) 369-7373
Animal Clinic of Morris Plains
Dr. Paul Sedlacek, DVM
3009 Route 10
Morris Plains, NJ 07950
(973) 539-2775
(973) 366-9718 (Fax)
Animal and Bird Health Care Center
Dr. Kenneth Dazen, DVM
1785 Springdale Rd
Cherry Hill, NJ 08003
(856) 751-2122
(856) 751-3550 (Fax)
Companion Animal Hospital & Avian/Exotic Clinic
Dr. Todd Wolf, DVM
460 Rt 46W
Parsippany, NJ 07054
(973) 227-7500
(973) 227-7560 (fax)
Englewood Animal Hospital
Dr. Robert Groskin, DVM
43 North Dean St.
Englewood, NJ 07631
(201) 568-1751
(201) 568-5388 (Fax)
Fisherville Animal Hospital & Bird Clinic
Dr. George A. Messenger DVM, Dipl., ABVP-Avian
108 Fisherville Road
Concord NH 03303
PH (603) 229-0674
FX (603)229-0697
Cell (603) 344-1038
http://www.fishervilleanimalhospital.com
Little Silver Animal Hospital
Dr. Richard S. Yacowitz DVM
675 Branch Ave
Little Silver NJ 07739
(732) 842-8266
Littlesilveranimalhospital.com
Oakhurst Veterinary Hospital
Dr. Michael Doolen, DVM
Dr. Fanders, DVM
Dr. Margaret Fordham
225 Monmouth Road
Oakhurst, NJ 07755
(732) 531-1212
(908) 531-2361
http://www.oakhurstvet.com/
Ocean County Veterinary Hospital
Dr. Warren Briggs, DVM
838 River Ave Route #9
Lakewood, NJ 08701
(732) 363-7202
(732) 370-4176 (Fax)
Ridgewood Veterinary Hospital
Dean Cerf, DVM
320 East Ridgewood Ave.
Ridgewood, NJ 07450
(201) 447-6000
(201) 327-8796
---
New York
All Creatures Animal Hospital
Dr. Sandy Adamcak
6429 Transit Road
East Amherst, NY 14051
(716) 636-3600
The Animal Hospital
Dr. Ed Becker
2 Rocking Horse Lane
Guilderand, NY 12084
(518) 456-0852
The Animal Medical Hospital of Centereach
Dr. Elisabeth Simone-Freilicher, DVM, Diplomate ABVP (Avian)
2425 Middle Country Road
Centereach, NY 11720
(631) 585-5353 www.animalmedicalhospitalofcentereach.com
Animal Kingdom Veterinary Hospital
Dr. Ruth
2725 Grand Island Blvd
Grand Island, NY 14072
(716) 773-5242
The Animal Medical Center
Katherine Quesenberry
510 East 62nd Street
New York, NY 10021-8302
(212) 329-8645
www.amcny.org
Bayside Animal Clinic
Dr. Stanel
Dr. Charos
3643 Bell Blvd
Bayside, NY 11361
(718) 224-4451
Boulevard Animal Clinic
Dr. Frank DeFeis
112-49 Queens Blvd
Forest Hills, NY 11375
(718) 261-1231
Brewster Veterinary Hospital
Dr. John Wilson
3455 Danbury Road
Brewster, NY 10509
(845) 279-5053
Broadway Veterinary Clinic
Dr. Laura Wade, DVM Dipl. ABVP (Avian)
5915 Broadway
Lancaster, NY 14086
(716) 651-0144
Brookville Animal Hospital
Dr. Jeffrey Krasnoff
691 Glen Cove Road
Glen Head, NY 11545
(516) 674-3322
Cornell University (Campus)
Box 34
Ithaca, NY 14853
(607) 253-3060
Cortland Animal Hospital
Dr. Wendy Westrom
1 Dogwood Rd
Cortland Manor, NY 10567
(914) 737-3608
East Islip Animal Hospital
Dr. Linda Pesek
700 Main Street
Islip, NY 11751
(631) 277-2266
Eastridge Animal Hospital
Dr. Balonek
#60 Dubelbeiss Lane
Rochester, NY 14622
(585) 467-2120
Hampton Veterinary Hospital
176 Montauk Hwy
Speonk, NY 11972
(631) 325-1611
Harmony Vet Clinic
Dr. Kohler
1823 Amsterdam Rd
Ballston Spa,, NY 12020
(518) 885-5535
Island Exotic Veterinary Care
Dr. Heidi Hoefer
591 East jerico Turnpike
Huntington Station, NY 11746
(631) 424-0300
Lancaster Small Animal Hospital
Dr. Susan Mineo
Dr. Stacie Minnier-Thomas
5156 Genesee Street
Bowmansville, NY 14026
(716) 681-3033
Menands Animal Hospital
Dr. Cate Adsit
315 Broadway
Menands, NY 12204
(518) 463-0600
North Country Animal Health Center
Dr. Plante
16760 New York State Route 3
Watertown, NY 13601
(315) 785-9505
North Fork Animal Hospital
Dr. Robert Pisciotta
Dr. Daniel D'amato
Main Road 58605 Route 25
Southold, NY 11971
(631) 765-2400
Northside Animal Hospital
773 Post Ave
Staten Island, NY 10310
(718) 981-4445
Old Country Animal Clinic
Dr. Monaco
669 Old Country Road
Plainview, NY 11803
(516) 938-7218
Orchard Park Vet Medical Center
Dr. Edward Reiller
3507 Orchard Park Road
Orchard Park, NY 14127
(716) 662-6660
Paumanok Veterinary Hospital
***They see Ducks, but not Geese***
Dr. Dee Hensen
639 Route 112
Patchogue, NY 11772
(631) 475-1312
Pet Animal Hospital
Dr. Todd Swanson
9 Glidden Ave.
Jamestown, NY 14701
(716) 483-1762
Pet Haven Animal Hospital
Dr. Keschner
290 McDonald Ave
Brooklyn, NY 11218
(718) 435-6900
Roslyn Veterinary Group
Dr. Marder
1 Northern Blvd
Greenvale, NY 11548
(516) 621-1744
Sheridan Animal Hospital
Dr. Geasling
2288 Sheridan Drive
Buffalo, NY 14223
(716) 833-2255
Somers Animal Hospital
Dr. Randell
352 Route 202
Somers, NY 10589
(914) 277-3686
South Salem Animal Hospital
Dr. Jeffrey S. Hubsher
1310 Route 35
South Salem, NY 10590
(914) 763-3123
www.southsalemanimalhospital.com
St Marks Veterinary Hospital
348 East 9th Street
New York, NY 10003
(212) 477-2688
Syosset Animal Hospital
Dr. Greensfield
Dr. Lario
Dr. Gothelf
700 Jericho Turnpike
Syosset, NY 11791
(516) 921-0700
The Center for Avian & Exotic Medicine
Dr. Cynthia Brown
Dr. Anthony Pilney
568 Columbus Ave (@ 88th)
New York, NY 10024
(212) 501-8750
www.avianandexoticpets.com
Town & Country Hospital for Pets
Dr. Lisa Jensen
4707 South Salina Street
Syracuse, NY 13205
(315) 469-5777
Upstate Animal Medical Center
415 Maple Avenue
Saratoga Springs, NY 12866
(518) 583-0609
Upstate Animal Medical Center
Dr. Lucas
415 Maple Ave
Saratoga Springs, NY 12886
(518) 583-0609
Veterinary Center for Birds & Exotics
Dr. Laurie Hess, DVM Diplomate ABVP
www.avianexoticsvet.com
709 Bedford Road
Bedford Hills, NY 10507
(914) 864-1414
Village Vet Hospital
Dr. Barbara Roach
230 Genesee Street
Canastota, NY 13032
(315) 363-8700
VMCLI Veterinary Medical Center of Long Island
www.vmcli.com
75 Sunrise Highway
West Islip NY 11795
(631) 587-0800
***24/7 Emergency Service!***
---
North Carolina
Dr Lauren Powers
12117 Statesville Road
Huntersville, NC 28078
(704) 588-7015
www.carolinavet.com
---
Ohio
Dr. Singh, DVM
Animal Medical Care Center
5955 Youngstown Warren Road
Niles, OH 44446
www.animalmedcarecenter.com
(330) 652-0400
Eric Neate, DVM
Big Creek Veterinary
11764 Girdled Rd.
Concord, OH 44077
(440) 639-8585
Dr. Susan Orosz, Ph.D., DVM, Dipl. ABVP (Avian), Dipl. ECAMS
Bird and Exotic Pet Wellness Center
5166 Monroe St. Suite 305
Toledo, Ohio 43623
419-843-3137
Barberton Veterinary Clinic Bird and Exotic Specialty Hospital
Dr. Gary Riggs
4873 Richland Ave.
Norton, OH 44203
(330) 594-2882
Dr. Julie Esposito, DVM
Clermont Animal Hospital
1404 Old State Rt. 74
Batavia, OH 45103
(513) 732-1730
http://www.clermontanimal.net/index.html
Countryside Veterinary Services
8004 State Rt. 5
Kinsman, OH 44428
(330) 876-5555
Dr. Lee Nowac, DVM
Sunbury Veterinary Clinic
491 West Cherry Street
Sunbury, OH 43074
(740) 965-4577
---
Oklahoma
Terry Hardage - Noble Animal Clinic
8701 Industrial
Noble, OK 73068
(405) 872-8382
---
Pennsylvania
Adamstown Veterinary Hospital
Dr. Pat Slanga, VMD
2481 N. Reading Rd
Denver, PA 17517
(717) 484-0440
http://adamstownvethospital.com/
Allentown Animal Clinic
Dr. Judy Rutkowski, DVM
2640 Walbert Ave
Allentown, PA 18104
(610) 434-4470
Email: AACExotics@aol.com
http://allentownanimalclinic.com/
Ani-Care Animal Hospital
Dr. Randon Feinsod, DVM
2740 S. Queen Street
Dallastown PA 17313
(717) 741-1320
Email: anicareanimalhospital@yahoo.com
http://www.anicareanimalhospital.com/
Animal Ark Pet Hospital
Dr. Kevin Ramey, DVM
3024 W 12 St
Erie, PA 16505
(814) 838-7387
Email: petwellness@arkkingdom.com
http://animalarkkingdom.com/
Animal Medical Center
Dr. Cynthia Hartz, DVM
25 West Third Avenue
Trappe, PA 19426
(610) 489.8982
Email: chartzdvm@MyPetDoc.com
http://www.mypetdoc.com/
Animal Hospital of Chester County, LLC
Dr. Toby Susan Erlichman, VMD
1353 Pottstown Pike
West Chester, PA 19380
610-692-7560
Email: ahcc1353@aol.com
http://www.animalhospitalofchestercounty.com/
All Pet Animal Hospital
Dr. Randon Feinsod, DVM
5007 Route 8 Gibsonia/Allison Park
Pittsburgh PA 15044
(724) 444-6600
Email: petvet121@verizon.net
Avian & Exotic Animal Med Center
Dr. Gloria J. Goodman, VMD, Dipl ABVP
3000 Concord Road
Aston PA 19014
(610) 494-2811
Email: dragonvmd@aol.com
Chestnut Hill Veterinary Hospital
Dr. Sheldon Gerstenfeld, VMD
903 Bethlehem Pike
Glenside, PA 19038
Email: chestnuthillvet@yahoo.com
(215) 836-2950
http://www.chestnuthillvet.com/
Matthew J. Ryan Veterinary Hospital
Dr. Nicole Wyre, DVM, DABVP Avian
Dr. La'Toya Latney, DVM
39th & Spruce Strets (if using GPS, enter 3850 Spruce Street)
Philadelphia PA 19104
(215) 746-8387
Emergency: (215) 746-8911
http://www.vet.upenn.edu
***24/7 Emergency Service***
Radnor Veterinary Hospital
Dr. Len Donato, VMD, Dipl. ABVP
Dr. Kimberly Bowers, VMD
107 North Aberdeen Ave
Wayne PA 19087
(610) 687-1550
Email: info@radnorvet.com
http://www.radnorvet.com
West Liberty Animal Hospital
Dr. David Dorn, VMD
3055 W. Liberty Ave.
Pittsburg, PA 15216
(412) 341-3383
Email: ddorn@bbs.mtlebanon.k12.pa.us
http://www.westlibertyanimalhospital.com/
Write Veterinary
Dr. Michele Goodman, VMD
3055 W. Liberty Ave.
Bethlehem, PA 18020
(610) 865-2611
http://www.wrightvet.com
---
Rhode Island
Ocean State Veterinary Specialists
1480 South Country Trail
East Greenwich RI 02818
(401) 886-6787
***24/7 Emergency Service***
Veterinary Services of Wickford
Dr. Meredith Bird
25 Shermantown Rd
Saunderstown, RI 02874-2207
(401) 294-9518
www.drbird.net
Notes: Does wildlife rescue also
Wickford Veterinary Clinic
Dr. Henry Wietsma DVM, MS, DABVP
7440 Post Road
North Kingston RI 02852
(401) 295-9739
Eye Care for Animals


Dr. Kenneth Abrams, DVM
42 Benefit Street
Warwick RI 02886
(855) 240-3937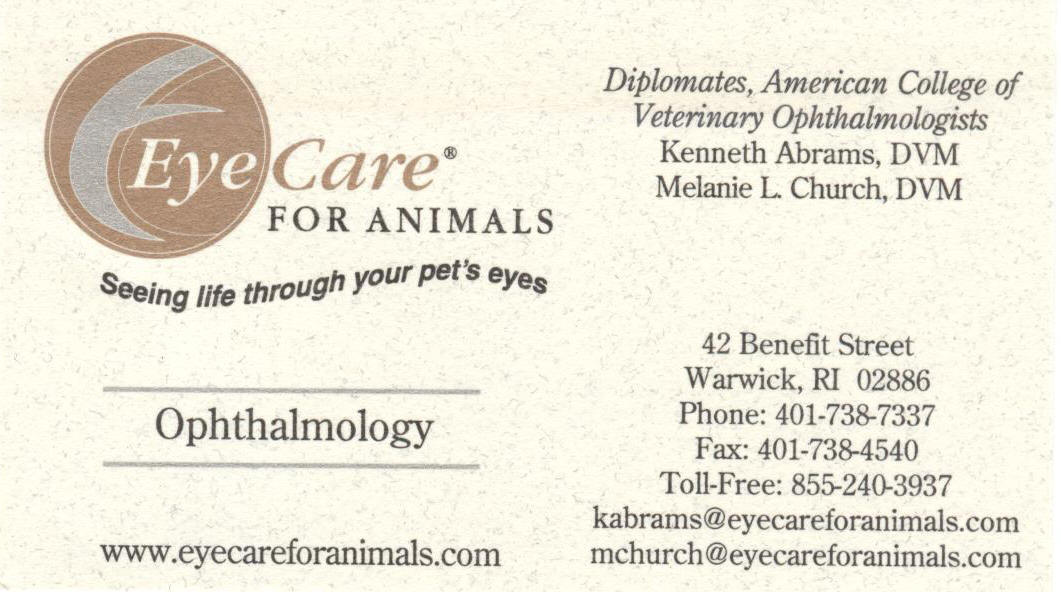 ---
Tennessee
Collierville Animal Clinic


Dr. Shannon McGee
474 Highway 72 W.
Collierville TN 38017
(901) 853-8519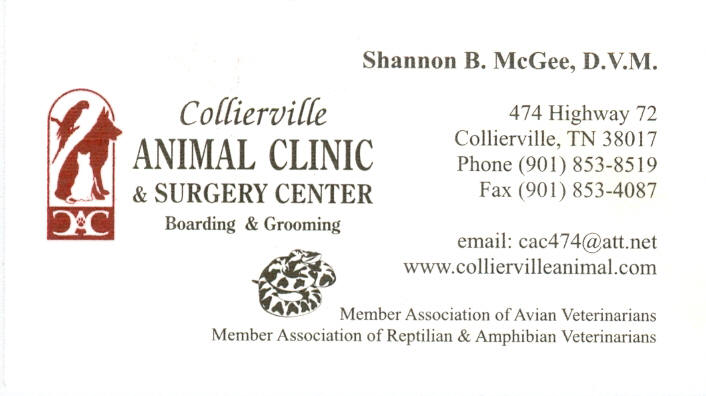 MedVet Memphis Dr. David Hannon, DVM Dipl. ABVP 830 North Germantown Pkwy, Ste 105 Cordova TN 38018 (901) 624-9002
---
Texas
ABC Animal & Bird Clinic
Dr. Stephen Fronefield
11930 Hwy 6 South
Sugar Land TX 77498
(281) 495-9445
City Vet
Dr. Eiffie Giannopoulis, DVM
2732 Oaklawn Ave
Dallas TX 75202
(214) 459-9212
Family Pet Clinic of Grapevine
Dr. Susan Gwynn
303 W. Northwest Highway
Grapevine TX 76051
(817) 756-1772
http://www.fpcgrapevinevet.com/

Gulf Coast Veterinary Specialists
Dr. Antinoff
1111 West Loop South
Houston TX 77027
(713) 693-1111
Dr. J Jill Heatly
Email: jheatley@cvm.tamu.edu
4474 TAMU
College Station TX 77843
(979) 845-6878
Pet's Paw Animal Hospital
Dr. Judith Vinson
1402-B North Loop 336 West (Montgomery Plaza)
Conroe TX 77304
(936) 756-0304
Texas A&M Small Animal Hospital*
408 Raymond Stotzer Pkwy
College Station TX 77854
(979) 845-2351
*This teaching hospital was very highly recommended to us.
---
Utah
Wasatch Exotic Pet Care Dr. Laurel Harris, DVM 1892 East Fort Union Blvd. Salt Lake, City UT 84121 (801) 943-3367 www.wasatchexotic.com

---
Vermont
Stonecliff Animal Clinic
Dr. Susan Dyer, DVM
176 Waits River Rd
Bradford, VT
802-222-4903
http://bradfordvet.com/
Shelburne Veterinary hospital
Dr. Liam Bisson, DVM
3053 Shelburne Rd
Shelburne, VT 05482
802-735-2868

http://www.shelburneveterinaryhospital.com/
Poultney Veterinary service
Dr. Scott Maclachan, DVM
Poultney Vet Sci 46 E. Main St
Poultney, VT 05764
Email: drkris@together.net
802 287-9292

---
Virginia
Grafton Animal Hospital Dr. Michael Gross 449 Grafton Drive Yorktown VA 23692(757) 898-8433 www.graftonvet.com
---
Washington
Dr. Elizabeth Hardy
MAKES HOUSE CALLS serving King and Snohomish counties!
Twin Pines Animal Hospital
Bothell, WA
425.677.3139
Email: info@twinpinesanimal.com
Website: www.twinpinesanimal.com


© Majestic Waterfowl Sanctuary 2005, 2006, 2007, 2008, 2009