After surviving so much...
Our rescued Ducks & Geese deserve the safety of a predator-proof pen.
No Free-Range Homes Please!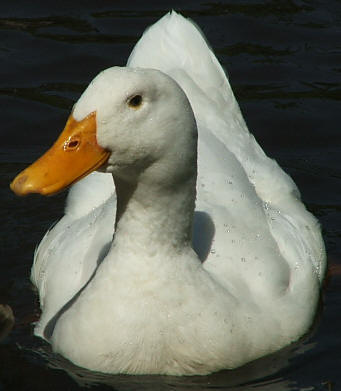 Please review our Adoption Requirements carefully BEFORE completing our Online Adoption Application.
---
Name:

Species:

Breed:

Sex:

Age:

Status:

Lil Ms. Bee

Duck

Khaki Campbell/Runner

Female

Unknown

NOT Available for Adoption!

Descriptors:
(See Key)

Lil Ms. Bee is an Indian Runner/Khaki Campbell hybrid who came to us from an unsanitary, hoarding situation in February of 2012. Bee is a little shy, but very curious and loves to explore new areas and enriching items in her pen.

Sadly... Bee's boyfriend Marvin passed away on October 27, 2017. We are allowing her some time to recover before we make any decisions about adopting her out.

After all she's been through, she needs a fully predator proof pen with aviary covering. We would also like to see her go to a home with a Khaki Campbell boy and perhaps other females. We will not adopt her to a home with an overly rambunctious or larger male because she broke a wing a few years back and we don't want that to happen to her again.

---

Name:

Species:

Breed:

Sex:

Age:

Status:

Piper & Daisy Duke

Ducks

Pekin

1 Male & 1 Female

Hatch: Piper: '08 / Daisy '13

Available for Adoption!

Descriptors:
(See Key)

Piper was abandoned on a pond as a duckling and ended up cornered in a drainage pipe by predatory birds before being rescued. We estimate his hatch date as 5/9/08. Piper is a little shy, but he learns to trust what he knows and is won over with healthy treats and TLC. He loves nightcrawlers, lettuce and watermelon!

Daisy Duke is an energetic little girl who was surrendered to our sanctuary. She is always very busy and quacky, with lots to do so much to say!

Piper & Daisy Duke must be adopted out together.

View video footage of Piper in his profile at Petfinder.

---
Name:

Species:

Breed:

Sex:

Age:

Status:

Oreo

Duck

Magpie or Ancona

Female

Hatched Spring 2017

Not Available Yet

Oreo was abandoned on a pond by her former family and then rescued and brought to another sanctuary. Unfortunately, weasels broke into her pen and she was the only survivor. The sanctuary reached out to us, and we instantly agreed to take her. As soon as she arrived, we rushed her to our vet to immediately assess the bite wounds on her cheeks and head as well as the infection and swelling brewing in her neck.

Thankfully, Oreo has no broken bones or dislocations from the attack, but her infection is severe. She is currently on antibiotics, anti-inflammatory meds, pain medication and soothing meds to coat her throat and stomach and provide further comfort.

Oreo is also receiving complimentary Laser Therapy from Wizard of Paws in Colchester CT to help relieve swelling and provide further comfort--and she LOVES it!

---
Click on the icon below to view more Video Clips of our flock at Myspace!

---
© Majestic Waterfowl Sanctuary 2005, 2006, 2007, 2008, 2009